Turpan Travel Guide & Silk Road Tours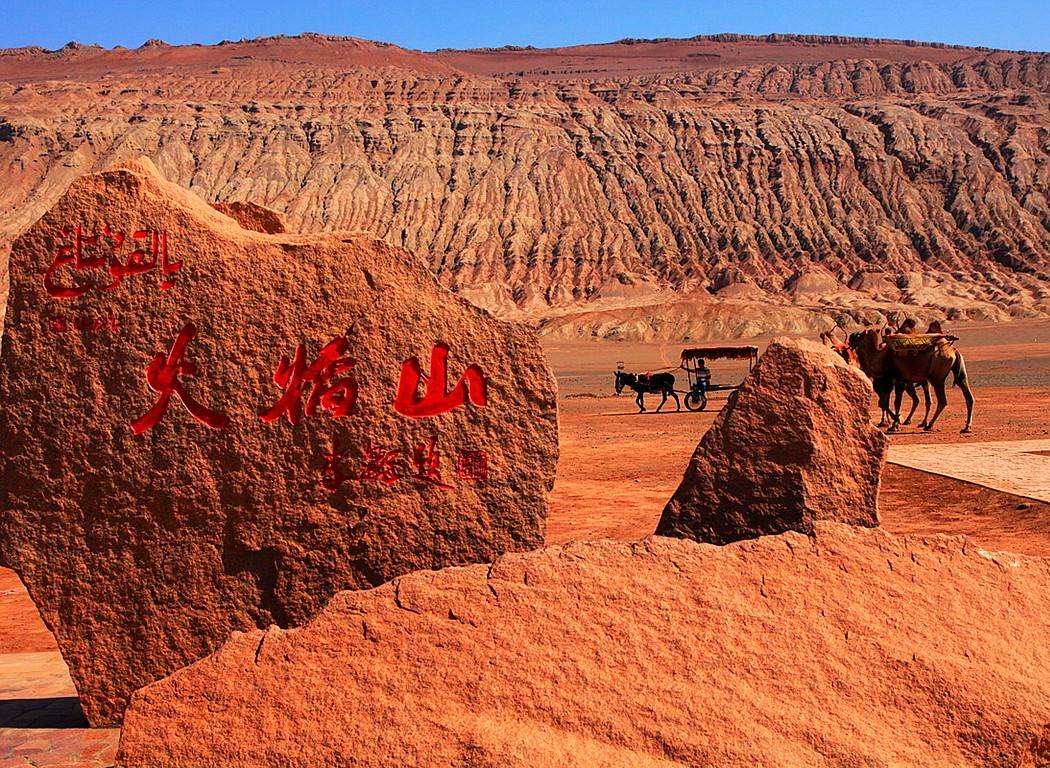 Overview
Located in east part of Xinjiang, Turpan was a key point of ancient silk road, millions of tourists want to take a Turpan tour to visit the famous attractions in Turpan, and know about the history of ancient China Silk Road, an important international trade route, linking China with the West, that carried goods and ideas between the two great civilizations of Rome and China. With the profound history, there are numerous of attractions still well-presered in Turpan, such as Turpan Karez Well, Flaming Mountains, Thousan Buddha Caves, Gaochang Ancient City, Grape Valley and much more.
Though Turpan is the hottest city in China and also one of the driest places in the world, it is a very much alive valley with a vibrant ethinic minority culture. The city's ideal position on the ancient Silk Road made it a thriving outpost and melting pot of peoples from all across Asia. Islam has had a strong influence on the region and the ethnic minority Uighur people have inflected the land with their unique blend of Muslim and Chinese influences. This legacy has blessed Turpan with abundant historical relics.
Turpan Travel Guide
Top Xinjiang tours to Turpan
Turpan Day Tour to Heavenly Lake

Highlight:

Enjoy a day tour to Heavenly Lake from Turpan Xinjiang to admire the natural beauty of the lake. Following your local guide, enjoy the leisure boat cruise on the most beautiful part of Heavenly lake and experience the lifestyle of the local Kazaks people. This one day silk road tour provide door-to-door service, private transfer, personal guide, lunch and entrance tickets. You can not miss it when you travel to Xinjiang.
Xinjiang Turpan Tour: 2-Day Tour From Urumqi to Turpan

Highlight:

Explore Turpan's top attractions on a 2-day guided tour via private vehicle from Urumqi Xinjiang. During your stay in Turpan, you will visit the Ruins of Jiao City, Karez Well, Emin Minaret, Grape Valley & Flaming Mountain. Learn the ancient history of Turpan city from your English-speaking guide and enjoy the delicious meals and comfortable accommodation. Our schedule allows you to enjoy happily with great efficiency.
Xinjiang Adventure Tour: 4 Days Turpan Urumqi Silk Route Tour

Highlight:

This 4 Days Turpan Urumqi Silk Route Tour will take you to explore the major highights of Turpan & Urumqi, which are the important cities along the ancient silk road. The itinerary is special designed for those who arrive at Turpan via train. Follow our experience tour guide, you will know the ancient history of ancient silk road, learn the local authentic culture and experience local Uyghur life.
4 Days Urumqi and Turpan Ancient Silk Road Tour

Highlight:

Turpan is an important town on the ancient Silk Road, with more than 4000 years of cultural accumulation. It was once one of the political, economic and cultural centers in the western regions, and Urumqi is the capital city of Xinjiang. Book this 4 Days Urumqi and Turpan tour, set foot on the Xinjiang section of the silk road just like the ancient caravans. Explore the local custom of these two cities and discover local specialties. You will have unexpected gains.
What to see in Turpan

Frenquetly Asked Questions about how to plan a Xinjiang tour to Turpan
1. How about the conditions of Turpan hotels?
Turpan is one of important city of ancient Silk Road. It is a pivotal centren of middle Asia foreign trading. As the developing of economy and tourism industry, the accommodation condition in Turpan has been upgraded a lot.It is one of three most visited cities in Xinjiang. It can ensure cozy hotels and pleasant service to help travelers have a great experience in Turpan.
2. Can I connect to the Internet in my hotel?
Yes. With the development of modern, many hotels in Turpan can provide Free-Internet connection.

3. What is the Electrical current in Turpan hotels?
Electricity runs in China at 220V, 50 cycles AC. Two-pin sockets and some three-pin sockets are in use. Most hotels have a socket in the bathroom for using both 110V and 220V. outside the bathrooms, only a 220V socket is provide. We recommend bringing your own adapter plug if you plan on using personal electrical appliances.

4. Can I use Credit Card when travelling in Turpan?
Credit cards are not recommended as a way of payment in Turpan, even other cities in Xinjiang since they are only accepted by the Bank of China and few hotels in Turpan. We recommend you bring some cash in advance.

5. Is Turpan a safe place to visit?
In fact, it is very safe to travel to Turpan or other cities in Xinjiang, and this security is based on comparative "monitoring". And it really will be found that the further you are going towards Southern Xinjiang, the more casual check operated. The security inspection in Xinjiang is very thorough.

6. Is there any special visa permit to visit Turpan?
No, you don't need a special visa permit to enter Xijiang but the travel permit is needed when you travel to Tibet. Please bring the valid passport with you during the tour since there are serveral checking points in Xijiang.

7. What language do the Turpan people speak? Is it easy to communicate with them?
Uighurs make up 70% percent of turpan's population, followed by 23% Han people. Most of them can communicate simply in mandarin. Only few people there speak English, you should try to find some young people if you want to ask for help from locals.You can let our guide know your problem and they will be happy to help.Getting around without knowledge of Uyghur or Mandarin will be a challenge. Finding an English speaking guide may make the trip more enjoyable for you if you don't know any of either language. I recommend downloading Chinese offline on Google Translate at the very least.

8. What should I pay attention to when shopping in Turpan?
Mostly, kilogram are used on market transaction by locals, something different from the rest area of China; When you want to bargain with someone, it means you decide to buy something; no decision, no bargain there.

9. How about the toilet in Turpan?
Northwest China's Xinjiang Uyghur Autonomous Region is making efforts to update toilets in the region in order to promote local residents'living standards and to attract more visitors. Every public lavatory in the scenic spot is different from each other and they perfectly become parts of the environment.In some remote places, the condition of toilets will be worse. By the way, you need to pay if you need use the toilet.

10. Is the tap water drinkable in Turpan?
You should be careful about your drinking water, you can't drink it directly. Be sure to boil it before drinking.

11. How long should I stay in Turpan?
We suggest that you spend 2 days in Turpan. While many of Turpan's historic sights can be seen in a day, travelers staying longer can visit other attractions -- the bowling pin shaped Emin Minaret is the tallest minaret in China, a Uighar village, salt-encrusted Ayding Lake, second only to the dead sea as the lowest lake in the world. Grape Valley and local wineries offer tastings