Xi'an was one of the most important cradles of Chinese civilization, it was served as one of seven ancient capitals in China, the other six capitals are Beijing, Kaifeng, Luoyang, Nanjing, Hangzhou, Anyang, having held the position under several of the most important dynasties in Chinese history, including Western Zhou, Qin, Western Han, Sui, and Tang Dynasty. Moreover, Xi'an is the starting point of the Silk Road with the history of Chinese Silk Culture of over 2200 years and home to the Terracotta Army of Emperor Qin Shi Huang. Xi'an, with the profound history in China, there are many cultural sites, including the Terracotta Army, the City Wall of Xi'an, the Bell Tower and so on. Thus, Xi'an is the must see city for travelers to get close to know Chinese Profound history, UNSCO cultural sites.
Below are the renowned historical and modern attractions in and around Xi'an!
Terra-cotta Warriors and Horses Museum (Terra-cotta Army)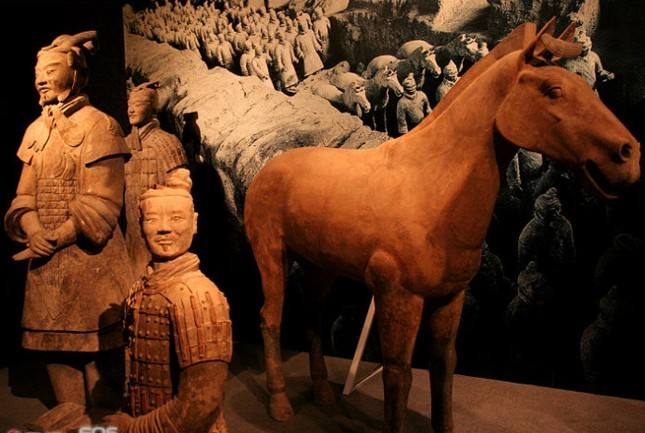 Known as "the eighth Wonders of the world", Terra-cotta Warriors and Horse museum shows a surprisingly high level in sculpture which is listed as the most significant discovery of the 20th century. It is a super large collection of life-size terra cotta sculptures in battle formations, reproducing the mega imperial guard troops of Emperor Qin Shi Huang (259 - 210BC), the first emperor of the first unified dynasty of Imperial China. The figures of the Terra-cotta Warriors and Horses Museum vary in height according to their roles, with the tallest being the generals. The figures include warriors, chariots and horses. Estimates from 2007 were that the three pits containing the Terracotta Army held more than 8,000 soldiers, 130 chariots with 520 horses and 150 cavalry horses, the majority of which remained buried in the pits nearby Qin Shi Huang's mausoleum. Other terracotta non-military figures were found in other pits, including officials, acrobats, strongmen and musicians.
Admission Fee: CNY120 for low season (Dec.1-Feb.29), CNY150 for high season (Mar.1-Nov.30)
Opening hours: 8:30-18:30
Time for Visit: 3 hours
How to get to there: take bus No. 914, 915, or Special Line 101, and get off at Terracotta Warriors Museum
Big Wild Goose Pagoda (Dayan Pagoda)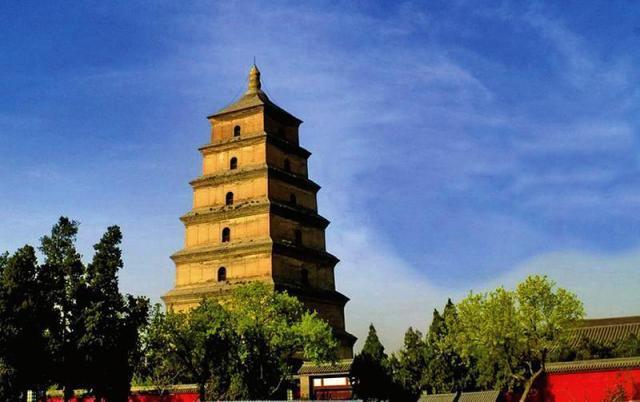 Big Wild Goose Pagoda, as the symbol of the old-line Xian, Big Wild Goose Pagoda is a well-preserved ancient building and a holy place for Buddhists. The storied pagoda was an architectural marvel, which was built with layers of bricks but without any cement in between, the grand body of Big Wild Goose pagoda with its solemn appearance, simple style and high structure, is indeed a good example of ancient people's wisdom and talent. Moreover, the big wild goose pagoda is an axes of the north square, as a point of intersection, gate and pillars connect Yanta north road and square axes. The entire square is composed of waterscape fountains, a cultural square, gardens and tourist paths. There you can taste real Chinese culture and traditions and fully enjoy the truly attractive views.
Address: Yanta South Road, Southern Urban of Xian
Admission Fee: CNY 30;
CNY 50 Entrance Fee of Da ci'en Temple
Opening Time: 8:00-17:00
Time for Visit: 2-3 hours
How to get to there:
Bus Routes: Tourist line No.6, 21, 22, 24, 601, 610, 501, 503
Metro Routes: Line 3 to Dayanta Station directly.
Xi'an Ancient City Wall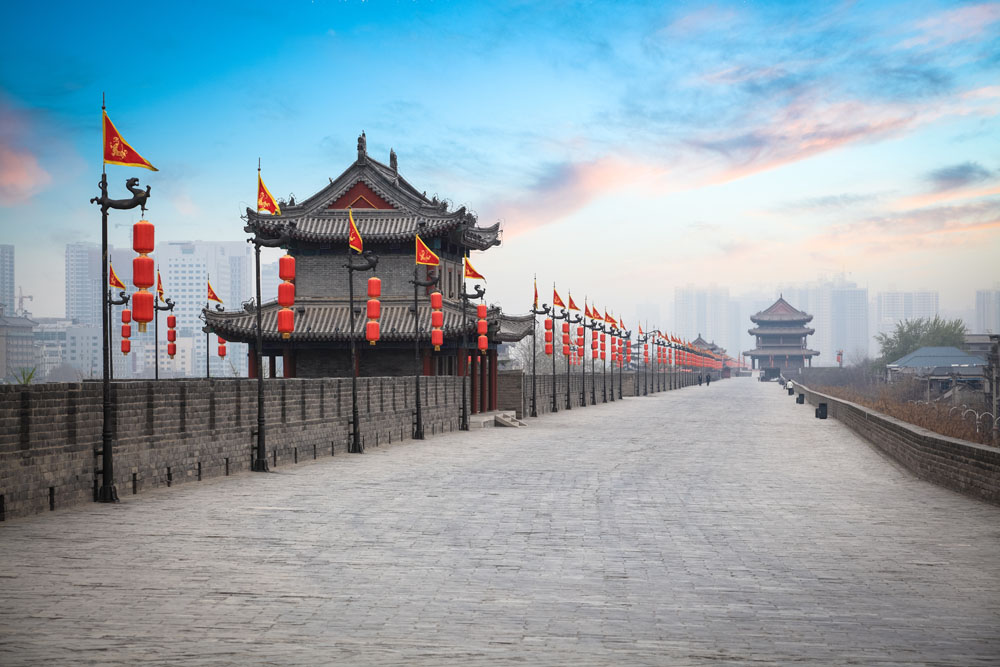 As one of the UNESCO's World Heritage Site, Xi'an Ancient City Wall is the best-preserved ancient city wall in China and also the largest and most complete military facility in the world, had the function of protecting the cities or towns as military defense systems in ancient China. It exhibits the "complete features of the rampart architecture of feudal society". It is about 14km in length, 12meters in height. The current city wall is an enhancement of the old Tang Dynasty structure, as a result of the emperor's wall building campaign. Its well preserved walls, moat, gates, drawbridge, main towers, watchtowers, parapet walls and crenels etc display an ancient defense system in integrity for the tourists today. Now, the Ancient City Wall is one of the top attractions in Xi'an city. It takes around half day to walk around, cycling is a good choice for visitors go around and appreciate the construction in Ancient China.
Admission Fee: CNY 40
Opening Time:
South Gate: 08:00-21:00.
Wenchang Gate, Heping Gate, East Gate, West Gate, North Gate: 08:00-20:00.
Shangde Gate, Wumu Gate (aka Xiaonan Gate): 08:00-18:00.
How to get to there:
Metro Routes: No.2 and get off at Yongningmen Station.
Bus Routes: No. 5, 18, 215, 603 and 611 etc. to get to.
Muslim Quarter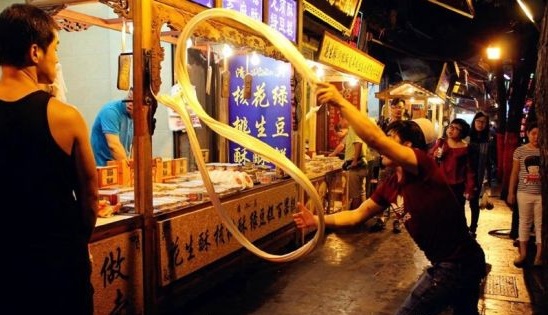 The Muslim Quarter is located 100 meters west of Bell Tower, which is one of the most well-known parts of the city. This street is 5 meters in wide and around 500 meters in length. There are over one million inhabitants, among which one third of them were foreigners. The ancestors of these Muslims dwelled in Xian with Han people harmoniously and built Great Mosque for worship simultaneously.The street is lined on both sides with different shapes and different size, it features silk scarves, name chops, colorful farmer's paintings, traditional Shaanxi handicrafts, like the delicate and beautiful 'paper cuts'. Nearby Muslim Quarter, there are Xiyangshi Street, Beiyuanmen Street and Dongxingjie Street. Besides, Palatable snacks is ubiquitous on Muslim Street, all restaurant are Muslim ones and various Muslim food are easily available, that would be a great feast to your eyes and your stomach, such locals' favorite ones as roasted beef, roasted fish, and pancakes are all at your disposal and the price here is reasonable.
Admission Fee: Free
Time for Visit: 1-2 hours
Opening Time: Whole day (stores usually open at 08:00-23:00)
How to get to there
Bus Routes: No. 7, 15, 32, 205, 215, 221, 222, 251, 252, 612, 618 or Tourist Line 8 (No. 610) and get off at Zhonglou Xi (Bell Tower West) Station. Walk towards the Drum Tower
Metro Routes: Line 2 and get off at Zhonglou (Bell Tower) Station. Get out from Exit B. Walk towards west for around 6 minutes
Bell Tower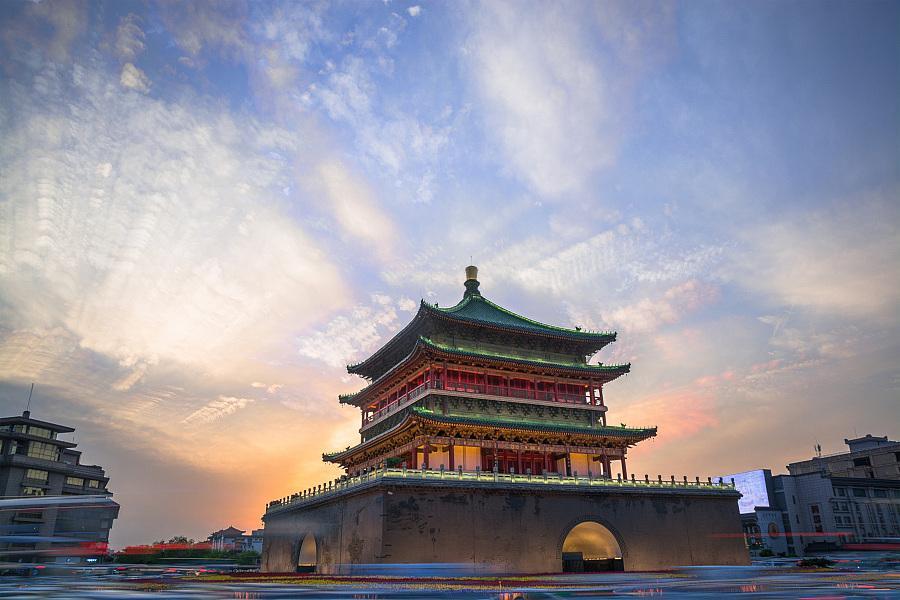 Bell Tower is a symbol of the city of Xi'an and one of the grandest of its kind in China. The Bell Tower also contains several large bronze-cast bells from the Tang Dynasty. The tower base is square and it covers an area of 1,377 square meters. The tower is a brick and timber structure and close to 40 meters high. The Bell Tower is resplendent and magnificent, on the top of which stands a gilded bottle-shaped ornament which shines brightly in the sun. A 6-meter (20 feet) tall arched gate opens in the west, east, north and south sides respectively, through which all traffic passes.
Admission Fee:
CNY 27 for the Bell Tower only and CNY 27 for the Drum Tower only;
CNY 40 for the joint ticket of Bell Tower and Drum Tower
Opening Hours: 8:00 - 22:00 (Apr. 1 - Oct. 31);
8:00 - 17:30 (Nov. 1 - the next Mar. 31)
How to get to there:
Take bus No. 4, 6, 7, 8, 11, 12, 15, 16, 26, 29, 32, 35, 36, 37, 43, 45, 46, 118, 201, 203, 205, 206, 208, 214, 215, 216, 218
Shaanxi History Museum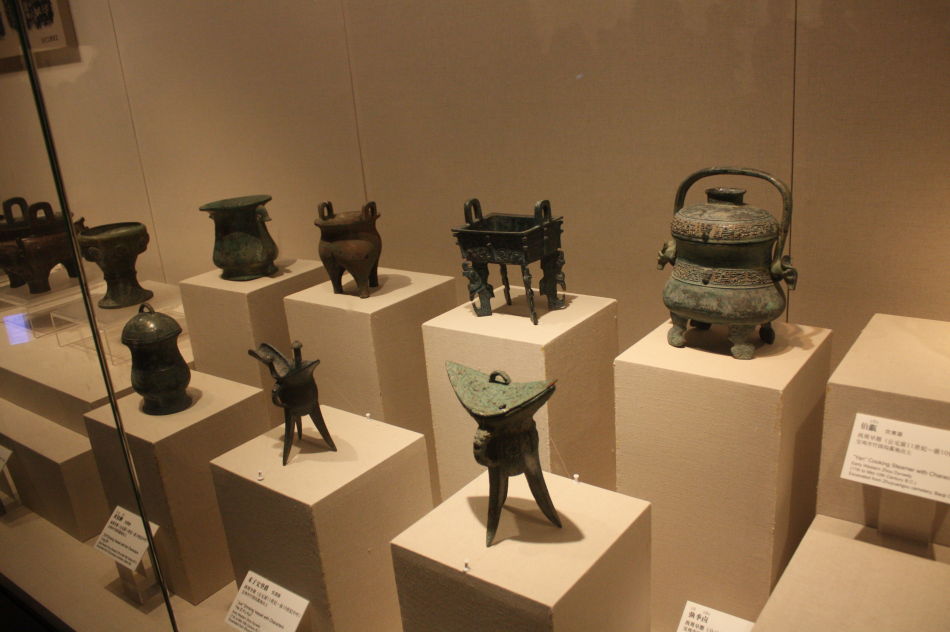 Shaanxi History Museum is located to the northwest of the Giant Wild Goose Pagoda, which is one of the four largest museum with modern facilities in China. The museum, built in traditional Tang architectural style, houses over 370,000 cultural relics, including murals, paintings, pottery, coins, as well as bronze, gold, silver, seal and stone objects, all of which can be dated back to over 1 million years ago to the late Qing dynasty. The appearance of modern museum recalls the architectural style of the Tang Dynasty, was regarded as "the pearl of ancient dynasties and house of Chinese treasures" where reflect over one thousand years of Chinese history, the splendid culture and people life in ancient times. It is elegant and dignified, on a large scale, with a combination of traditional architecture and modern technology, which embodies folk tradition and local features. The Shaanxi History Museum not only show the span of culture in ancient Shaanxi, but also show the highest level of cultural development of China's social economy.
Admission Fee: Free (Plz take your ID or Passport)
Exhibition Hall for Treasures of Great Tang Dynasty: CNY20
Exhibition Hall for Mural Paintings of Tang Dynasty: CNY30
Opening Time: closed on Monday
09:00 to 17:30 (Nov.15 to Mar.15)
08:30 to 18:00 (Mar.16 to Nov.14)
How to get to there
Bus Routes: take bus No. 5, 19, 24, 26, 27 and get off at Guihua Road Bus Station
Metro Routes: Line 3, get off the Dayanta Station, walking west around 1000 meters.