Summary
Day 1 Arrive in Xinjiang Urumqi
Day 2 Urumqi--Kashgar by Flight: Livestock Market, Sunnday Market, Grand Id Kah mosque, Old Town walking tours, Local Uighur family Dinner
Day 3 Kashgar: Zhiren Street, Apakh KHoja Tomb, Old Town of Kashgar
Day 4 Kashgar--Urumqi by flight: Heavenly Lake
Day 5 Urumqi--Turpan by vehicle: Karez Well, Emin Minaret
Day 6 Turpan--Urumqi by Vehicle: Tuyugou Valley, Gaochang Ancient City, Bezeklik Caves, Flaming Mountains
Day 7 Departure Urumqi
DAY 1 Arrive in Xinjiang Urumqi
Place&Transport: Urumqi
Today's Activities: Transfer you from the airport to your hote (the international flight is not included)
Accommondation: 4 Stars Hotel (Can be customized) in Urumqi
Meal: N/A
Welcome to Xinjiang Urumqi! Xinjiang, conventional Sinkiang, in full Uygur Autonomous Region of Xinjiang, officially Xinjiang Uygur Zizhiqu, Xinjiang is located at the northwestern corner of the country. It is bordered by the Chinese provinces of Qinghai and Gansu to the east, the Tibet Autonomous Region to the south, Afghanistan and the disputed territory of Kashmir to the southwest, Kyrgyzstan and Tajikistan to the west, Kazakhstan to the northwest, Russia to the north, and Mongolia to the northeast. It is China's largest political unit. Its capital is at ürümqi (Wulumuqi).
Upon on your arrival, our local tour guide will greet you at the exit of the airport with a welocme sign "China Silk Road Tour". You will be escorted to your hotel in Urumqi directly, our tour guide will help you check in. The rest of the day is free on your own to recover the jetlag.
DAY 2 Urumqi-Kashgar by Flight
Place&Transport: Kashgar
Today's Activities: Livestock Market, Sunnday Market, Grand Id Kah mosque,Old Town walking tours, Local Uighur family Dinner
Accommondation: 4 Stars Hotel (Can be customized) in Kashgar
Meal: B, L
In the early morning, our guide will meet you at your hotel lobby and drive you to Urumiqi for your flight to Kashgar, it takes around 2 hours for one way. Kashgar is an oasis city in Xinjiang, is one of the westernmost cities of China, located near the borders of Afghanistan, Kyrgyzstan, Pakistan and Tajikistan. It has a history of over 2,000 years and served as a trading post and strategically important city on the Silk Road between China, the Middle East and Europe.
After you arrived in Kashgar, our local tour guide will wait you at the exit of the airport with a welcome sign "China Private Tour". Firstly, our tour guide will take you to the famous livestock market which happens only on every Sunday and people bring their horses, sheep, goats, camels,cows, bulls and other livestocks to the market from all the directions for sale. It provides a great opportunity to take photos of the faces of local people, enjoy the traditional local market culture, test-drive a donkey or a horse or even make its shoes. Like opening a window, today is a real glimpse into a time lost in the annals of the Silk Road's past and an opportunity not to be missed.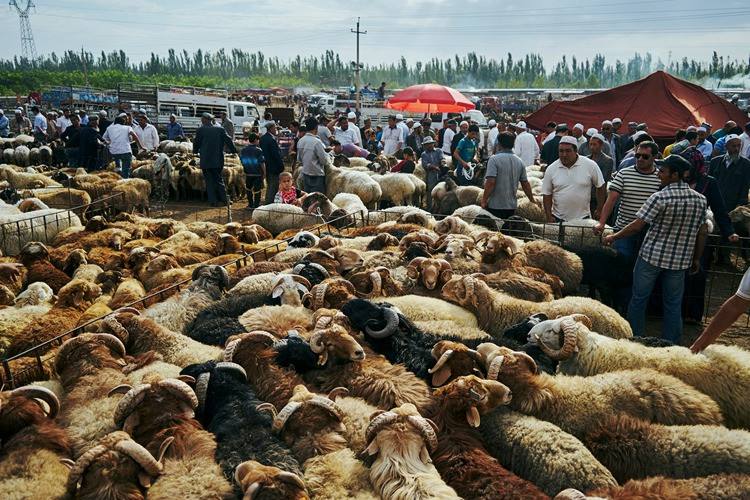 Livestock Market
Later, move on to Sunday Market main Bazaar which is considered one of the largest market in Central Asia. From fluffy sheepskin hats to rugged camel-hide boots, not to mention beads, buttons and buckets of locals. Everything – including plenty of kitchen sinks – is for sale at this fairytale bazaar. It is the best to chance to practice your bargaining skills.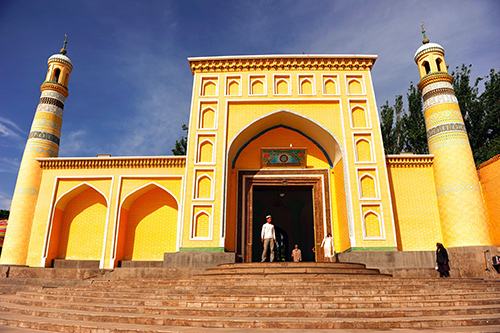 Grand Id Kah Mosque
After lunch, visit the Grand Id Kah Mosque, the largest mosque in China and marvel at the intricate architecture of Kashgar's historic Apak Hoja Tomb, which is also known as Fragrant concubine tomb. You will enjoy the Old Town of Kashgar by walk. walking is the best way to see and understand the ancient historical parts,streets,handicraft workshops and many more; enjoy a century-old Kashgar tea house's atmoshpere for a short break. sitting by the locals and try various medicinal teas such as those containing rose, saffron, honey and many other ingredients.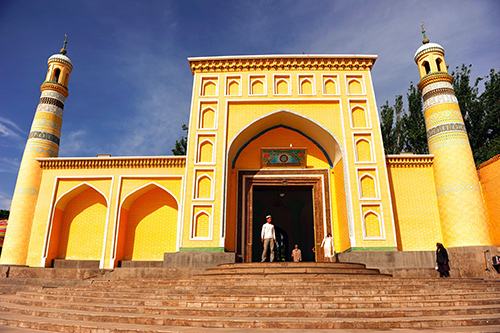 Grand Id Kah Mosque
Finally wrap up your city day tour with a dinner at a local family that offers a great opportunity to deeply understand real local life, culture and traditions of Uighurs. After the dinner, you will be taken to your hotel in Kashgar, our tour guide will help you check in.
DAY 3 Kashgar
Place&Transport: Kashgar
Today's Activities: Zhiren Street, Apakh KHoja Tomb, Old Town of Kashgar
Accommondation: 4 Stars Hotel (Can be customized) in Kashgar
Meal: B, L
Today, you will take a visit to Zhiren Street. The Zhiren Street is the most characteristic and unique place showing off the distinctive customs and cultures of Kashgar of Xinjiang. There are many full-time handicraftsmen working on the street and it is hence also called the Handicraft Street, with hundreds of workshops and booths alongside. It is regarded as an exhibition hot-spot for the famous traditional Kashgar as well as mid-Asian handicrafts. It is an unforgettable tour that takes into the fabulous folklore history and lets you experience the customs and traditions of Uighur.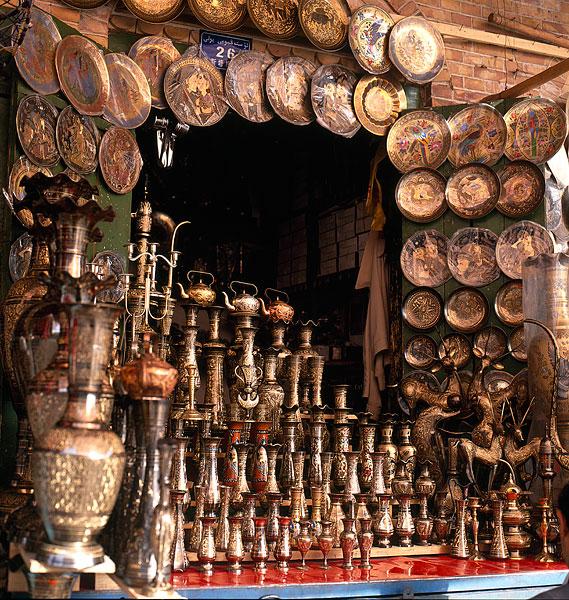 Zhiren Street
Then visit Apak Khoja Mausoleum or Apak Khoja Tomb. is located 5km northeast of Kashgar city. Built from 1640, the tomb covers an area of about five acres. Just inside the gate is a large rectangular courtyard made up of a gate tower, worship walls, Doctrine-Teaching Hall, and tomb chamber. It is a mausoleum complex of the Khoja family of the Aktaglik sect (White Mountainair). The Khoja family ruled southern Xinjiang from the seventeenth century to the mid-eighteenth century. Now, it is a key cultural and historical unit protected by the Xinjiang Uyghur Autonomous Region. Abakh Khoja Tomb is admired as a well-preserved Islamic architectural complex not only in Xinjiang, but throughout Central Asia.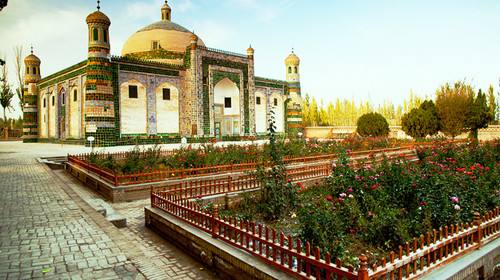 Apak Khoja Mausoleum
Following activity is to visit the Old Town of Kashgar City where you will experience the authentic Uyghur living style. You will also take a break and enjoy a cup of local tea at the ancient tea house which is more than 100 years old. The locals also like to spend some leisure time in the tea house with friends and families - drinking, chatting and playing music sometimes.
After dinner, you will be taken back to your hotel.
DAY 4 Kashgar-Urumqi by Flight
Place&Transport: Urumqi
Today's Activities: Heavenly Lake
Accommondation: 4 Stars Hotel (Can be customized) in Urumqi
Meal: B, L
After breakfast, our guide and driver will transfer you to Kashgar airport for your flight back to Urumqi and our Urumqi local tour guide and driver will meet you at the exit of Urumqi airport with a sign "China Silk Road Tour" and your will start your tour directly.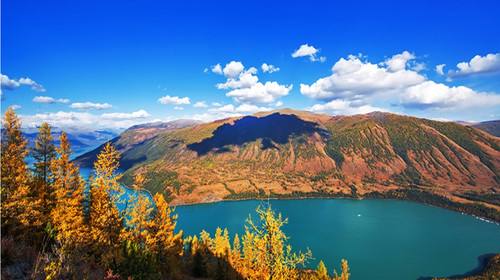 Heavenly Lake
Today you will take the adventure to Heavenly Lake, it takes around 2hrs by driving. It is surrounded by many rugged and forested valleys leading down from nearby peaks, which reach about 2,400 meters (7,800 feet) in altitude. Surrounded by mountains, trees and flowers, and silhouetted against the blue sky, the Heavenly Lake is simply beautiful. The peaks decorated with snow, emit a silvery glow in the sunlight. Beautiful flowers are scattered along the lake. A colorful tapestry of natural scenery is created by crystal water, white snow, and mountains filled with flowers and green trees. If you like photography, don't miss this opportunity for some nice photos. Try not to go during cloudy or rainy days, as the colorful scenery will be at its best in sunshine.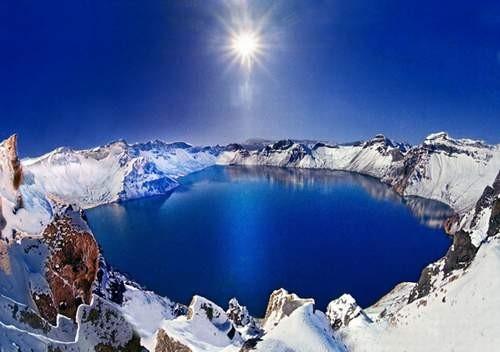 Heavenly Lake
After the tour ends, drive you to your hotel in Urumqi and you can have a good rest.
DAY 5 Urumqi-Turpan by Vehicle
Place&Transport: Turpan
Today's Activities: Karez Well, Emin Minaret
Accommondation: 4 Stars Hotel (Can be customized) in Turpan
Meal: B, L
In the morning, our tour guide will meet you at your hotel and drive around 200 km to Turpan city (around 2.5 hrs for one way). The first place you will visit is Karez Well. Karez Well is a kind of underground water works invented and built by laboring people of various ethnic groups in our country to adapt to the natural environment in dry region. The Karez wells in the Turfan area totaled up to over 1100 sets, among which 538 sets are in Turfan city, 418 sets in Shanshan and 180 sets in Toksun. The annual runoff volume of these Karez wells amounts to 294 million cubic meters which accounts for 30% of the total irrigated areas in Turfan area.
Karez wells are a successful application of the sinking technology of the Central Plains in the Turfan area. It is a historic inheritance and promotion of the sinking technology of the Central Plains, and plays a very important role in the study of the sinking technology both in the Central Plain and in the Middle and West Asia.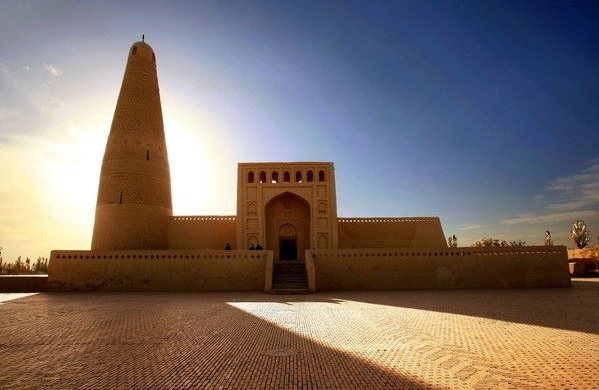 Karez Well
After that, you will visit a local Uygur family and have lunch with them. You will learn how to make Xinjiang food and visit the vineyard if you are interested.
In the afternoon, our guide will take you to visit Emin Minaret (Sugong Pagoda), which is the biggest ancient pagoda existing in Xinjiang and the only Islamic ancient pagoda in the country. Among some hundreds of famous pagodas in China, Sugong Pagoda is one of the most popular Islamic construction and the only Islamic style pagoda. As high as 44 meters (144 feet), Sugong Pagoda located 2 kilometers east of Turpan is the tallest minaret in China. The Sugong Pagoda was inscribed on the list of key cultural relics under the protection of the Xinjiang government in 1957. Appreciate sunset at Jiaohe Ancient City and have leisure walk at the valley about 40 minutes.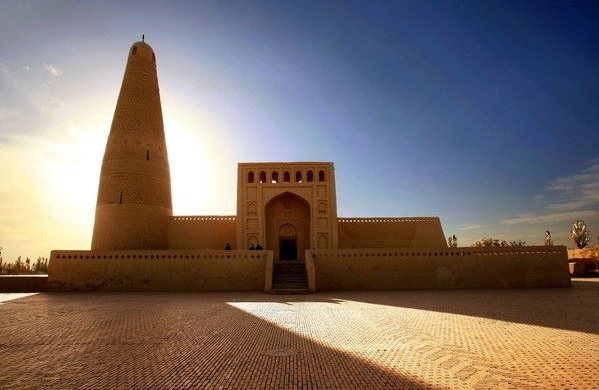 Sugong Pagoda
After the tour ends, drive you back to your hotel in downtown Turpan.
DAY 6 Turpan-Urumqi by Vehicle
Place&Transport: Urumqi
Today's Activities: Tuyugou Valley, Gaochang Ancient City, Bezeklik Caves, Flaming Mountains
Accommondation: 4 Stars Hotel (Can be customized) in Urumqi
Meal: B, L
After breakfast, our tour guide will meet you at your hotel lobby and drive you to Tuyugou Valley, which is a valley village cutting into the flaming mountains located in the Taklimakan Desert. Tuyugou Valley is an ancient village with roughly 1700 years of history, till this day they still preserve and use ancient Uyghur customs and culture. This valley village is also a pilgrimage area for many Muslims, with the main destination being The Mazar, or the tomb of the first Uyghur Muslim. It's said that seven trips to Tuyoq is equal to one trip to Mecca.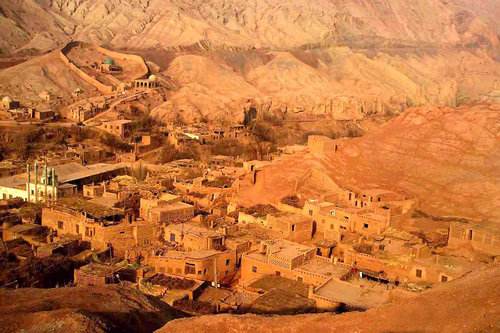 Tuyugou Alley
Next, you will visit Gaochang Ancient City. It served as an important commercial and cultural center on the northern edge of the Silk Road for long time. It was once the thriving capital of an important kingdom that controlled over twenty other towns. Gaochang was also an important religious center. Buddhism was firmly established there under the Tang. The monk-traveler, Xuanzang, taught in Gaochang around 630 on his pilgrimage to India in search of Buddhist sutras. The city had numerous monasteries and temples, and at one time there were perhaps 3,000 monks and priests within its environs.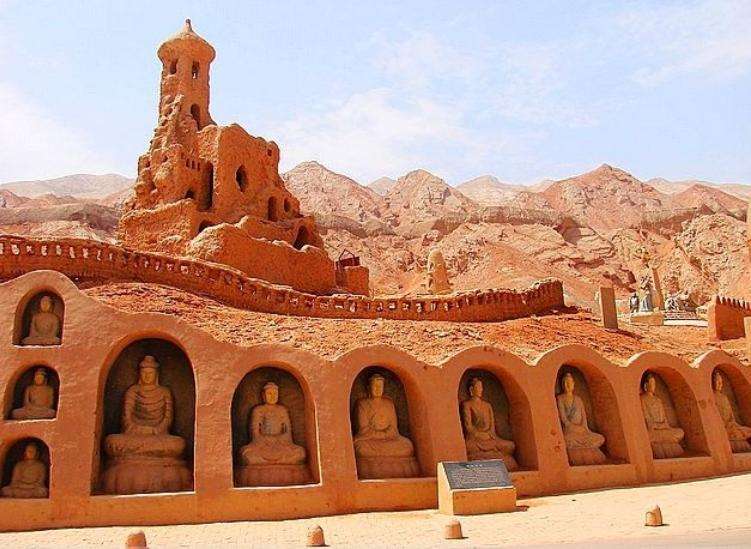 Gaochang Ancient City
You will have simple lunch at a local Chinese restaurant.
In the afernoon, pay a visit to Bezeklik Caves, also known as the Bizaklik Thousand-Buddha Caves.There are 77 rock-cut caves at the Bezeklik Caves. Most have rectangular spaces with rounded arch ceilings often divided into four sections, each with a mural of Buddha. The effect is of entire ceiling covers with hundreds of Buddha murals. Some ceilings in Bezeklik Caves are painted with a large Buddha surrounded by other figures, including Indians, Persians and Europeans.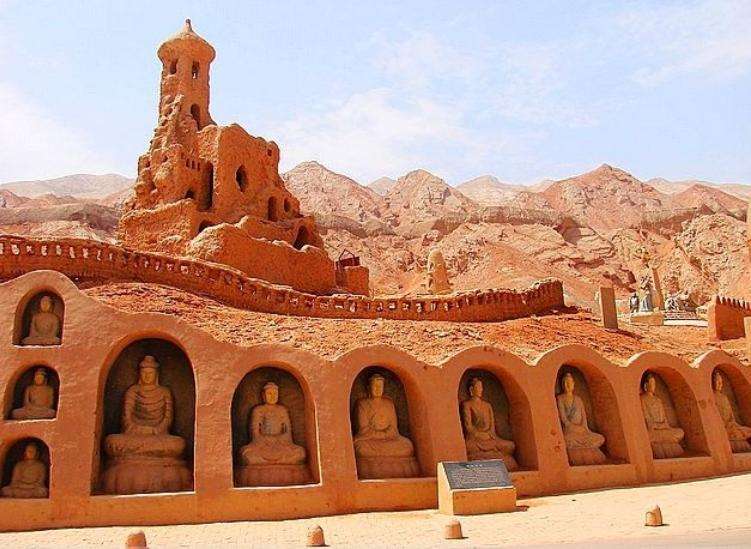 Bezeklik Cave
On the way back to Urumqi, you have a chance to visit Flaming Mountains, which appear at midday like multicoloured tongues of fire. The Flaming Mountains were immortalised in the classic Chinese novel Journey to the West, in which Sun Wukong (the Monkey King) used his magic fan to extinguish the blaze.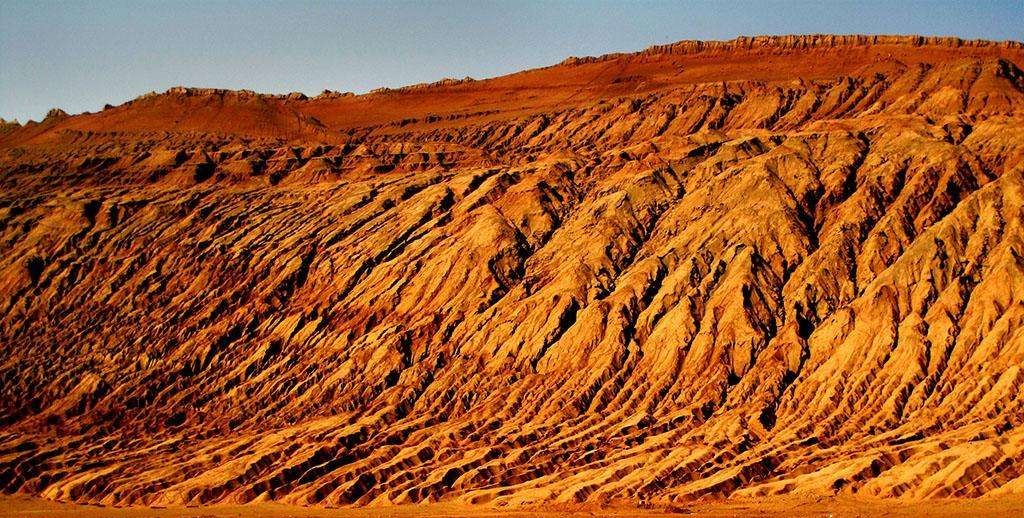 Flaming Mountain
You can have a good rest after arrived in your hotel in Urumqi.
DAY 7 Urumqi Departure
Place&Transport: Urumqi
Today's Activities: Transfer you to the airport (the international air ticket is not included)
Accommondation: N/A
Meal: B
Today is free on your own until our driver transfer you to the airport and you fly back home. Your 7 Days Xinjiang Silk Road Discovery Tour comes to the end!
Price Per Person in US Dollars