Id Kah Mosque
Post Date: 2020/03/18 11:41
Share to:
Overview
Id Kah Mosque is the largest and active mosuqe in China with an area of 16,800 squre meters.It is one of famous tourist sites in Kashgar. On each Friday, lots of prayers come here, many of whom are praying in the square outside the mosque. While during the holidays the Id Kah Mosque being a kind of pilgrimage for Chinese Muslims is visited by 100,000 believers. The Id Kah Mosque is striking not only for its beauty but also for its grandeur. It does not look like a modern mosque in China, as it was constructed in a Central Asian style. The walls of the mosque are covered with yellow glazed tiles and decorated with various ornaments and inscriptions from the Koran.Id Kah Mosque means a place for praying and celebration of festivals in the Uyghur language. It is famous for its long history and Muslim culture. Id Kah Mosque is not only an important place for religious activities in Xijiang, but also a key education site for Muslim culture in ancient times. A lot of Muslim Imams and Islamic scholars in Xinjiang and Central Asia had graduated from Id Kah Mosque.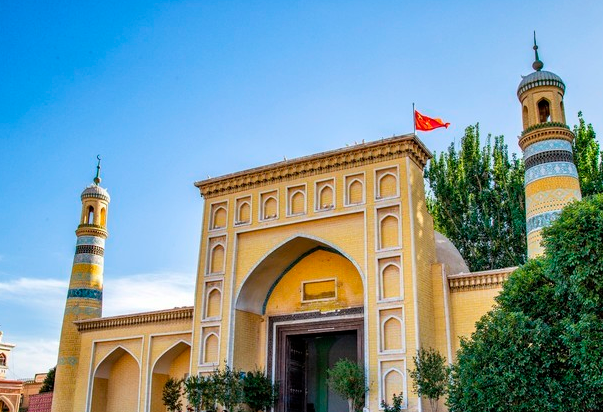 History of Id Kah Mosuqe
Id Kah Mosque wad built in 1442, which during the reign of Ming Dynasty. During that time, the king of Kashgar Shaq Serz · Mirza built a mosque here first, when Kashgar was ruled by East Caqadai Khanate Sayyid Ali of Dughlat Family reign period (1435-1457). In 1993, the Chinese Muslim General Ma Zhancang killed and beheaded the Uighur leader Timur Beg, displaying his head on a spike at Id Kah mosque.In the next year, it was reported that the Uighur emir Abdullah Bughra was also beheaded, the head being displayed at Id Kah mosque. And the Chinese Muslim general Ma Zhongying gave a speech at Id Kah Mosque in Kashgar, telling the Uighurs to be loyal to the Republic of China Kuomintang government at Nanjing. In the year of 2014, the imam of the mosque, hotelier Jume Tahir, was stabbed to death shortly after attending morning prayers.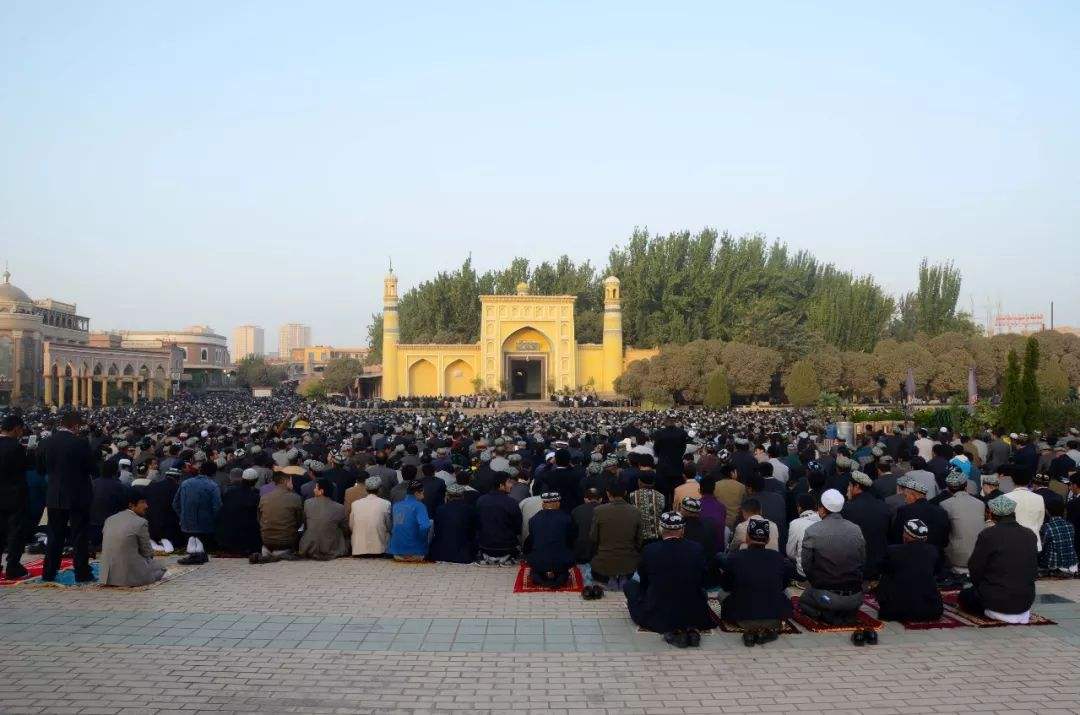 What to see in Id Kah Mosque
The mosuqe with the strong religious features, which consists of a gate tower, a courtyard, a doctrine-teaching hall and a big Hall of Prayer. Winding through Tower Gate, visitors will see a big Courtyard. On the south and north sides of the courtyard lines 18 doctrine-teaching halls. In the courtyard, poplar trees tower high up against the blue sky, pines and cypresses flourish. The whole yard is heavily shaded. A pool with crystal water in the yard like a pearl embeds among the lush vegetation. The yard provides a tranquil and secluded environment for relaxing and refreshing.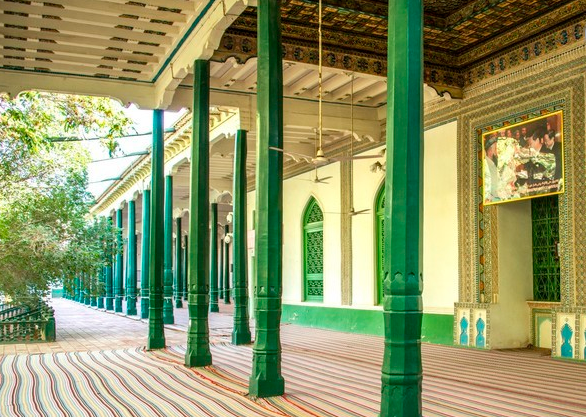 The Hall of Prayer is built on a high platform and it contains three parts, the Inner hall, Outer hall, Hall Entrance which are all on the dais over 1 meter higher the ground. The roof of the Outer Hall is supported by 140 light blue wooden pillars. The 7-meter-high pillars were laid out on a grid pattern, which were artistically spaced. On the roof and the pillars are exquisite carvings and beautiful pictures. The brick gate tower faces the Id Kah Square. This tower is full of elaborate flower-pattern carvings, mainly in green.


Basic Information
Location: North Jiefang Road, Kashgar, Xinjiang Uygur Autonomous Region
Entrance Fee: 20CNY
Opening Hours: 8:00am-17:00pm
How to get there: Take city bus No.13 and No. 77 to Id Kah Mosque.

Travel Tips
1) Women are allowed to visit without issue, and women should enter the mosque with their head covered.
2) All visitors shoudl dress the suitable clothes.You need to take off your shoes when you enter the mosque.
3) Without permission, no photographing in the mosque