Zhangye Danxia National Geopark
Post Date: 2020/03/24 22:01
Share to: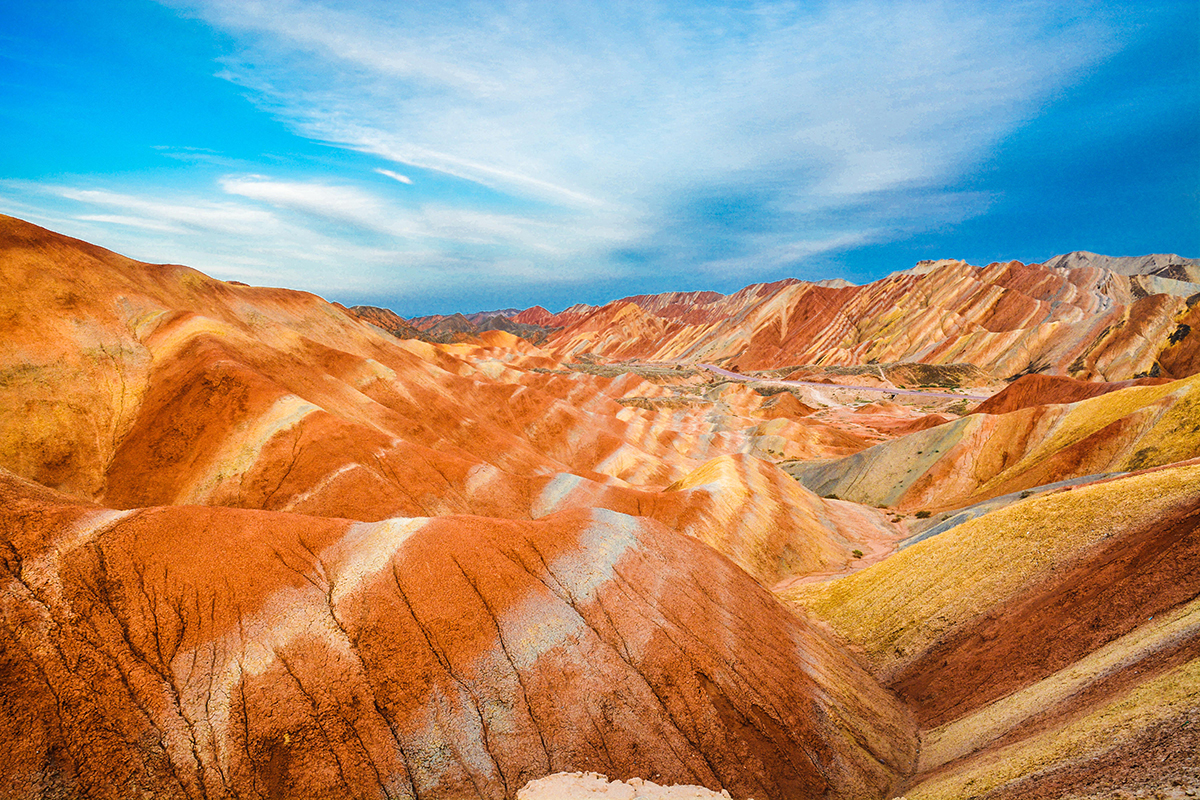 Overview
Zhangye Danxia National Geopark is the only compound area of Danxia landform and colorful Hill Landscape in China. Located in the northern foot of Qilian Mountain, 30 kilometers south of Linze County, Zhangye City, Gansu Province, it is one of the areas with the largest and best Danxia landform development and the richest landform modeling in China, and it is a typical representative of China's colorful Danxia, with high scientific research and tourism value. Known for its colorful rock formations, it has been voted by Chinese media outlets as one of the most beautiful landforms in China.
China Danxia is the name given in China to landscapes developed on continental red terrigenous sedimentary beds influenced by endogenous forces (including uplift) and exogenous forces (including weathering and erosion). The inscribed site comprises six areas found in the sub-tropical zone of south-west China. They are characterized by spectacular red cliffs and a range of erosional landforms, including dramatic natural pillars, towers, ravines, valleys and waterfalls.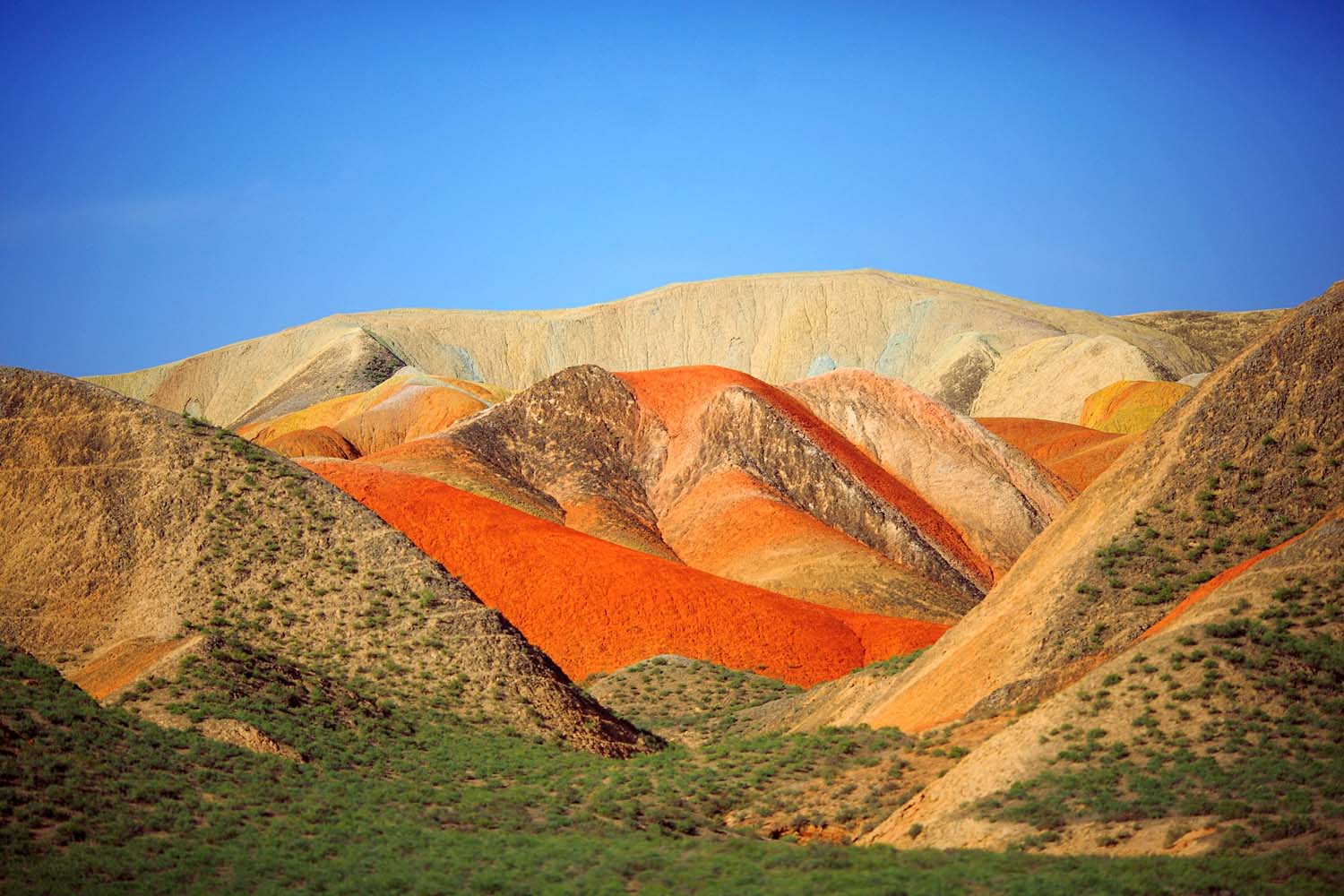 Landscape
Zhangye Danxia is known for the unusual colours of the rocks, which are smooth, sharp and several hundred meters tall. They are the result of deposits of sandstone and other minerals that occurred over 24 million years. The result, similar to a layer cake, is connected to the action of the same tectonic plates responsible for creating parts of the Himalayan mountains. Wind, rain, and time then sculpted extraordinary shapes, including towers, pillars, and ravines, with varying colours, patterns, and sizes.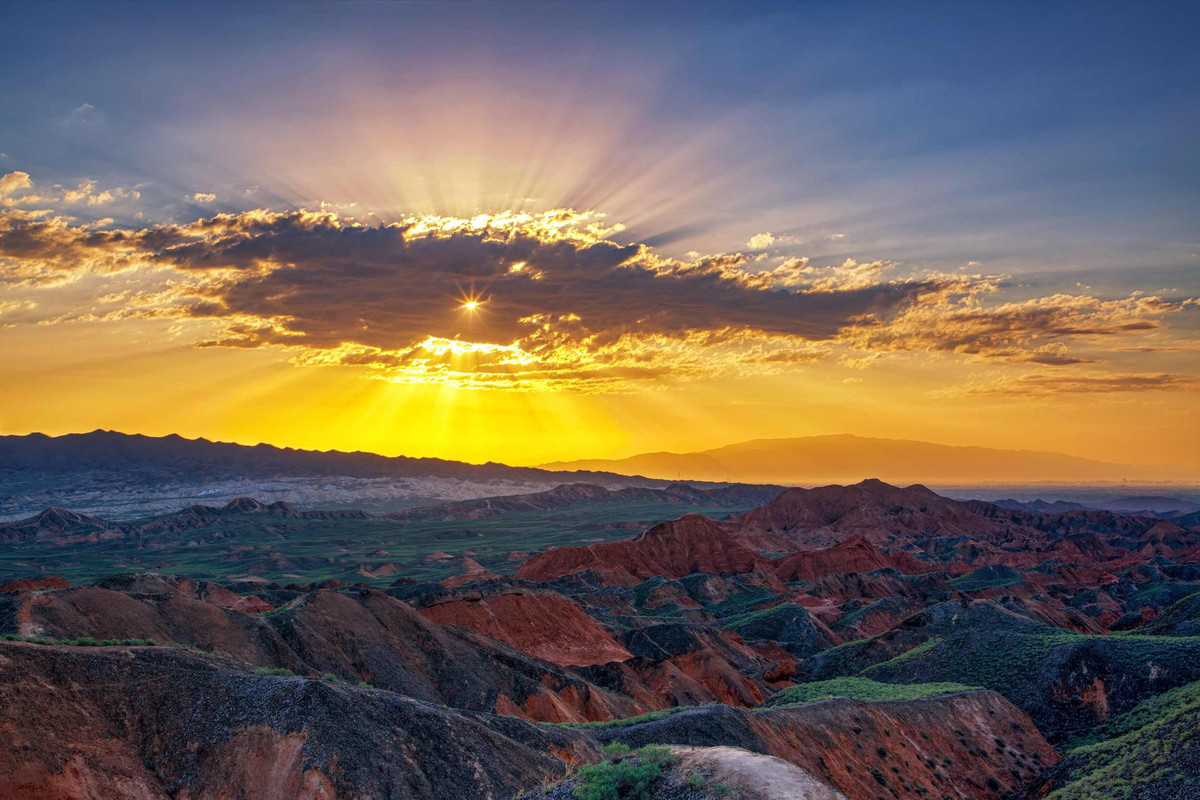 How was it formed?
Zhangye's Danxia was formed by the erosion of red sandstone, forming isolated peaks and steep stratified outcrops. Its special geological structure, combined with long-term desert conditions , freeze-thaw peeling, and wind and water erosion gave rise to its present appearance.
Geologists believe that Danxia topography is formed by folding of layered oceanic crust. Exposed slanting rock layers have different colors, textures, shapes, sizes, and patterns. The combination of differences in density and erosion create towering peaks, cave holes, and stone halls.
What to see?
There are four large viewing platforms located within the park which are all connected by shuttle bus. Each platform offers a different landscape with stunning views of the Rainbow Mountains. The bus ride that cuts through gorges and along dried up riverbeds is also impressive. Unfortunately it doesn't seem like you can hike off on your own within the geopark, but outside it should be possible.
When is the best time to see the Rainbow Mountains?
Sunrise and sunset are the perfect times as the sun's rays cast a beautiful glow that accentuates the colours of the mountains. June to September are the best months to visit due to the temperate climate.
How much does a ticket to Zhangye Danxia Geological Park cost?
Entrance to the Danxia Geopark costs ?75 which includes the shuttle bus and on-site insurance.
How long should I spend at the Rainbow Mountains, China?
The recommended time for a visit is 4 hours (my own visit was exactly four hours from start to finish), but this depends on how long you want to spend at each viewing platform. However, the area itself is worth at least 2 days as the nearby Danxia Bingguo Geological Park is equally as impressive.
Info
Location: between Linze County and Sunan County, Zhangye, Gansu Province in northwest China
Admission Fee: CNY 140 (included Colorful Hills, Ice Valley); Free of charge for children under 3.9 feet (1.2 meters)
Opening Hours: 6:00-20:00