Kashgar Dining
Post Date: 2020/03/16 15:34
Share to:
Overview
Kashgar is one of popular tourist cities in Xinjiang.It is the westernmost city in China, Kashgar sits like a punctuation mark between China and Central Asia, along the Silk Road.But while it lies in the region of Xinjiang, within China's borders, Kashgar's cuisine shares little with traditional Chinese food.
Instead, Kashgar is heavily influenced by the local Uyghur people, most of them are muslims.Thanks to this revolving door of influences, the city's cuisine is a splendid mosaic of Middle Eastern, Central Asian, and Chinese flavors.

Kashgar's food resonates with tastes typically associated with the Middle East—cumin, chili, cinnamon, garlic, saffron, and sesame. You will never know the real Xinjiang if you've never been to Kashgar, and a journey to Kashgar is never complete without savoring its local specialties. As one of the best cities to sample authentic Xinjiang cuisine, Kashgar is noted for its diversified food culture.


What to eat in Kashgar
Kebabs
You can find Kebabs anywhere in Kashgar, most of them are Baked mutton kebabs. The kebabs are turned continually on the charcoal fire, and when they are almost done, salt, pepper paprika and cumin are sprinkled on them according to your needs. They always choose the frensh and tender mutton when the people make the kebabs, not greasy and smelly at all.If you have chance to travel to Kashgar, you should try the kebabs.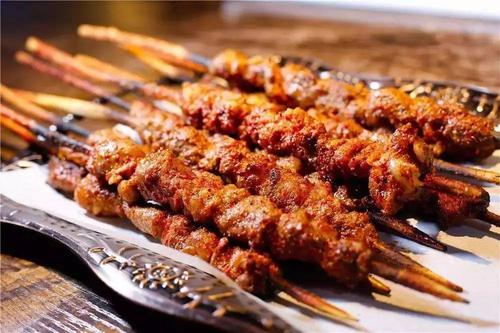 Naan
Naan is a staple food for Uygurs. The bread is made from plain ingredients including flour, milk, salt and sugar, but it conjures up a host of wonderful sensations.
Samsa
Samsa is kind of roasted dumplings, filled with potatoes, onions, mutton or beef. They are usually considered appetizers or snacks for locals and can provide an energy boost after hours of wandering the streets or shopping in bazaars.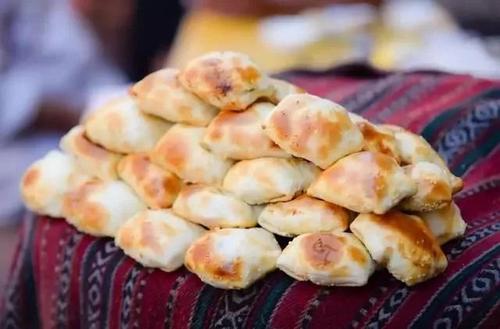 Yogurt
Yogurt is a kind of sour dairy products, which very popular among the locals. Muslim people enjoy drinking it all over the year. Yogurt is a nutritious food containing a great variety of mineral substances, vitamin.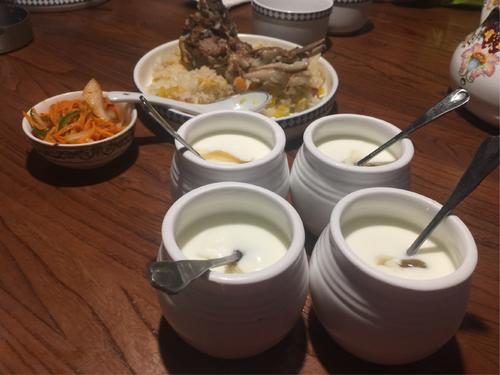 Note: There are many other popular snacks and food in Kashgar, such as Poxkal, Sangza and Yutaza. The local Han residents also created the Dapanji (big Plate Chicken), food filled with spicy chicken, potatoes and peppers served on a big plate, and flat hand-pulled noodles will be added after the chicken is eaten. Kashgar is a city filled with delicious foods and tasty snacks.


Where to eat in Kashgar
There are many restaurants and markets are available for tourists to dine in Kashagr. Some popular place for dinning in Kashgar as below:
1) ou'er Dáxikè Night Market
Across from the Id Kah Mosque, this photogenic night market is a great place to sample local fare. Among the goodies are fried fish, chickpeas, kebabs, fried dumplings known as hoshan and bubbling vats of goat's-head soup. Top off a meal with a glass of pomegranate juice or freshly churned vanilla ice cream.

2) Altun Orda
Easily Kashgar's most memorable and atmospheric restaurant, Altun Orda is a sumptuously decorated place famous for its roast mutton, sweet pumpkin dumplings, meat pies and raisin and almond pastries. Though the restaurant has been on the tourist radar for some time – as the English iPad menus demonstrate – you'll still usually be an object of curiosity amid a sea of Uyghur families.

3) Nuran
This gorgeously decorated 2nd-floor restaurant is hugely popular with Uyghur diners who tend to come in large family groups to feast on traditional dishes from the enormous selection. There's a big photo menu and staff seem genuinely thrilled to see foreign guests, as this place has yet to be discovered by tour groups.

4) Yingbin Jie Night Market
This large and relatively untouristed night market has food stalls running alongside Yingbin Jie just north of the river. There's a fantastic selection of traditional Uyghur street food on offer, from hard-boiled eggs cooked in ash to huge pieces of fried fish and massive drums of polo