Kashgar Shopping
Post Date: 2020/03/16 16:05
Share to:
Overview
Kashgar is situated at the westernmost of China and it was one of towns on the ancient silk toad. The fertile oasis allows corn, rice, wheat and cotton, as well as melons, grapes, apricots, peaches and cherries to grow. There are various handicrafts make in Kashgar, such as cotton and silk textiles, leatherwear and pottery are produced in the city and its suburbs. Kashgar region is known for its handicraft products which is not only diversity in kinds but unique in local characteristics. For instance, beautiful and comfortable carpets, diverse caps, old and elegant pottery, fine-made accessories, small but chic Yengiser knifes, colorful and gorgeous Yidelaisi silk, economical and pragmatic calico and sorts of ethical musical instruments.These handicrafts are not only popular in Kashgar, but also popular in West Asia and Europe.

What to buy in Kashgar
Carpets
When you travel to Kashagr, you should buy the Carpets from here since they are one of traditional handicrafts in Kashgar, and they are famous for skilled craft and distinctive styles. Kashgar carpets enjoy a great variety of categories with large diversity of patterns. The pure handmade carpets are quite valuable and expensive.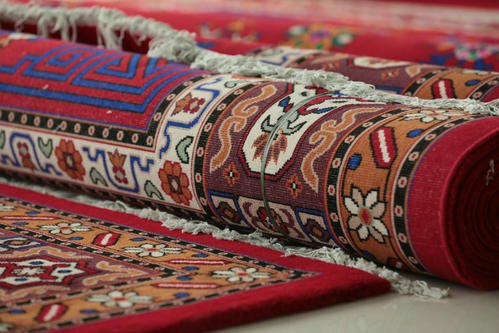 Yengisar Knifes
Yengisar knifes are handicrafts Uyghur nationality of Xinjiang Uygur Autonomous Region, with strong Uygur ethnic features.They have good looking as well as practical function.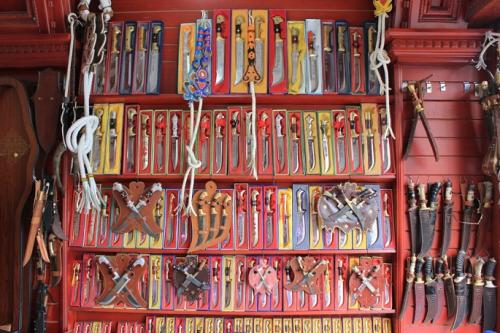 Ethnic Musical Instruments
You can find vairous musical instrauments when you in Kashgar. Kashagr is well known for its beautiful melodies and the art of dances.All the nationalities who have been living in Xinjiang for centuries,would enjoy themselves singing and dancing not only during the holidays or festivals,but also on the regular days of their life.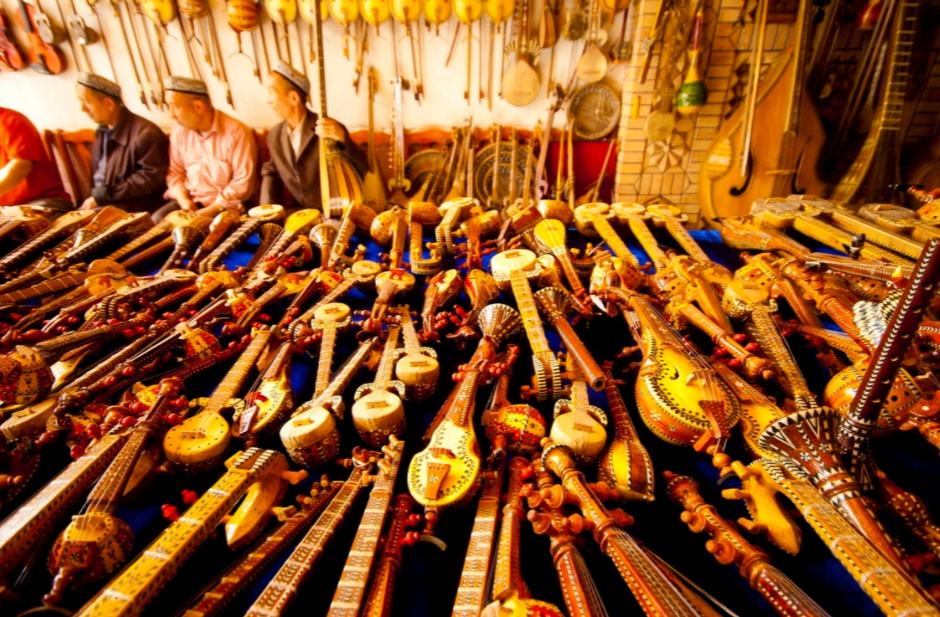 Colourful Uyghur Hats
You can buy some colourful Uyghur hats take back home. The hats for men and women is differents (doppa, kalpak).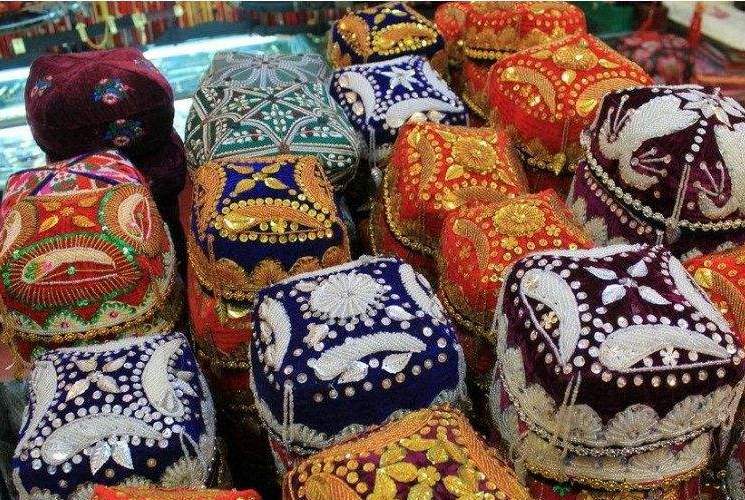 Where to shopping in Kashgar
1) Grand Sunday Market
Most carpet dealers display their wares at the Market pavilion. The rugs here are made of everything from silk to synthetics and finding traditional designs can be difficult-go with a local if possible. The brightly coloured felt Kyrgyz-style shyrdaks are a good buy.

2) Uyghur Musical Instrument Factory
You'll find long-necked stringed instruments here running the gamut from souvenirs to collectors' items. If any traditional performances are on, owner Mohammed will know where to find them. There are several places with the same name on the same street.

3) Ahmed Carpet Shop
Ahmed and his son run this Old Town carpet shop, offering a good selection of antique and new carpets from across Central Asia.

4) Ilhas Supermarket
Ilhas Supermaket is an excellent place for those who want to buy the Turkish and Central Asian goods in Kashgar.

5) Huanjiang New world Department Store
It is the biggest department store in Kashgar. It is located in south of the intersection of Renmin West Road and Keziduwei Road. The department store offers a variety of products.