Zhangye Weather & Climate
Post Date: 2020/03/18 16:59
Share to: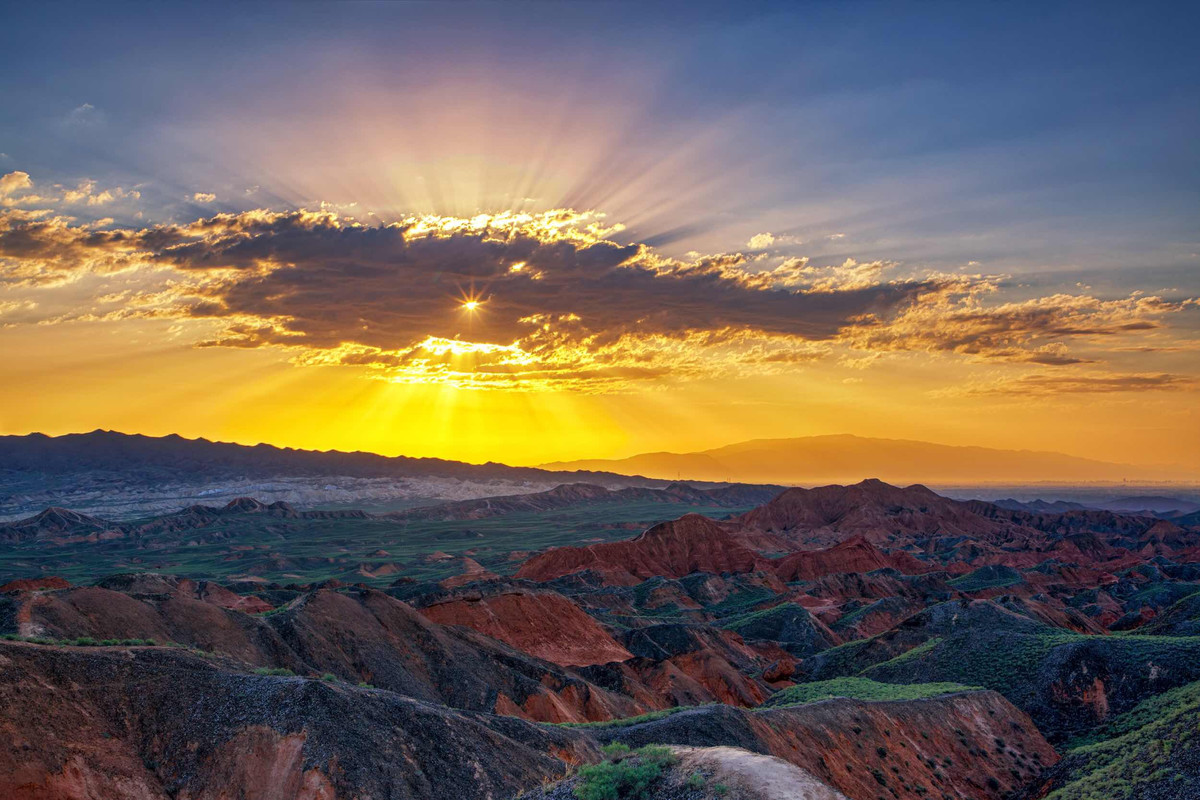 Overview
Zhangye city belongs to cold temperate arid and Qilian Mountain Alpine semi-arid and semi humid climate types. It is characterized by short and hot summer, long and cold winter, drought and little rain, uneven distribution of precipitation, large temperature difference between day and night, rich wind and solar energy resources.
Zhangye lies on Qilian Mountain in the south, heli mountain and Dragon Head mountain in the north. Heihe River runs through the whole area, forming a unique desert oasis scene. Because of its unique geomorphic features and climate, Zhangye contains snow mountains, grasslands, clear water and deserts at the same time. In ancient Chinese poetry, there is a saying like "If you don't see the snow on Qilian Mountain, you would think Zhangye is no different from Southeast China".
Zhangye Weather & Climate
Zhangye is a city in Northwest China, although it is not as deep inland as Dunhuang and Urumqi. Zhangye belongs to the semi-arid and semi humid climate, so it can have snow mountains, grasslands and deserts at the same time. The annual average temperature is 4.1-8.3 ?, with an average of 6.6 ?. In July, the hottest temperature is 20.4 ?; in January, the coldest temperature is - 9.1 ?. The annual temperature range is 26-32 ?. The average maximum temperature is 14.3 ?, and the extreme maximum temperature is 40.0 ?. Zhangye's winter and spring is no different. It's extremely hot in summer and extremely cold in winter. Although in autumn, the temperature difference between day and night is still very large.
Spring: March and April alternate clod and heat is quickly, when it is cold the temperature might be 5 degree below zero and when it is hot the temperature might be 20 degree.
What to pack: Spring is the peak tourist season in Zhangye, it will be very crowded. Mainly pay attention to keeping warm, prepare some clothes and medicine.
Summer: Zhangye located in the hinterland of China mainland, it has long sunshine time, and day and night temperature difference is bigger.
What to pack: Be sure to bring a coat in summer, sooner or later. A scarf or hat is essential of sunscreen.
Autumn: Autumn time is relatively short, and it will enter winter quickly after October. The temperature plummeted.
What to pack: Autumn is short, so we need to prepare enough clothes and do a good job of sunscreen.
Winter: Zhangye is a typical temperate continental arid climate, sunshine time is long, and solar-thermal resource is abundant. Its winter is cold and summer is heat, the four seasons is distinct, and rainfall is concentrated.
What to pack: Winter is cold, need to prepare to prevent skin dry rough skin care products,keep warm.
Best time to visit
June-September: Zhangye has a cool climate in summer. It's a good place to spend summer and autumn. It's not very cold to watch sunrise and sunset in Danxia scenic area in the morning and evening. If you catch the rain, you can enjoy the beautiful scenery of Danxia.
Travel Tips
Due to the climate, you need to carry enough skin care products to prevent skin damage. There must be enough clothes. According to your planned travel time, make reasonable supplies.