Terracotta Army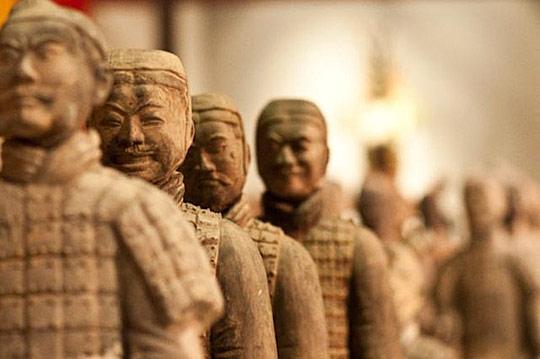 Terracotta Army or Terracotta Warriors (Chinese: 秦始皇兵马俑)
Brief introduction
Known as "the Eight Wonders of the world", the museum shows a surprisingly high level in sculpture which is listed as the most significant discovery of the 20th century. It is a super large collection of life-size terra cotta sculptures in battle formations, reproducing the mega imperial guard troops of Emperor Qin Shi Huang (259 - 210BC), the first emperor of the first unified dynasty of Imperial China. Up to now, there has discovered a total of 179 accompanying burial pits of different connotations and various shapes in Emperor Qin's Mausoleum area.
The figures, dating from approximately the late third century BCE, were discovered in 1974 by local farmers in Lintong District, Xi'an, Shaanxi province. With its large scale and overwhelming momentum, the Terracotta Warriors was listed into 5A world cultural heritage in 1987. The figures vary in height according to their roles, with the tallest being the generals. The figures include warriors, chariots and horses. Estimates from 2007 were that the three pits containing the Terracotta Army held more than 8,000 soldiers, 130 chariots with 520 horses and 150 cavalry horses, the majority of which remained buried in the pits nearby Qin Shi Huang's mausoleum. Other terracotta non-military figures were found in other pits, including officials, acrobats, strongmen and musicians.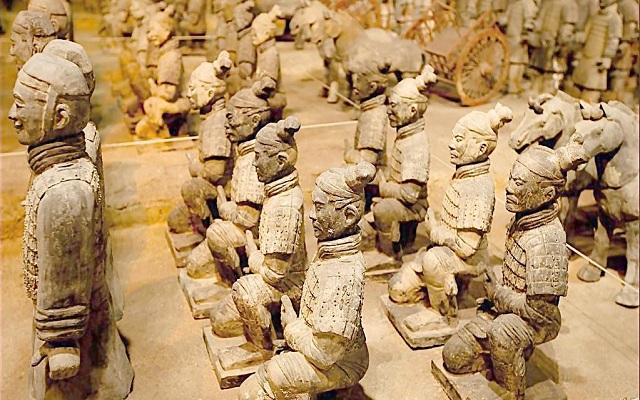 History of Terracotta Army
The Terracotta Army was discovered on 29 March 1974 to the east of Xi'an in Shaanxi province by farmers digging a water well approximately 1.5 kilometres (0.93 mi) east of the Qin Emperor's tomb mound at Mount Li (Lishan), a region riddled with underground springs and watercourses. The construction of the tomb was described by historian Sima Qian (145–90 BCE) in his most noted work Shiji, written a century after the mausoleum's completion.
Work on the mausoleum began in 246 BCE soon after Emperor Qin (then aged 13) ascended the throne, and the project eventually involved 700,000 workers. Geographer Li Daoyuan, writing six centuries after the First Emperor's death, recorded in Shui Jing Zhu that Mount Li was a favoured location due to its auspicious geology, "famed for its jade mines, its northern side was rich in gold, and its southern side rich in beautiful jade; the First Emperor, covetous of its fine reputation, therefore chose to be buried there". Sima Qian wrote that the First Emperor was buried with palaces, towers, officials, valuable artifacts and wondrous objects. According to this account, 100 flowing rivers were simulated using mercury, and above them the ceiling was decorated with heavenly bodies below which were the features of the land. Some translations of this passage refer to "models" or "imitations;" however, those words were not used in the original text, which makes no mention of the terracotta army.
High levels of mercury were found in the soil of the tomb mound, giving credence to Sima Qian's account.
Later historical accounts suggested that the tomb had been looted by Xiang Yu, a contender for the throne after the death of the first emperor. However, there are indications that the tomb may not have been plundered.
For centuries, occasional reports mentioned pieces of terracotta figures and fragments of the Qin necropolis – roofing tiles, bricks and chunks of masonry. This discovery prompted Chinese archaeologists to investigate, revealing the largest pottery figurine group ever found in China. A museum complex has since been constructed over the area, with the largest pit enclosed within with a large structure.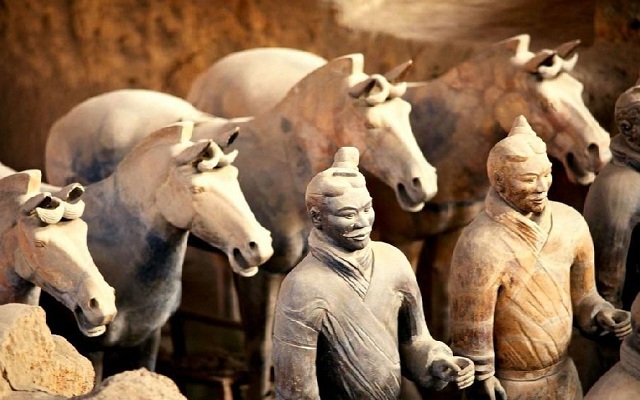 What to see in Terracotta Army
The main pit of the four which contain the discovered army measures 230 x 62 metres and is 4 to 6 metres deep. It had around 6,000 slightly larger than life-size depictions of infantrymen (1.8-1.9 metres tall), chariots and horses. The pit, originally with wooden columns supporting a wood beam ceiling, is partitioned by 10 brick-lined corridors. The floor was made from compacted earth which was then paved with over 250,000 ceramic tiles. The second pit, which is slightly smaller and R-shaped, had some 1,400 figures in it. In keeping with an obvious attempt to recreate exactly a real army, pit 3, measuring 21 x 17 metres, contains commanders and resembles a command post in the field.
To protect his tomb or perhaps even to ensure he had a handy bodyguard in the next life, Shi Huangdi went a whole lot better than his predecessors. Rulers in ancient China commonly had two or three statues to stand as guardians outside their tombs but Huangdi went for a whole army of them. The Terracotta Army is actually one of only four in all likelihood as that portion so far excavated - 1.5 km distant from the mausoleum - is on the eastern side and is probably duplicated on the other three sides of the tumulus. Even this one-quarter section has not been fully excavated with only three of its four pits having been fully explored by archaeologists.
Pits
Four main pits approximately 7 metres (23 ft) deep have been excavated. These are located approximately 1.5 kilometres (0.93 mi) east of the burial mound. The soldiers within were laid out as if to protect the tomb from the east, where all the Qin Emperor's conquered states lay.
Pit one, which is 230 metres (750 ft) long and 62 metres (203 ft) wide, contains the main army of more than 6,000 figures. Pit one has 11 corridors, most of which are more than 3 metres (10 ft) wide and paved with small bricks with a wooden ceiling supported by large beams and posts. This design was also used for the tombs of nobles and would have resembled palace hallways when built. The wooden ceilings were covered with reed mats and layers of clay for waterproofing, and then mounded with more soil raising them about 2 to 3 metres (6 ft 7 in to 9 ft 10 in) above the surrounding ground level when completed.
Pit two has cavalry and infantry units as well as war chariots and is thought to represent a military guard. Pit three is the command post, with high-ranking officers and a war chariot. Pit four is empty, perhaps left unfinished by its builders.
Some of the figures in pit one and two show fire damage, while remains of burnt ceiling rafters have also been found. These, together with the missing weapons, have been taken as evidence of the reported looting by Xiang Yu and the subsequent burning of the site, which is thought to have caused the roof to collapse and crush the army figures below. The terracotta figures currently on display have been restored from the fragments.
Other pits that formed the necropolis also have been excavated. These pits lie within and outside the walls surrounding the tomb mound. They variously contain bronze carriages, terracotta figures of entertainers such as acrobats and strongmen, officials, stone armour suits, burials sites of horses, rare animals and labourers, as well as bronze cranes and ducks set in an underground park.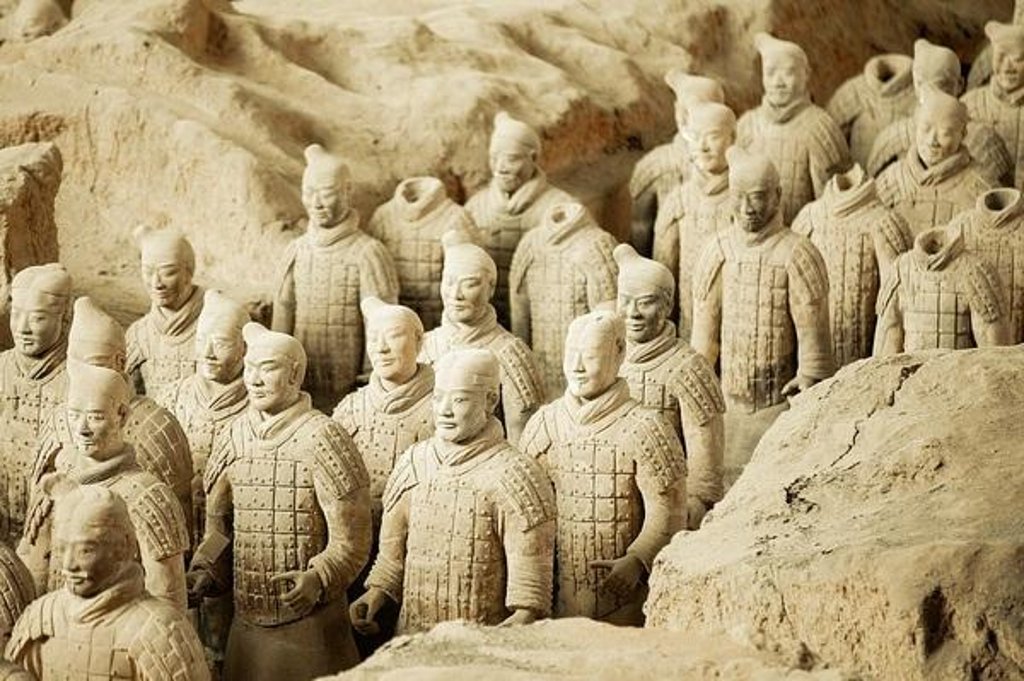 Warrior figures
The terracotta figures are life-sized. They vary in height, uniform, and hairstyle in accordance with rank. The faces appear different for each individual figure, scholars however have identified 10 basic face shapes. The figures are of these general types: armored warriors; unarmored infantrymen; cavalrymen who wear a pillbox hat; helmeted driver of chariots with more armor protection; spear-carrying charioteers; kneeling archers who are armored; standing archers who are not; as well as generals and other lower-ranking officers. There are however many variations in the uniforms within the ranks, for example, some may wear shin pads while others not; they may wear either long or short trousers, some of which may be padded; and their body armors vary depending on rank, function, and position in formation. There are also terracotta horses placed among the warrior figures.
Originally, the figures were painted with bright pigments, variously coloured pink, red, green, blue, black, brown, white and lilac. The coloured lacquer finish and individual facial features would have given the figures a realistic feel. However, much of the colour coating had flaked off or become greatly faded.
Some scholars have speculated a possible Hellenistic link to these sculptures, due to the lack of life-sized and realistic sculptures prior to the Qin dynasty. They argued that potential Greek influence is particularly evident in some terracotta figures such as those of acrobats, as well as the technique used for casting bronze sculptures.
Construction
The terracotta army figures were manufactured in workshops by government laborers and local craftsmen using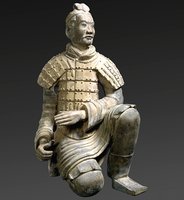 local materials. Heads, arms, legs, and torsos were created separately and then assembled by luting the pieces together. When completed, the terracotta figures were placed in the pits in precise military formation according to rank and duty. The faces were created using molds, and at least ten face molds may have been used. Clay was then added after assembly to provide individual facial features to make each figure appear different. It is believed that the warriors' legs were made in much the same way that terracotta drainage pipes were manufactured at the time. This would classify the process as assembly line production, with specific parts manufactured and assembled after being fired, as opposed to crafting one solid piece and subsequently firing it. In those times of tight imperial control, each workshop was required to inscribe its name on items produced to ensure quality control. This has aided modern historians in verifying which workshops were commandeered to make tiles and other mundane items for the terracotta army.
Weaponry
Most of the figures originally held real weapons such as spears, swords, or crossbows, and the use of actual weapons would have increased the figures' realism. Most of the original weapons, however, were looted shortly after the creation of the army, or have rotted away. Nevertheless, many weapons such as swords, spears, lances, battle-axes, scimitars, shields, crossbows, and arrowheads have been found in the pits. Over 40,000 bronze items of weaponry have been recovered from the pits, with most of these arrowheads which are usually found in bundles of 100 units. Studies of these arrowheads suggests that they were produced in small units of self-sufficient, autonomous workshops that produced finished items in a production process referred to as cellular production or Taoism. There are also hundreds of crossbow triggers, and smaller number of other weapons such as bronze swords, and daggers.
Some of these weapons, such as the swords, are sharp and were coated with a 10–15 micrometre layer of chromium dioxide that kept the swords rust-free for 2,000 years. The swords contain an alloy of copper, tin, and other elements including nickel, magnesium, and cobalt. Some carry inscriptions that date their manufacture to between 245 and 228 BCE, indicating that they were used as weapons before their burials.
An important element of the army is the chariot, of which four types were found. In battle the fighting chariots formed pairs at the head of a unit of infantry. The principal weapon of the charioteers was the ge or dagger-axe, an L-shaped bronze blade mounted on a long shaft and used for sweeping and hooking at the enemy. Infantrymen also carried ge on shorter shafts, ji or halberds and spears and lances. For close fighting and defence, both charioteers and infantrymen carried double-edged straight swords. The archers carried crossbows, with sophisticated trigger mechanisms, capable of shooting arrows farther than 800 metres (2,600 ft).
How to get there
Bus Routes:
1. No. 914, 915, or Special Line 101, and get off at Terracotta Warriors Museum
2. No.306 or Tourist Line No.5 to get there, which costs 7RMB and 1 hour.
Information
Admission Fee: CNY120 for low season (Dec.1-Feb.29), CNY150 for high season (Mar.1-Nov.30)
Opening hours: 8:30-18:30
Time for Visit: 3 hours
Tour Terracotta Warriors with Xian Priavte Tour
All the following tours are recommended by 98% of our clients. They are private tours with an English-seapking local guide, a private vehicle and experienced local driver. Usually the tour service starts from Xian hotel/Xian train station/Xian aiport and finishes at the moment you say goodbye to your guide at the Xian hotel/Xian train station/Xian airport.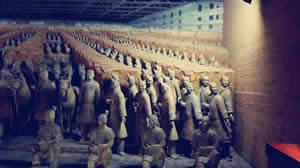 The Most Recommend Private Half Day Xian Terracotta Warriors Tour with Optional Morning or Afternoon Departure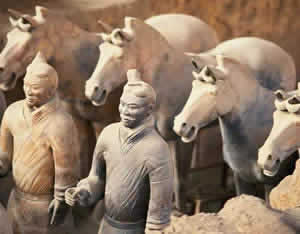 Xian Day Tour Package: Private Fully Guided Xian Highlights Tour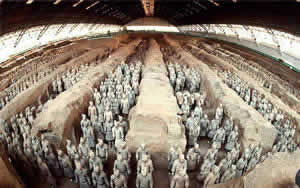 Xian Layover Tour: Terracotta Army Tour From Xian with Round-Way Airport Transfer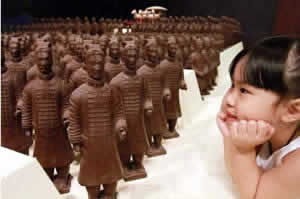 Xian Day Tour Package: 6-Hour Xi'an Terracotta Warriors Tour & Warriors DIY
If the above tours are not on your list, creat your own Terracotta Warriors tour following our suggestions. Based in Xi'an and focused on Xi'an, we are a local team to show you the historic Xi'an, we can customize private tours, tour itinerary and tour packages to cater to the needs of individual tourists as well as small group tours including families, friends and business colleagues. Please refer to Xian tours for more Xian tour packages or send us your inquiry by email.