Day 1 Xi'an to Chengdu
Place&Transport: Chengdu
Today's Activities: Kuanzhai Alley, Green Ram Taoism Temple
Accommondation: N/A
Meal: N/A
In the early morning, you will take bullet train from Xi'an to Chengdu, it takes around 4 hours for one way. Upon arrival in Chengdu, our Chengdu local tour guide will pick you up at the exit of Chengdu train station, you will find a welcome signage "Chengdu Private Tour". And your Chengdu tour start as below. (We provide one way transfer from your hotel in Xian to Xian train station as well, if you need this transfer service, plz feel free to let us know your requirement, our tour can be tailor-made to suit your needs.)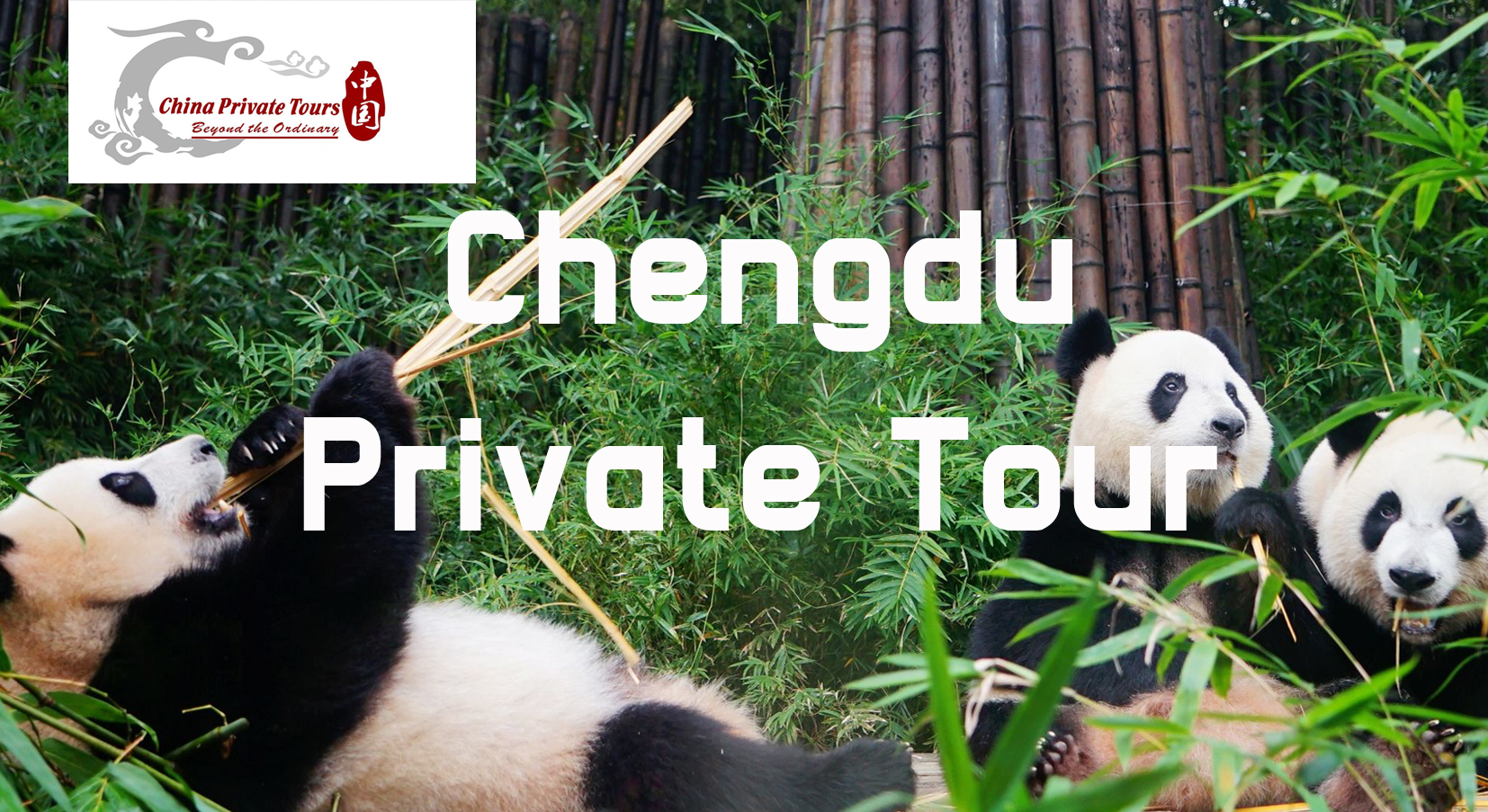 Our Chengdu Pick Up Sign "Chengdu Private Tour"
You will start your tour to Kuanzhai Alley. It's also named Big and Small Alleys in Chengdu, Kuanzhai Alley is one of the three preserved old blocks after Daci Monastery and Wenshu Monastery, a newly renovated Qing dynasty district, featuring three parallel alleys or hutongs. Kuanzhai Alley is a nice place for visitors stroll around, it houses with different characters like there is a traditional painting house, an old tea house. Kuanzhai Alley showcases the original local lifestyle. It has been one of the most popular tourist sites in Chengdu.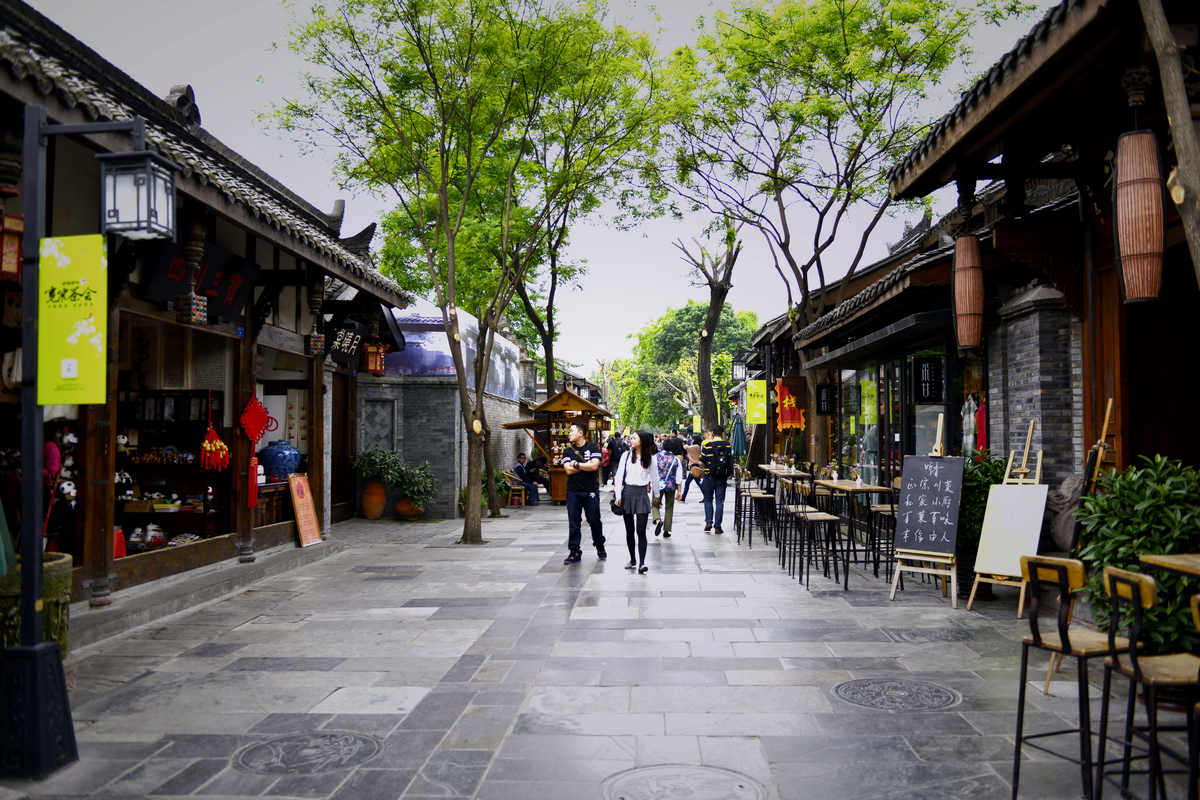 Next to Green Ram Taoism Temple, Qing Yang Gong is located in Chengdu City, SiChuan Province, on West Section 2 of the First Ring Road along the Jinjiang River. According to legend, Qing Yang Gong is the birthplace of the founder of Taoism, Lao Tsu, and is where he made the first sermon on Taoism. Qing Yang Gong is more than a home to some bronze statues. In fact, it's the oldest temple in Chengdu, surviving numerous calamities throughout its history.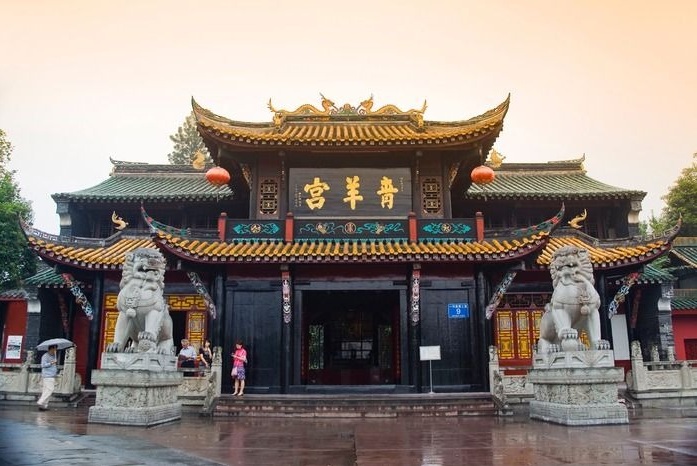 At the end, drive you to your hotel for check-in. You can have a good rest.
Day 2 Chengdu
Place&Transport: Chengdu
Today's Activities: Chengdu Panda Breeding and Research Centre, Wuhou Temple, Jinli street
Accommondation: N/A
Meal: N/A
In the morning, your guide will meet you at your hotel lobby.

Firstly, drive you to Chengdu Panda Breeding and Research Centre. Panda Breeding and Research Center is one of the most popular destinations for foreign travelers, is famous for its endeavoring work in protection of endangered species such as giant pandas, small pandas and black-necked cranes. And it's a must-go place when you go to Chengdu. The Panda base not only takes care of breeding pandas, but also focuses on providing interactive activities that teach people about pandas and their protection. Besides cute giant pandas, there are also red pandas, black swans, and peacocks in the base. Among panda fans, the Panda Breeding and Research Center is surrounded by verdant hills, green forests and clear lakes with many kinds of bird flying and singing, it's viewed as a holy land. It is a great joy to escape the hustle and bustle of city life and spend some time in the company of calm and casual pandas.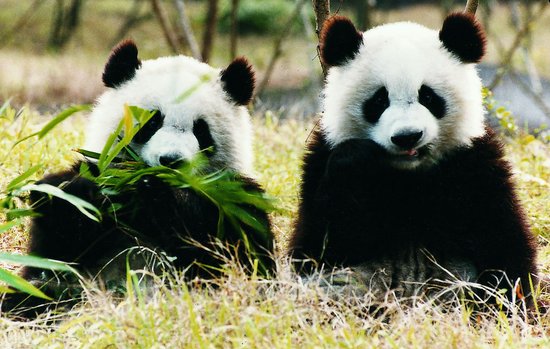 Move on to Wuhou Temple, Wuhou Temple, also known as Memorial Temple of Marquis Wu, is dedicated to Zhuge Liang, the Marquis Wu (Wuhou) of Kingdom of Shu in the Three Kingdoms Period (220 - 280).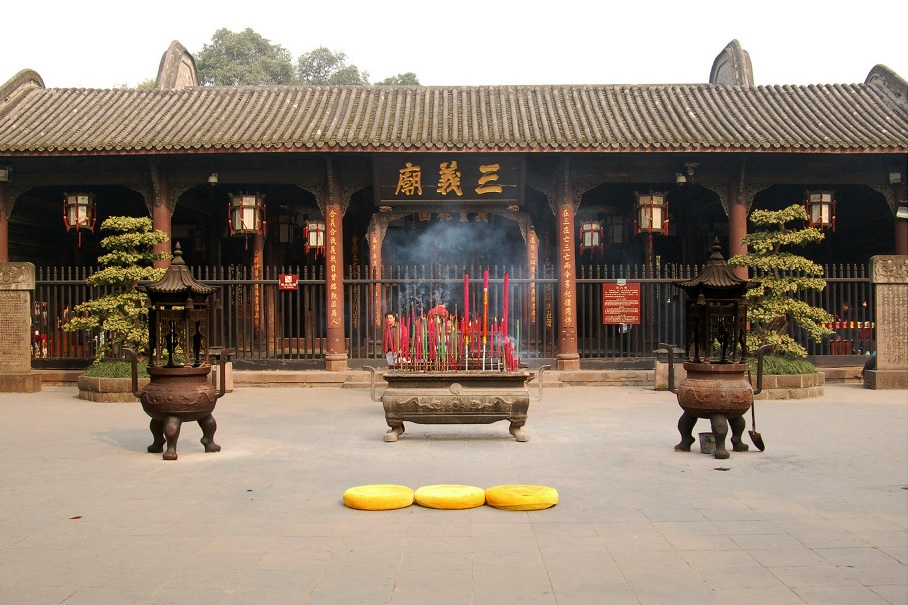 Then head to walk and sightseeing in the Jinli street, Chengdu is a city brimming with a strong leisurely ambience with Jinli Street as the typical representative. The street is located to the east of the Wuhou Temple of Chengdu (the most famous Three Kingdoms period (220 - 280) relic museum in China).
Strolling down the narrow street, you will find yourself surrounded by old-world stores selling Shu Embroidery, lacquer products, folk handicrafts, curios, or calligraphies and paintings of celebrities. All of these stores have their unique style but also have one thing in common: no matter how busy the place is, the stores are peaceful and relaxing.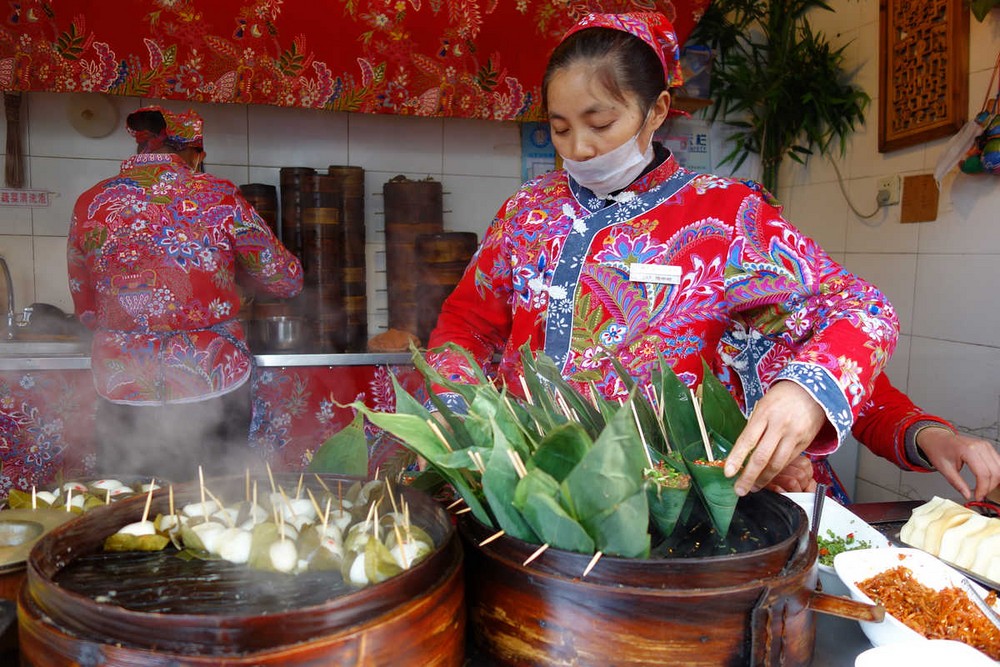 Drop you off at your lovely hotel.
Day 3 Chengdu
Place&Transport: Chengdu--Leshan Giant Buddha
Today's Activities: Leshan Giant Buddha
Accommondation: N/A
Meal: N/A
After breakfast, our tour guide will meet you at your hotel lobby on time. And you will be transferred to Leshan Giant Buddha directly, it takes around 2.5 hours for one way.
Leshan Giant Buddha is located to the east of Leshan City, Sichuan Province, at the confluence of three rivers, namely, Min River, Qingyi River, and Dadu River. The Buddha is a statue of Maitreya (a Bodhisattva usually represented as a very stout monk with a broad smile on his face and with his naked breast and paunch exposed to view) in sitting posture. The statue makes itself the most renowned scenic spot in that city. As the biggest carved stone Buddha in the world, the Giant Buddha is featured in poetry, song and story.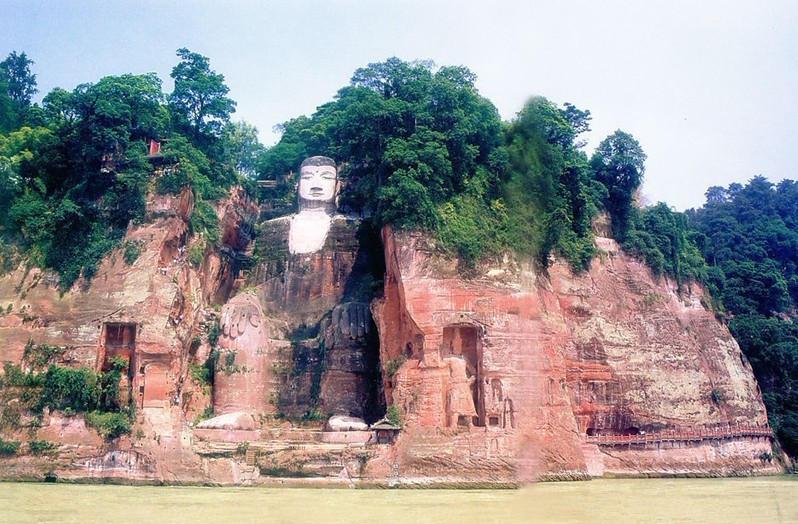 The charm of the Buddha lies not only in its size but also in its architectural artistry. There are 1,021 buns in the Buddha's coiled hair. These have been skillfully embedded in the head. The skill is so wonderful that the 1,021 buns seem integral to the whole. Another architectural highlight is the drainage system. This system is made up of some hidden gutters and channels, scattered on the head and arms, behind the ears and in the clothes. This system, which helps displace rainwater and keep the inner part dry, plays an important part in the protection of the Buddha. The large pair of ears, each seven meters (about 23 feet) long, is made of wood and is decorated by mud on the surface. For craftsmen of thousands of years ago, it was not easy to fix these to the stone head.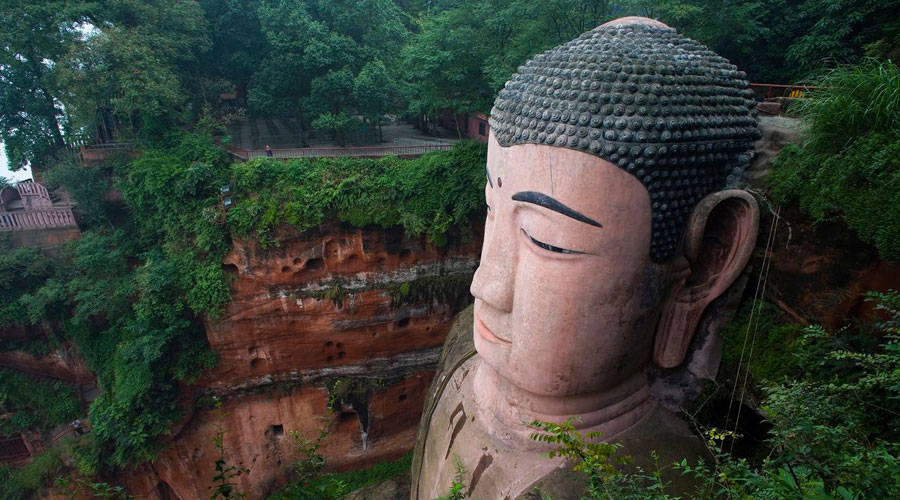 Leshan Giant BuddhaHaving such a long history and such worldwide fame, the renovation of the Buddha has received extensive attention both at home and abroad. The Buddha was nearly destroyed by the erosion of wind and rain before 1963 when the Chinese government began the repairing work. At present, the maintenance work is in progress under the instruction of experts from UNESCO.
After finished the visit of Leshan Giant Buddha, you will be taken back to your hotel in Chengdu or Chengdu train station. And your 3 Days Chengdu tour from Xian by bullet train come to the end.
Price Per Person in US Dollars