Summary
Day 1 Arrive in Xi'an from Beijing by train: Xi'an Ancient City Wall
Day 2 Xi'an: Terracotta Warriors, Bell Tower, Big Wild Goose Pagoda, Great Tang All Day Mall, Dumpling Banquet, Tang Dynasty Show
Day 3 Leave Xi'an: Cooking class (noodles or Chinese dishes), leave Xi'an
Day 1 Beijing--Xian by Bullet Train
Place&Transport: Arrive in Xian
Today's Activities: Xi'an Ancient City Wall
Accommondation: N/A
Meal: N/A
After you arrived, our Xi'an tour guide will pick you up at the exit of Xi'an train station, you will find a welcome signage "Xi'an Private Tour". And start your Xian tour. (We also arrange one way transfer service from your Beijing hotel to Beijing train station and Beijing Xian train ticket booking service, please feel free to let us know if you need the service.)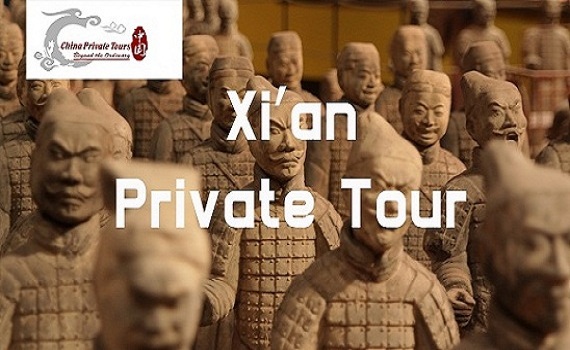 Our Xian Pick Up Sign "Xi'an Private Tour
Firrstly, you will visit Xi'an Ancient City Wall. City Wall in Xi'an, an ancient capital of China, represent one of the oldest, largest and best preserved Chinese city walls. It was built under the rule of the Hongwu Emperor Zhu Yuanzhang as a military defense system. Xi'an City Wall exhibits the "complete festures of the rampart architecture of feudal society". It has been refurbished many times since it was built in the 14th century, thrice at intervals of about 200 years in the later half of the 1500s and 1700s, and in recent years in 1983. It safeguarded a city where many Silk Road journeys began and 13 Chinese dynasties had their capital.
Xi'an City Wall now is on the tentative list of UNESCO's World Heritage Site under the titel "City Wall of the Ming and Qing Dynasties". At 12 meters high and 15 meters wide, the 14-kilometer-long Xi'an City Wall is the most complete ancient city wall in China. It's also the most dramatic place to view one of China's most fascinating cities.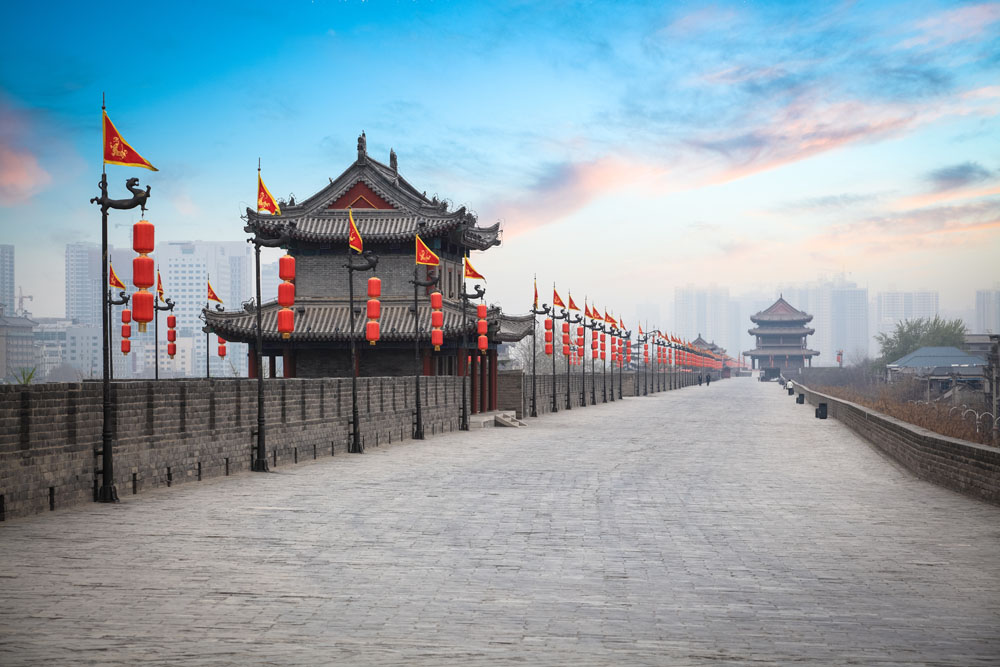 Now, the wall stands between modern Xi'an and the old city center. Outside the wall, highrises and highways reveal new wealth. Shiny billboards advertise international brands. Inside the wall, the 36-square-kilometer old Xi'an comprises low, ancient buildings. No skyscrapers are allowed inside the city wall. Landmarks such as the Bell and Drum Towers and Muslim Quarter are located within. Perhaps most interestingly, the top of the wall has become a city playground. Bike tours atop the wall have become popular with locals and tourists.
After finished sightseeing, drive you to your hotel in Xi'an, our tour guide will help you check in.
Day 2 Xian Terracotta Warriors Tour
Place&Transport: Xian
Today's Activities: Terracotta Warriors, Bell Tower, Big Wild Goose Pagoda, Great Tang All Day Mall, Dumpling Banquet, Tang Dynasty Show
Accommondation: N/A
Meal: N/A
In the morning, our tour guide will meet you at your hotel lobby and transfer you to Terracotta Warriors direcly (around 4o minutes).
The Terracotta Army refers to the thousands of life-size clay models of soldiers, horses, and chariots which were deposited around the grand mausoleum of Shi Huangdi, first emperor of China and founder of the Qin dynasty, located near Lishan in Shaanxi Province, central China. The purpose of the army was likely to act as guardian figures for the tomb or to serve their ruler in the next life. The site was discovered in 1974 CE, and the realistic army figures provide a unique insight into ancient Chinese warfare from weapons to armour or chariot mechanics to command structures. Shi Huangdi was desperate for immortality, and in the end, his terracotta army of over 7000 warriors, 600 horses, and 100 chariots has given him just that, at least in name and deed. The site of the mausoleum is a UNESCO World Heritage Site even if the inner tomb itself has yet to be excavated.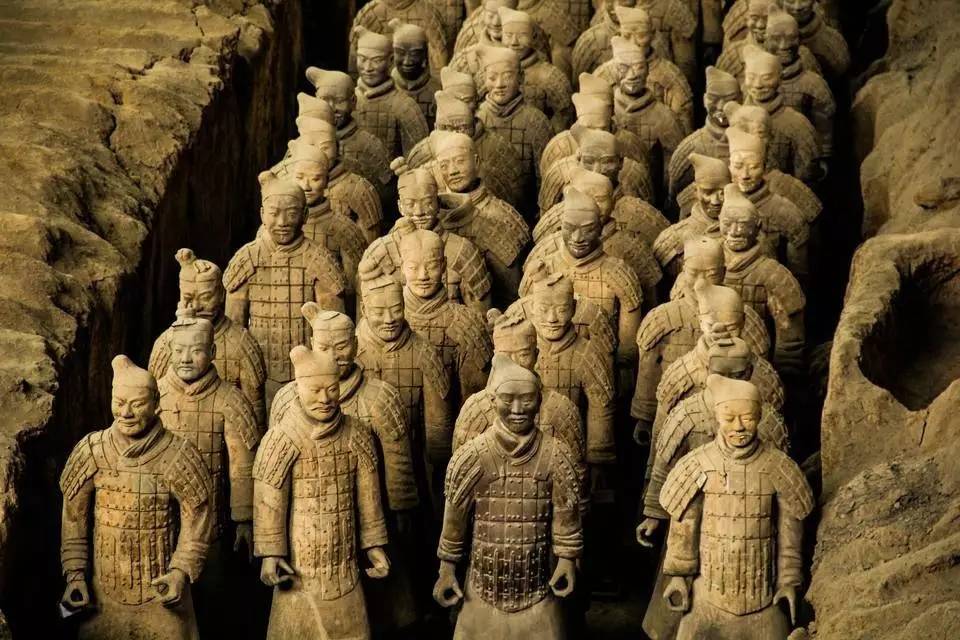 Rulers in ancient China commonly had two or three statues to stand as guardians outside their tombs but Huangdi went for a whole army of them. The Terracotta Army is actually one of only four in all likelihood as that portion so far excavated - 1.5 km distant from the mausoleum - is on the eastern side and is probably duplicated on the other three sides of the tumulus. Even this one-quarter section has not been fully excavated with only three of its four pits having been fully explored by archaeologists.
Enjoy your lunch at a local Chinese restaurant that nearby Terracotta Warriors. After lunch, drive you back to Xi'an downtown, continue your tour to Bell Tower.
Bell Tower is the largest and best-preserved of its kind in China, is 36m high. It stands on a brick based 35.5m long and 8.6m high on wach side. During the Ming Dynasty, Xi'an was an important military town in Northwest China, a fact that is reflected in the size and historic significance of its tower. The tower has three layers of eaves but only two stories. Inside, a staircase spirals up. The grey bricks of the square base, the dark green glazed tiles on the eaves, gold-plating on the roof and gilded color painting make the tower a colorful and dramatic masterpiece of Ming-style architecture. In addition to enhancing the beauty of the building, the three layers of eaves reduce the impact of rain on the building.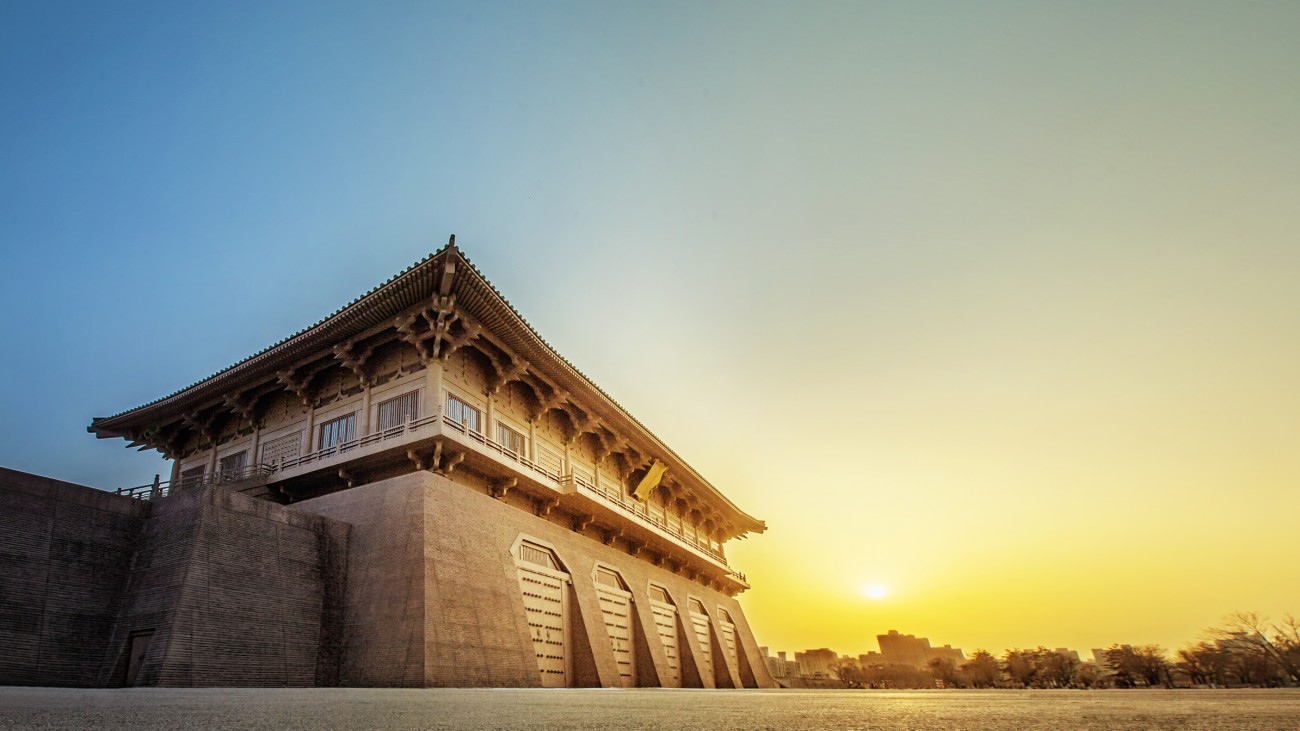 On each side of the base, there is an arched door 6 meters (19.6feet) high. In the past, vehicles were allowed to pass through the arches and under the tower, but as the city has grown the volume of traffic has become too great, so a bright, spacious pedestrian subway has been constructed under the tower. The entrance to the tower is from this subway.
Next to Big Wild Goose Pagoda. Big Wild Goose Pagoda was first built in 652 in the Tang Dynasty. Xuanzang, a prominent Buddhist scholar of the time, planned to have a huge stone pagoda built to house the Sanskrit Buddhist scriptures he had brought back from India, but the plan fell through because it was difficult to find the needed stone and the cost was prohibitive. He decided instead to build a mud pagoda reinforced with bricks, but the mud pagoda was not strong and the construction was not done properly. The pagoda collapsed not long after it was built. It was rebuilt between 701 and 704 on the order of Empress Wu Ze Tian.
The outer walls of the present pagoda were covered by a thick layer of bricks in the Ming Dynasty. A tablet on the lintel of the door on the first storey is vividly carved with designs of a wooden hall in the Tang Dynasty. Kept under the pagoda is a stone tablet with an inscription made by Chu Suiliang, a calligrapher in the Tang Dynasty, which is an important relic.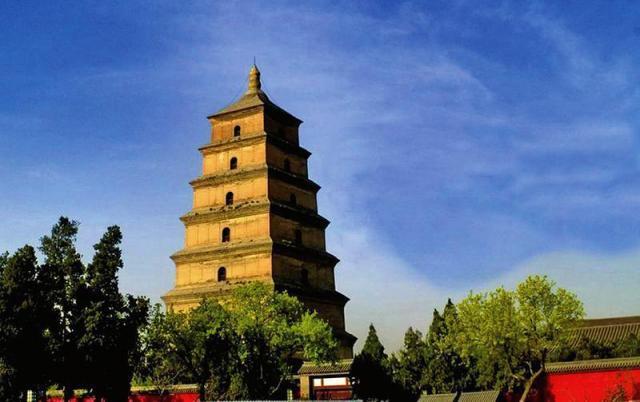 Move on to Great Tang All Day Mall. The Great Tang All Day Mall is reportedly the 'largest and longest pedestrian street of tourist landscape and cultural mall in Asia'. Great Tang All Day Mall is a comprehensive culture center and shopping mall with sight featuring the style of the Tang Dynasty as well as shopping, food and recreation facilities. The large area makes it impossible to visit everything here without half day. It's all a tribute to the Great Tang Dynasty culture and icludes the architectural style of that era including sculptures. It has devotions to great leaders, monks, artists, writers, poets, scientists and mathematicians of the Tang Dynasty. Seeing this area at night is totally different than during the day as the lighting is marvelous yet tastefully done.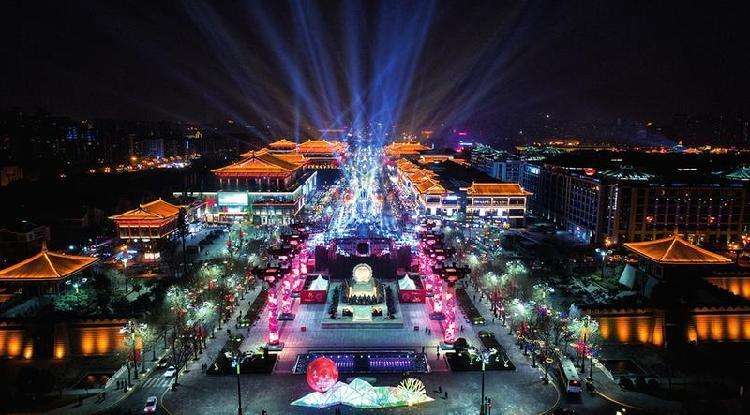 Later, drive you to the Shaanxi Grand Opera House around 6:00PM and our tour guide will help you find your seat for the Dumpling Banquet in the Shaanxi Grand Opera House. Dumpling, or Jiaozi in Chinese, is one of the most representative Chinese food. Nearly 20 varieties are made and inside the dumplings are stuffed with delicious vegetables, meats and seafood. Dumplings'legend offers an original approach to Chinese food, merging the familiar comfort food of London's Chinatown with the culinary heritage of regional oriental cuisine.
After dinner, enjoy the local colorful and splendid Tang Dynasty Dance & Music Show, which is a performance of music and dance that imitate the Tang Dynasty over one thousand-year ago. The Tang Dynasty Music and Dance Show, a wonderful performance of the ancient music and dance, is a must when you visit Xian. The city, which was formerly known as Chang'an has a very long history, and was the imperial capital during 13 dynastic periods. Of these, the Tang Dynasty (618 - 907) was the most prosperous and glorious of all. The Tang Dynasty Music and Dance Show is an outstanding exponent of this ancient stable and prosperous society, keeping alive its splendid culture and providing an insight into the peaceful life style of the period. It seems as if you have lived in the palace of Tang Dynasty.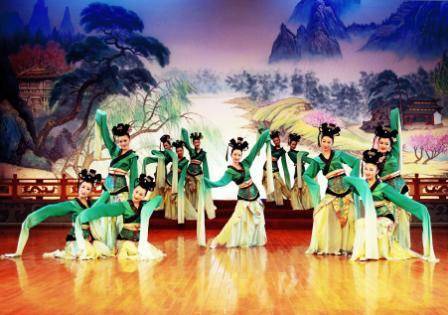 Drive you back to your hotel.
Day 3 Xian City Tour
Place&Transport: Xian
Today's Activities: Wet Markt, Cooking Class (Cook dishes or Make noodles)
Accommondation: N/A
Meal: N/A
After breakfast, pick you up at your hotel lobby, and drive you to visit the local family where you can learn how to cook. ( Either learn how to cook dishes or make noodle can be arranged, please feel free to let us know your requirement)
First you will be taken to a local family directly, after arrived there, the hostess and your tour guide will take you to local wet market to choose the ingredients and recipes, which are prepare for noodles or Chinese dishes for lunch. The hostess is an experienced housewife who can introduce various ingredients and teach you how to choose good fresh food. How fun it is!
Wet market, it was traditionally places that sold dead and live animals out in the open before the refrigerator was invented. Wet markets in China have a reputation for selling the freshest produce, meat and other food products, because a majority of the goods sold are locally grown in the region. Fresh fruits and vegetables are also available. Wet markets also generally include butcher shops with fresh meat. The fresh meat and fish sections are separate from the fruit and vegetable stalls. Many markets also have stalls that sell dried goods, flowers, and processed tofu as well as cooked meat.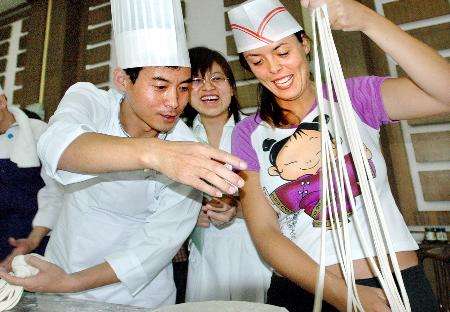 Then learn how to cook dishes, with the guidance of hostess, begin preparing freshly, locally sourced ingredients for Chinese dishes. You can prepare ingredients according to ancient recipes passed down through generations; possible dishes include sweet and sour spareribs; aromatic Yangzhou fried rice with barbecue pork; Sweet and Sour pork, steamed fish and some home-style soup, like tomato and egg soup. If you are a Vegan, no need worry, the hostess can teach you cook vegetables or other vegetarian dishes.
After finished cook, enjoy the decious dishes. After meal, drive you to Xian train station.
Optional Service:
1. Private One Way Transfer From Xian downtown hotel to Xian train station: 51USD in total including driver.
2. Private One Way Transfer From Xian train station to Xian downtown hotel: 51USD in total including driver.
3. Private One Way Transfer From Beijing downtown hotel to Beijing train station: 59USD in total including driver.
4. Private One Way Transfer From Beijing train station to Beijing downtown hotel: 58USD in total including driver.
5. Round Way Beijing Xian "G" Train Tickets: 160USD for 2nd class train ticket
Above service is for your references, the Xian tour from Beijing is 100% flexible and customizable, feel free to let us know your requirement.
Price Per Person in US Dollars