White Pagoda Mountain Park
Post Date: 2020/03/17 09:48
Share to:
Overview
White Pagoda Mountain Park is one of the most popular tourist attractions in Lazhou City. It is located at the nortern bank of Yellow River. It has long been a natural barrier of Lanzhou. The White Pagoda Mountain Park is famous for its white and the mountain where the park is located also boasts the elephant-skin drum, bronze bell and redbub tree, which are the so-called "three treasures of the town." Tourists enjoy an excellent bird-eye view of Lanzhou from the park.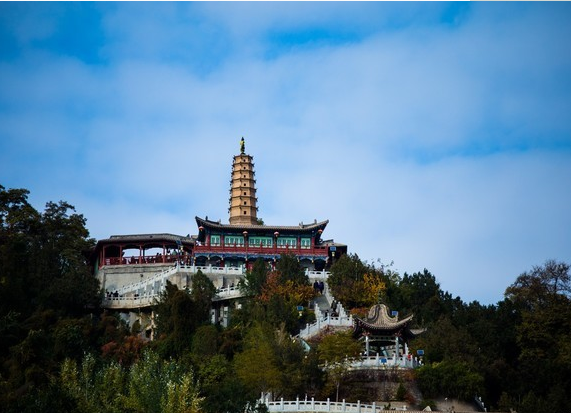 History of White Pagoda Mountain Park
According to legend, in late Song Dynasty (970-1279) and early Yuan Dynasty (1271-1368), the White Pagoda Hill and its surroundings were occupied by Western Xia Regime (1038-1227). Genghis Khan (1162-1227), the founder of the Mongol Empire which was the former of the Yuan Dynasty, once wrote to Sakyapa in Tibet for a peaceful meeting to accomplish the unification of China; Later, the Sakyapa appointed an eminent Lama to pay a formal visit to Mongolia, who was unfortunately died of illness when he arrived in Lanzhou. To memorize the Lama, Yuan Dynasty had the White Pagoda and a temple built after the downfall of the Western Xia Regime and the inclusion of Lanzhou in its territory in 1226. It is to be regretted that the pagoda was destroyed in late Yuan Dynasty, and the existing White Pagoda was rebuilt during the rein of Emperor Jingtai (1450-1456) of Ming Dynasty (1368-1644). And in 1715 in Qing Dynasty, the temple was expanded and named as Ci'en Temple. In 1958, White Pagoda Park was opened to the public.


What to See & Do
One of highlights of this scenic area is the White Pagoda, it is surrounded by bleak waste grounds,the pagoda has a unique shape and exquisite structure, which is an excellent example of ancient pagodas.It was built in the Yuan Dynasty. The original pagoda was destroyed because of the battles in the connecting period between Yuan and Ming Dynasties. At the same time other temples and buildings were also built and here became the scenic spot in Lanzhou City. In 1655, Zhou Qi rebuilt the pagoda and renamed "Ci En Temple", he was the imperial inspector of Gansu province.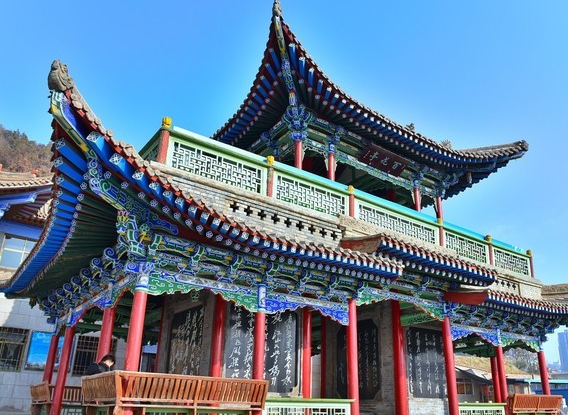 Then, you can visit the Three Treasure of White Pagoda Mountain, there are Elephant Leather Drum, bronze bells, the Chinese redbud tree. It's a pity that Chinese redbud tree withered due to the drying up of water, so there are left only the relic of Indian monk Elephant Leather Drum and bronze bells made in Qing Dynasty.

The White Pagoda Park with an area of 8000 sq.m., along with the main attractions, includes the Mysterious Yellow River Stone Hall, Yugur Reception Counting House, old Zhongshan bridge. Besides, it's quite fun to climb to the top of the White Pagoda Mountain and you will get a panoramic of Lanzhou City. (Cable car is available inside the park)


Basic Information
Location: No.1 Baita Mountain, Beibinhe Middle Road, Chengguan District,Lanzhou
Entrance Fee: Free
Opening Hours: 6:30AM-20:30PM(peak season); 7:00AM-19:00PM(low season)
How to get there:
1) Take city bus No.20,35,53,108,122,131 and get off at the White Pagoda Park Station
2) Take city bus No.4, 6, 9, 15, 25, 74,105, 109, 123, 142 and get off at Zhongshan Bridge Station; Cross the Zhongshan Iron Bridge. you will reach the entrance of White Pagoda Mountain
3) Take Taxi