Drum Tower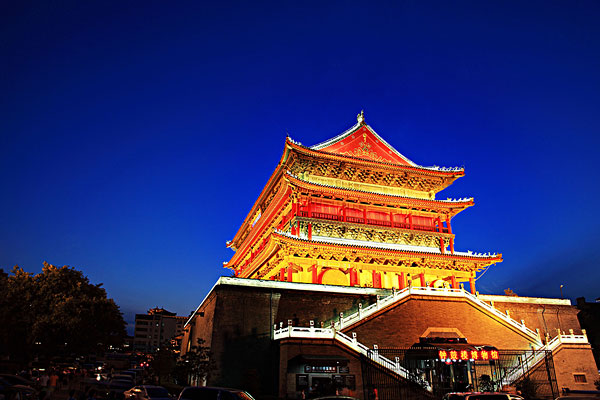 Xi'an Drum Tower, Xian attraction
Brief Introduction
Located in the south end of Beiyuan Gate of Xi'da street, Xi'an Drum Tower originally built in 1380 during the Ming dynasty and renovated twice in 1699 dueing the Qing dynasty. Now it's the largest one of its kind in China, facing the Bell Tower at east, which was beat to tell the time to citizens, hence the name. Standing on the towering above the city center and appreciate incredible view of Xi'an. Besides, in the Drum Tower, there are many larges drums hang on a hall with beautiful Chinese writing, which means good luck, besides, there is a drum museum where you can appreciate lots of drums, some of which has thousands of history. Between the Drum Tower and the Bell Tower, there is a square with grass, dotted with greenbelt beautiful acouto-optic fountain, which is a good place for leisure and entertainment for citizens.
Nowadays the area between the two towers has been constructed to be the Square of Bell and Drum Towers, dotted with greenbelt and beautiful acousto-optic fountain.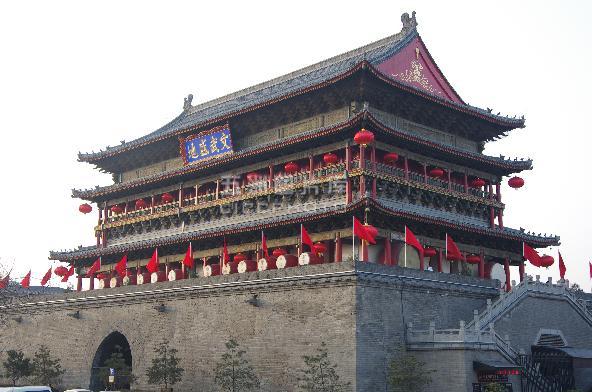 History of Drum Tower
Xi'an Drum Tower was built in 1380 during the Ming dynasty, and was renovated twice in 1699 and 1740 in the Qing Dynasty (1644-1911). The Drum Tower is located in the middle of Xian city by southwest, there is a big drum in Drum Tower, people used to beat the drum to tell time for citizens, hence the name. In Ming and Qing dynasties, the drum is so important that people and governors can't dong anything without the sound, because of that, there became the government center. There are stairs in Drum Tower, step into upstairs people can overlook the whole city scenery. Xi'an Drum Tower is one of the main symbol and representative architecture of the Ming and Qing dynasties in the city.
In modern times, the Drum Tower is not used as a timer any more, but there are some new attractions for visitors to enjoy.
In1966, a new drum, covered by a whole piece of cowhide was given a place on the Tower. It is the biggest drum in China at present. What is more, visitors will enjoy musical performances inside it. These performances will enlighten one on the power of ancient Chinese culture.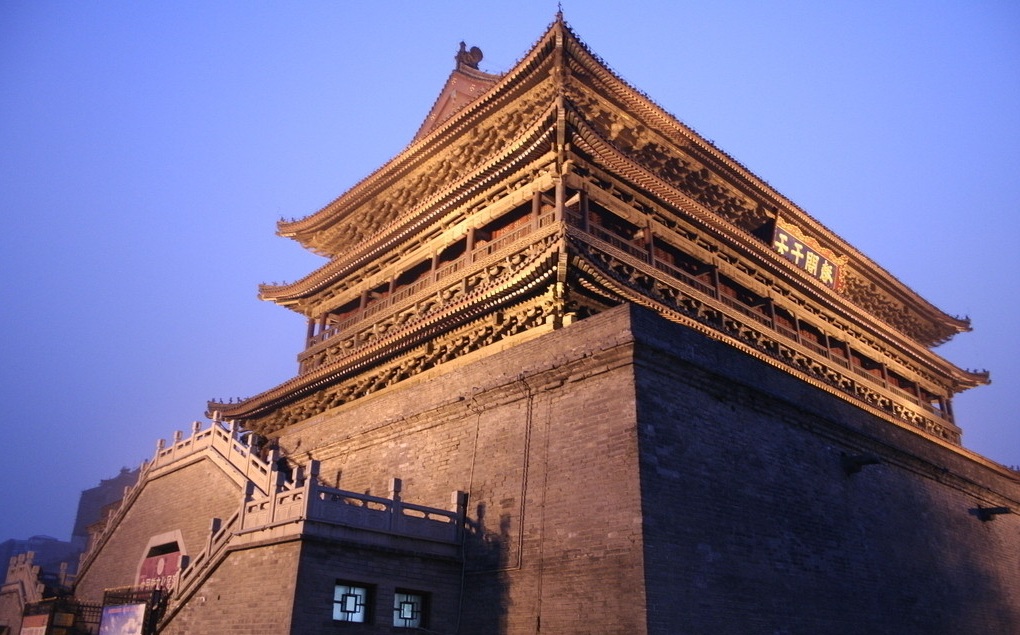 What to see in Drum Tower
Architecture Features
Drum Tower is two- story with the triple double-eave roof, which is a typically Chinese wood and brick building constructed on the tall rectangular pedestal. The pedestal is 52.6 meters long, 38 meters wide and 7.7 meters high. Two floors broadly among seven rooms wide, three rooms deep and there is corridor surrounded, on the first floor, it is decorated with a waist eave. The second story is decorated by green glazed tiles. A horizontal inscribed board hangs below the south and north sides of the third-layer eave, which reads "Civil and Military Resort"(Wen Wu Sheng Di written by Zhao Kehuai in 1580) and "Sound Heard by Heaven"(Sheng Wen Yu Tian written by Li Yun) respectively. Outside the building eaves are decorated with green colored stone, make the whole building is distinct, gorgeous and beautiful. Now, the Drum Tower is renovated with modern materials to present the original appearance of the whole Drum Tower.
How to get there
Metro Routes: Line 2 and get off at Zhonglou (Bell Tower) Station (Exit B). Walk towards west for around 6 minutes.
Bus Routes: No. 7, 15, 32, 205, 215, 221, 222, 251, 252, 612, 618 or Tourist Line 8 (No. 610) and get off at Zhonglou Xi (Bell Tower West) Station.
Information
Admission Fee: CNY 35 Bell Tower: CNY 35
Combined Ticket: CNY 50
Opening Time:
08:30-21:00, Mar 26—Oct 25 (Ticket selling stops at 20:30.)
08:30-18:00, Oct 26-next Mar 25 (Ticket selling stops at 17:30.)
Time for Visit: 1 hour
Drum Musical Performance Timetable 09:30, 10:15, 11:00, 11:45, 14:00, 14:45, 15:30, 16:20
Recommended Xi'an Tours including Drum Tower
1. One Day Incredible Xi'an Tour of City Exploration
2. Two Days One Night Xi'an Highlights Tour with Tang Dynasty Show