Qinglong Temple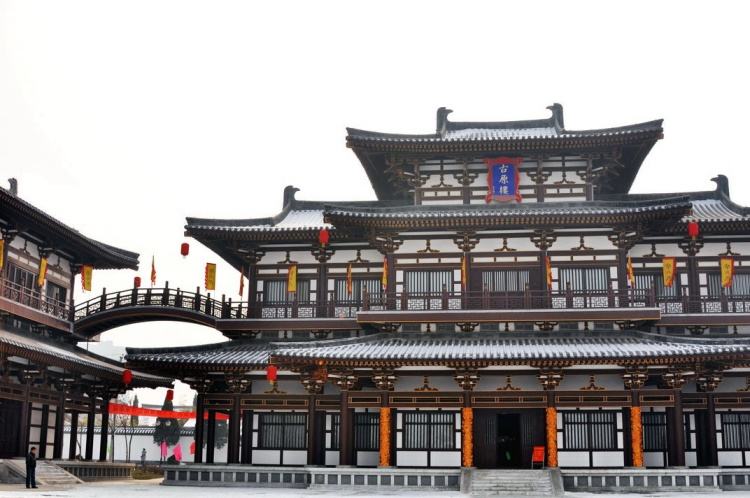 Qinglong Temple
A Brief Introdution
Qinglong Temple in Chinese, from about 6 kilometers that located the highland of the suburb southeast of Xi'an City. It was initially established on the second year of Sui Dynasty, the name then was Linggan Temple, means Temple of Inspiration. The name Qinglong Temple was changed later in 711 of Tang Dynasty.

History & Background
Green Dragon Temple was flourished most in middle Tang Dynasty, there were many monks from abroad came here studying and communicating. Especially the Japanese monks, Green Dragon Temple is the ancestor temple of Tantra sect of Japan Buddhism. In the early and middle 9th Century, some Japanese monks were sent to China to study Buddhism. 6 of them studied at Green Dragon Temple, and this led to a flourishing period of the temple. Among them, Kukai was the most learned. thereafter Japanese always treated the Green Dragon Temple as an important Holy Temple.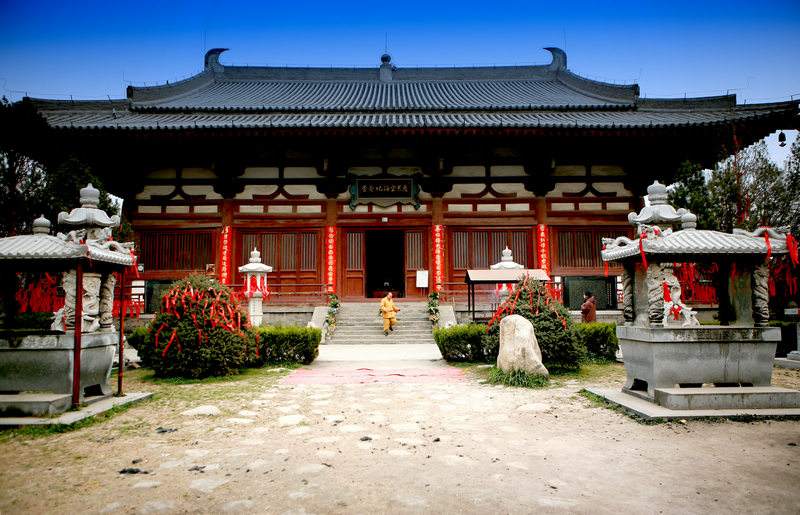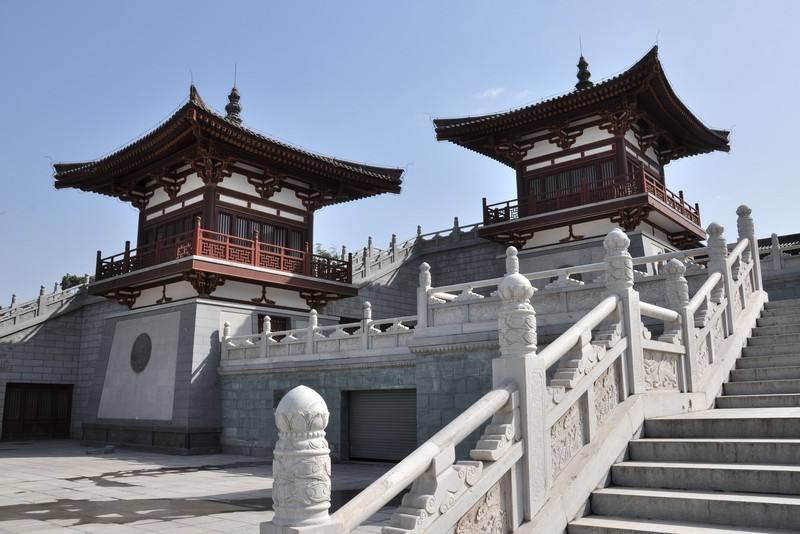 He became the sitting master of the 6th generation of the Tantra sect of Buddhism and made great progress in learning Buddhist sutras, Sanskrit, poems and Chinese calligraphy. When he returned to Japan, he brought back with him Chinese painting and drawing, sculpture, architecture, medicine and farming techniques, enriching the cultural exchanges between China and Japan. He also built a Vagra Temple (Vagra means Buddhist Warrior Attendant) and founded the Zhenyan Sect (the True Word Sect) after his return. He is highly honored by both Japanese and Chinese, and in 1982 Kukai Monument was constructed inside the Green Dragon Temple.
In the North Song Dynasty, about the year 1086, Green Dragon Temple was destroyed for some inexplicit reasons and gradually it became unknown to public. Based on several years' excavation and researching, the present Green Dragon Temple was rebuilt in the original place. Memorial halls for the earlier monks and exhibition halls with some excavations displayed are all built in the Tang architectural style.

Nowadays, as an appealing sight spot, it is well known for the beautiful cheery blossoms. Every year in May and June, thousands of travelers came here.
Highlight
Green Dragon Temple is a place where the cherry blossoms can be enjoyed. Every year during May and June, an endless stream, of tourists comes to appreciate its beauty. Located North-East of the Big Goose pagoda, this 1500-year-old temple has strong ties with Japanese ShingonBuddhism. The big reason you'll come here, however, is the cherry blossoms. There are both Japanese and Chinese cherry blossoms on their grounds, and now's the time when they're in full bloom. Their sakura festival has been going on since mid-March, but take it from us, now's the time they're going to look their best. Also, this is one of those things that, like, every local knows about but foreigners never talk about, so if you're planning to go on a weekend, either go early or expect to wait in lines for a while.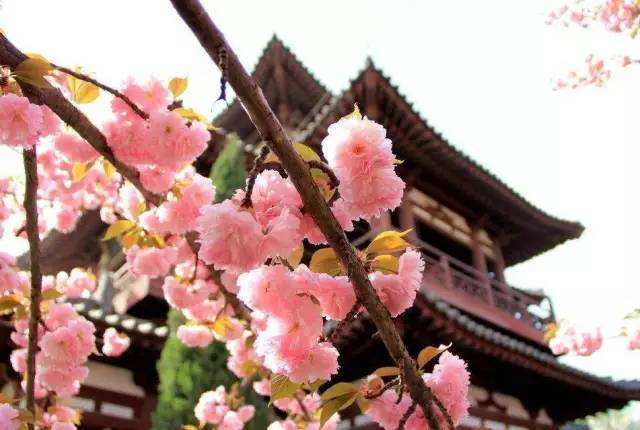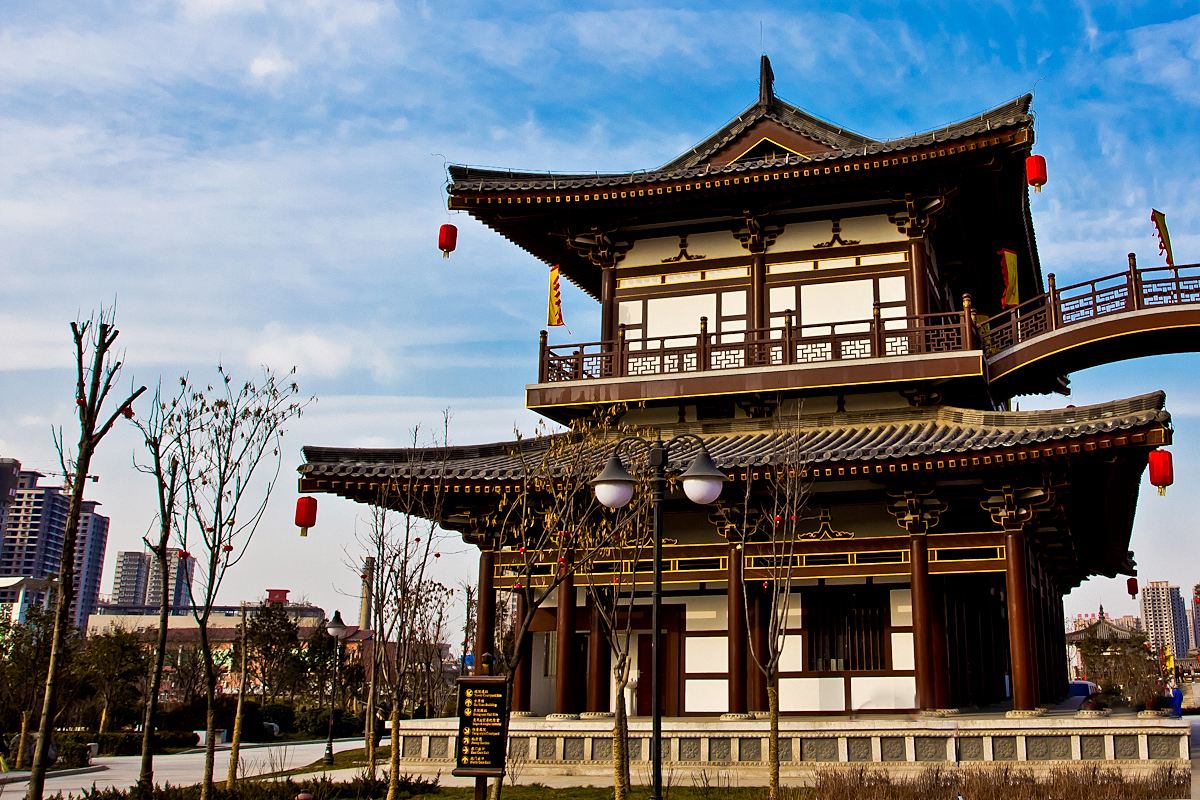 Information
Admission Fee: Free
Opening Hours: 09:00 - 17:00
How to get to Qinglong Temple
Take Bus No. 19, 25, 41, 45, 48, 118, 221, 237, 242, 400, 521, 525, 526, 606, 607, Tourist Bus No. 6 and get off at Green Dragon Temple stop.