The Tomb of Yangguifei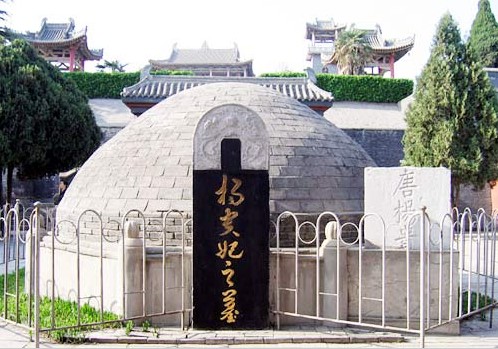 The Tomb of Yangguifei in Xi'an (Chinese: ????)
Brief Introduction
The tomb is the burial palce for Yangguifei, Yang refers to Yang Yuhuan, the highest- ranking imperial concubine of Emeror Xuanzong in Tang Dynasty. She was regarded as one of the four ancient beauties in China also good at singing and dancing. Yang was born in 719 during the Tang Dynasty, the tomb of whom is very important spot for cultural tourism of Tang Dynasty in Shaaxi, which also is the most favorite tomb for Chinese tourists, for young women would go there to use a little of the clay from around the tomb because the clay was thought to make them more beautiful. It's a AAA scenic spot as well as a key cultural relic protection unit under the provincal government.
History of the Tomb of Yangguifei
As we all know, Emperor Xuanzong ruled a long time in Tang Dynasty,was a powerful emperor. People thought he was a strong ruler at that time.His son married with Yangguifei after his wife died, one thing that happened the Emperor wanted the Yang for his concubine. So he gave his son another woman as wife,and arranged Yang to become a nun,and then took her for his concubine. She and her sisters were said to be extraordinarily beautiful. She apparently had a sense of humor and usually got a lot of gifts or service from those who met her. Her sisters were also favored and given positions in the dynasty. Along with them, one of her cousins named Yang Guozhong or Yang Zhao became a high official. That is when problems started.
It is said that he started spending his time in her company and perhaps that of other women and neglected his role as an emperor. Instead, Yang Guozhong, eunuchs, and generals grew in power and started to conflict with each other. A general named An Lushan and Yang Guozhong started to conflict with each other. Yang Guozhong asked his female cousins to start intervening for him in political matters. Because of the Lushan rebelled and other reasons, Emperor Xuanzong thought she would against with him so let her to death.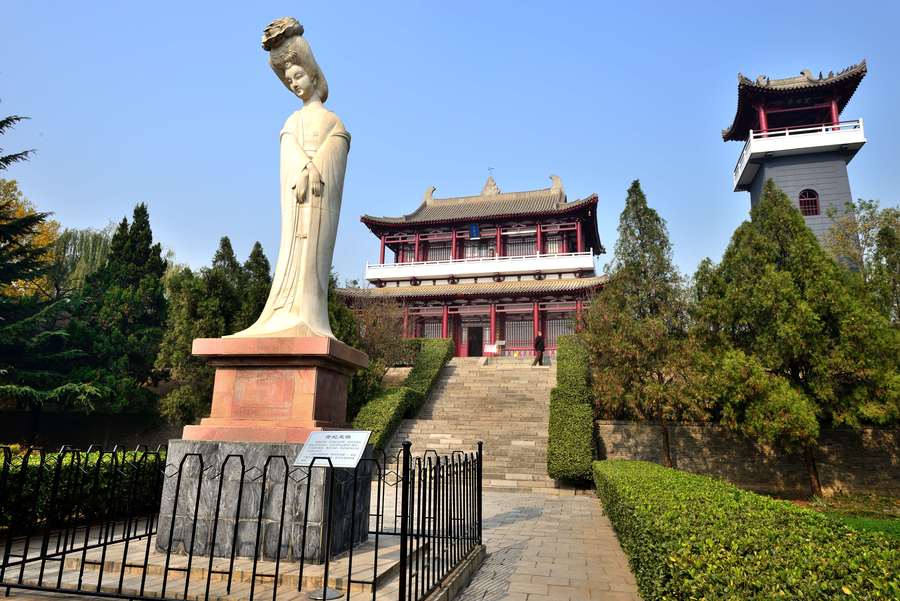 What to see in the tomb of Yangguifei
This burial palce covers an area of 0.6 hectares.From the entrance you can see a placard inscribed with the "Tomb for concubine Yang of the Tang Dynasty."When you go inside you can see a three-bay in front hall, the hall for offering sacrifices built in imitation of a classical architecture and the tomb is right behind it. the tomb is surrounded with laid bricks of gray stands three meters high. Embraced on three-sides is a covered-up corridor, the wall of which is inserted with more than 30 stone-steles of various sizes and styles. They are all chants or lamentations left by celebrities of ensuring dynasties. Until a few years ago, young Chinese girls would visit here on the third day of the third month in the lunar year, take some soil from around the tomb and mix it with flour. Popular belief holds that this "concubines powder" makes you beautiful if it is applied to the face. However, as the ground around the tomb began to disintegrate, In oeder to protect this historical and cultural relic,the government put a stop to this romantic practice by building a blue wall around the tomb.
How to get there
Bus Route:
1.Take the bus from Xian west Bus Station to North Baoji,get off in the tomb of Yangguifei Station.
2.Take the bus from Xian west bus station to Xingping, and then take BUS NO.1 to senic spot.
3.Take NO.4 to Xingping Station and then take NO.1 to senic spot
Information
Admission Fee: CNY 45
Opening Hours: 08:30-17:30
Time for Visit: Half an hour