Chenlu Ancient Town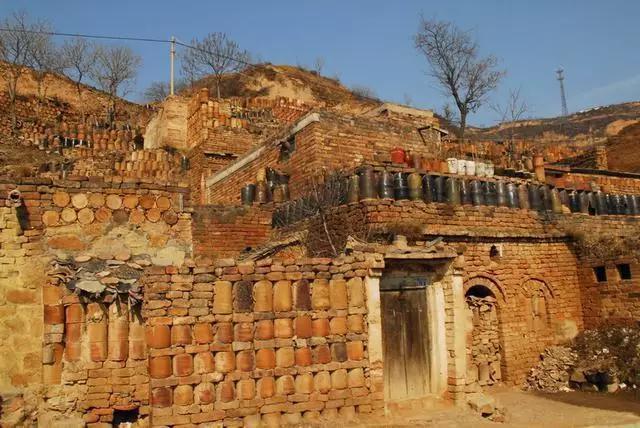 Chenlu Ancient Town, Xi'an
Brief Introduction
Chenlu Ancient Town is located in the mountainous area of Tongchuan city, Northwest China's Shaanxi province, it famed for its kilns and ceramics. On its loessial land of dozens of miles around, big and small kilns dot everywhere. As the biggest ceramic kiln in Shaanxi province, the Yaozhou Kiln in Chenlu has its fires blazing for more than 1,400 years. The ancient ceramic handicrafts are handed down to the generations today. Chenlu formed its distinctive rural features during the long history of ceramic making. Pots make its village walls, and ceramic pieces make the roads.
Chen Lu Ancient Town has beautiful landscape, scenic, ceramic culture has a long history and deeply rooted in the ancient human heritage atmosphere, and is an ancient county with the official set of ceramic production, trade exchanges, cultural tourism destination. The local people were honest, kind, intelligent, ceramic culture permeates in each aspect of life, casts mystery of mixing by Confucianism, Buddhism, Taoism.
People in Chenlu still live in caves as their ancestors did. The yard of a person's cave house is often the cave roof of another. The roads in the town paved with ceramic shards and failed pottery works have withstood the vicissitudes of the ancient town, and are witnessing the diligence of Chenlu people today.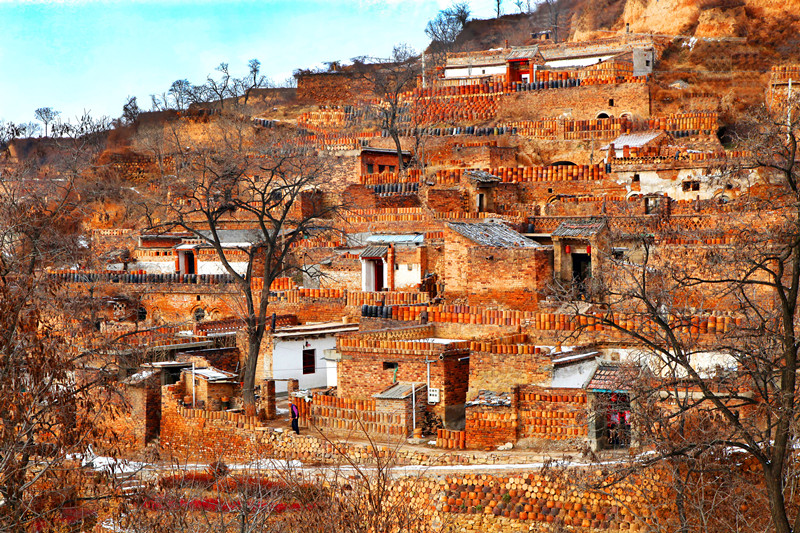 At precent, China's Belt and Road Initiative has set one of the country's western provinces up for tourism-led growth. Northwestern China's Gansu province, known for its Mogao Buddha grottoes and Silk Road relics, is seeing more growth from tourism than traditional heavy industries. The province, once considered a strategic corridor connecting ancient Chinese dynasties with Europe and the Middle East along the Silk Road routes, saw its economic growth outperform the country's average of 7.4 percent in 2017, thanks to tourism-related services that overtook manufacturing as the biggest pillar of the local economy.
History of Chenlu Ancient Town
Chen Lu village is a porcelain town of 1,400 years of history, is the Song and Yuan dynasties continued production of the famous ancient Yaozhou only kilns. Chen furnace is famous for "oven display", and gradually developed into Shaanxi the largest and most important production base of the ceramic kilns and Porcelain, even in northwestern area. For thousands of years, Chen Lu village still is a prosperous town, do not put out the fire, which is unprecedented in the history of Chinese ceramics, called "Oriental living fossil of Pottery Production", and has the "Oriental porcelain town" reputation, It is the unique ceramic town in culture and are towns that are named by Shaaxi province.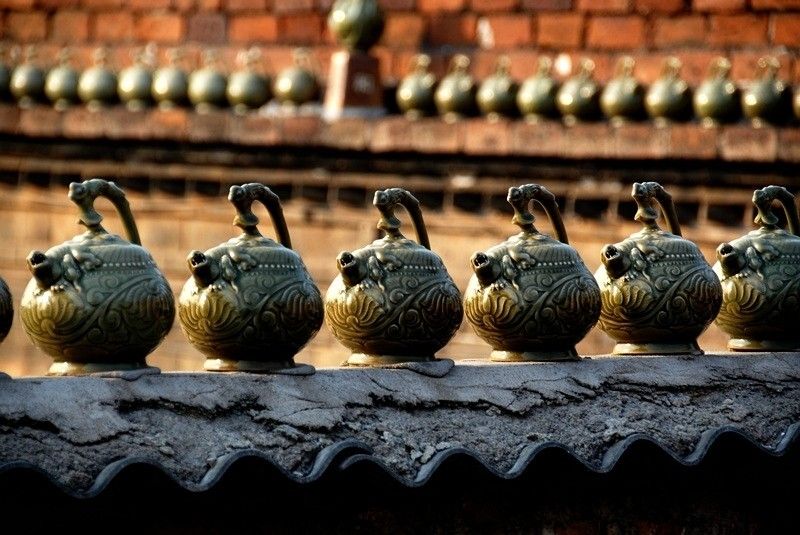 Pottery in Chenlu
Chen Lu is the last remaining pottery village of what was once the most important production area in northwest China. Just 30 kilometers (19 miles) from the famous Yaozhou kiln, Chen Lu was producing pottery centuries before the Yaozhou kiln came into existence. The earliest evidence of ceramic production in Chen Lu comes from the Northern Zhou dynasty (557 to 581 CE).
The people of Chen Lu are said to "eat pottery." While this is certainly an exaggeration, a visit to Chen Lu will convince you that the residents "live" pottery. Almost every household in Chen Lu is involved in the production of pottery. The walkways are lined with mosaics made of broken pottery, and walls in the village are constructed of pots left over from production. Discarded pottery forms and tools are everywhere.
Modern Xi'an, home of the terracotta warriors buried with the emperor Qin, was the site of the ancient capital of Chang-an, home to nine different dynasties. Sitting at the convergence of the Wei and Jing Rivers just north of the Yellow River, Shaanxi is an ideal area for pottery production. The loess plains are rich in clay deposits, including the kaolin needed for the production of porcelain. The surrounding mountains have many deposits of lead, copper, and iron oxides, all needed for the rich variety of glazes that have characterized Chinese ceramics for centuries.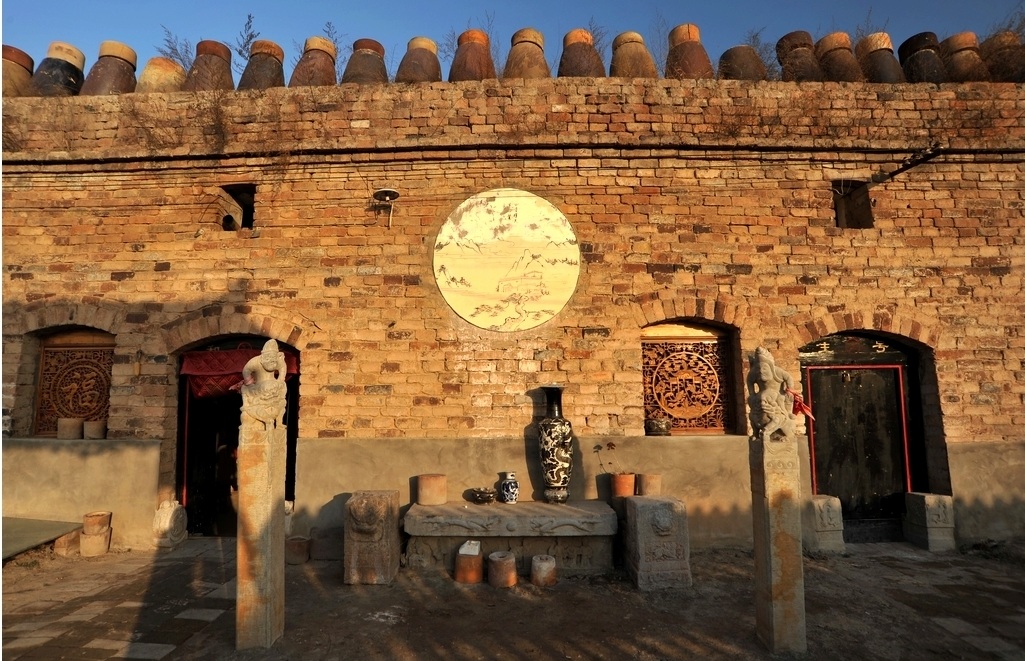 During the Tang dynasty Chen Lu produced elegant celadon bowls, using molds to create peony and lotus patterns. Chen Lu continues to produce celadon today, using the ancient molds or copies of those molds. If you visit Chen Lu you can still purchase celadon like that produced more than 1000 years ago. The bowl shown below was purchased in the village. More than 120 kilns in Chenlu ancient town were named the national key cultural relics protection units in 2006.
The recent years have not been kind to Chen Lu. Economic downturns, along with competition from Jingdezhen and Hong Kong, have decreased demand for the town's pottery. Many of Chen Lu's young people have gone off to big cities such as Xi'an, to pursue higher education and better-paying jobs. Many of the old potters don't have apprentices. Yet somehow the village's pottery-making tradition continues to this day. If you have the chance to visit Xi'an and can spare a day, visit Chen Lu ancient town. It will give you a chance to see a 1400 year old tradition in action.
Travel Guide
Admission Fee: Free
Address: Chenlu Town, Tongchuan County, Xi'an
Time for Visit: Whole Day
Opening Time: Whole Day
Transportation
From Xi'an to Chenlu Ancient Town: it takes around 2 hours for one way by driving.