Hukou Waterfall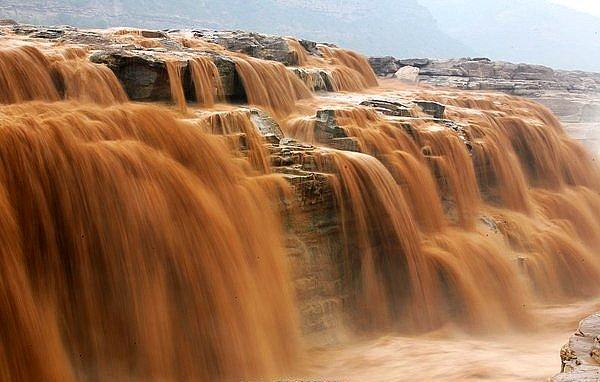 Hukou Waterfall in Xi'an (Chinese: 西安壶口瀑布)
Brief Introduction
Located at the intersection of Shanxi Province and Shaanxi Province, Hukou Waterfall is regarded as the largest waterfall on the Yellow River, China, and the second largest waterfall in China. It has the reputation of one of the most extraordinary waterfalls in the world. Hukou Waterfall is 50 metres in wide, 30 metres in height, it is divided into two parts by the Yellow River. The two parts are not connected by a bridge, so you can visit ether Shanxi part or Shaanxi Part. Featured wonders in Hukou Waterfall have attracted incomputable tourists to appreciate the natural splendor, making it a Key National Scenic Spot, an excellent tourist attraction, geological relic reserve, and an AAAA Scenic Spot. Standing by the Yellow River, you will be shocked by the crashing waves and thundering waterfalls, as if the Yellow River is howling and surging with its indomitable momentum. In fact, the magnificent Yellow River always symbolizes the spirit of unyielding Chinese People in many literatures and television works.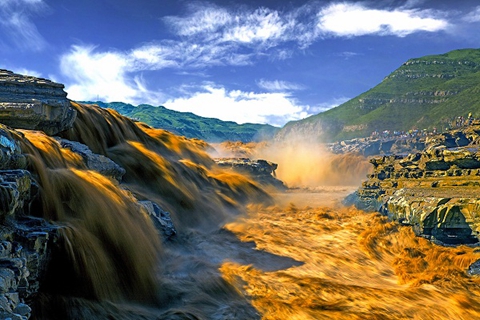 How was the Hukou Waterfall formed
Hukou Waterfall is the only yellow waterfall in the world. It is a naturally formed waterfall when the mighty of Yellow River, the headstream of the river is in Qinghai Province where rich in hydroelectric power potential. The Yellow River runs all the way eastwards, carrying the history and civilization of 5,000 years across the Qin-jin Gorge in the northwest Loess Plateau. As it formed when the river flows to the Hukou Mountains on the Shanxi-Shaanxi border and its 250-meter-wide bed, sandwiched between the canyons on its banks, It usually 30 metres in wide, but now the waterfall is increasing to 50 metres due to flood season, it has a height of over 20 m (66 ft). When the Yellow River approaches the Hukou Mountain, blocked by mountains on both sides, its width is abruptly narrowed down to 20 m (66 ft) - 30 m (98 ft). The water's velocity increases, and then plunges over a narrow opening on a cliff, forming a waterfall 15 m (49 ft) high and 20 m (66 ft) wide, as if the mouth of a water flash. Hence it gets the name Hukou (literally, "flask mouth") Waterfall. As a result, this spectacular waterfall appears. The waterfall has a descent of 15-20 meters in the low-water season, but it is scarcely noticeable as a waterfall in the high –water season when the waters burst into rapid torrents.
In 1991, Hukou Waterfall was named one of the "40 Best" national scenic spots
What to see in Hukou Waterfall
Amazing Dragon Cave (Long Dong)
The Gragon Cave is a natural cave near the waterfall, which can provide direct access to the front-left side of Hukou Waterfall. There is a view-platform has the area of 118 sq metres, you can appreciate the best view of the waterfall here and no need to worry that you will be fall down cause it can hold 20 visitors in total. Besides from that site, the yellow river like falling from the heaven with a huge roar and hazy mist. The water beats against the rocks, making a splash. You can also find a cloud of white smoke rise from the bottle.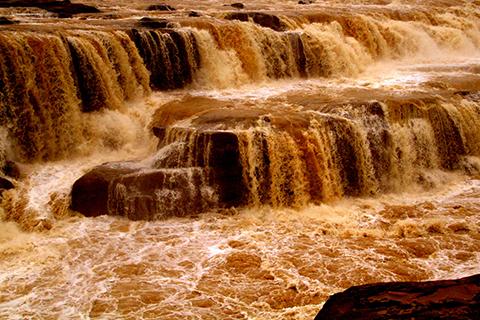 Featured Wonder
The sprays due to the repeated impact of Hukou Waterfall, in addition to the refraction effect of the shine always create a beautiful rainbow – honored as Circumzenithal Arc. Sometimes liking a colorful bridge across the river, sometimes liking a rich multicolored decoration above the shrouded mist and sometimes liking a long dragon plunging into the water, the rainbow never fails to show off its beauty. Visiting Hukou Waterfall around 10:00 am in a sunny day, it's easy to savor an amazing rainbow.
Mengmen Mountain
Mengmen Mountain is in the downstream of Hukou Waterfall where the Yellow river was cut into two rocks by a huge rock which is hundreds of steps wide. The legend goes that the two rocks are originally a mountain which was split by King Yu to get a more fluent stream. Mengmen Mountain is 300 meters long, and 10 meters high above the water level, which make it look dangerous and seems to drop,
In the downstream of Hukou Waterfall standing two huge rocks are Mengmen Mountain. The Yellow River is divided into two branches flowing along with two sides of the rocks and then become one again. Legend has it that the two rocks are originally a mountain which was split by King Yu to get a more fluent stream. Mengmen Mountain is 300-meter long, and 10-meter high above the water level. It stand steadily in the powerful currents and could not be drowned in the floods, which is really a wonder of Hukou.
How to get to Hukou Waterfall
This tourist site is divided into two sections, one in Yichuan County and the other in Ji County across the Yellow River
To Yichuan Section:
Bus Routes:
1. Take No. 1, 10, 12, 13, 17, 18, 30, K7, K11, K12, or K22 to the South Bus Station opposite to the Railway Station in Yan'an City. Then take a regular bus to Hukou Waterfalls.
2. Take a bus from Xian North Bus Station to Hukou Waterfalls at 12:00.
To Ji County Section:
Bus Routes: Take a tourist bus from the Drum Tower Square in Linfen at 08:00 or 14:00. Or you can take a bus at 06:30 from Linfen Long Distance Bus Station to Yan'an and get off at Hukou Waterfall.
Information
Admission Fee: Yichuan Section CNY 100; Ji County Section CNY 100, Dragon Cave: CNY 20,
Battery Car: CNY 20
(Note: Children below 3.9 ft (1.2 m) can enter for free.)
Opening Time: 08:00 - 18:00 (Yichuan Section); 09:00-18:00 (Ji County Section)
Best Time to Visit: April, May, September, and November
Tour Hukou Waterfall with Xian Priavte Tour
All the following tours are recommended by 98% of our clients. They are private tours with an English-seapking local guide, a private vehicle and experienced local driver. Usually the tour service starts from Xian hotel/Xian train station/Xian aiport and finishes at the moment you say goodbye to your guide at the Xian hotel/Xian train station/Xian airport.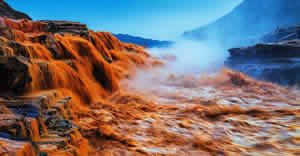 Tours in Xian: One Day Hukou Waterfall Tour From Xian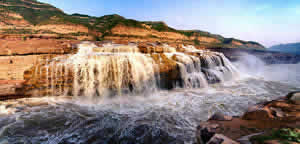 Xian Holiday Package: 2-Day Huangdi Mausoleum and Hukou Waterfall Sightseeing Tour
If the above tours are not on your list, creat your own Hukou Waterfalls tour following our suggestions. Based in Xi'an and focused on Xi'an, we are a local team to show you the historic Xi'an, we can customize private tours, tour itinerary and tour packages to cater to the needs of individual tourists as well as small group tours including families, friends and business colleagues. Please refer to Xian tours for more Xian tour packages or send us your inquiry by email.