Day 1
Place&Transport: Xian
Today's Activities: Terrocotta Warriors, Big Wild Goose Pagoda, Dumpling Banquet & Tang Dynasty Dance show
Accommondation: N/A
Meal: D
In the morning, our local Xi'an tour guide will pick you up at the exit of Xi'an train station or your hotel in Xian, you will find a welcome signage "Xi'an Private Tour". And your two days Xi'an tour start as below: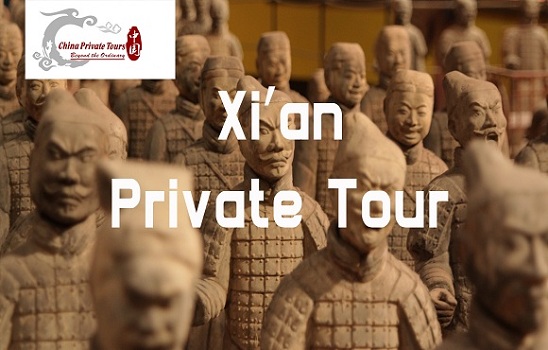 Our Xi'an Pick Up Sign" Xi'an Private Tour"
Firstly, drive you to Terracotta Warriors and Horses Museum, Terra-cotta Warriors and Horses Museum:Known as "the eighth Wonders of the world", it shows a surprisingly high level in sculpture which is listed as the most significant discovery of the 20th century. Up to now, there has discovered a total of 179 accompanying burial pits of different connotations and various shapes in Qinshihuang's Mausoleum area. The discovery of these pits has provided all important significance in the research of the burial system of the Qinshihuang's Mausoleum, the characteristics structures and characteristics of the burial pits. However, what makes people feel amazing is that of all the burial pits, none has been found survived from being burnt down.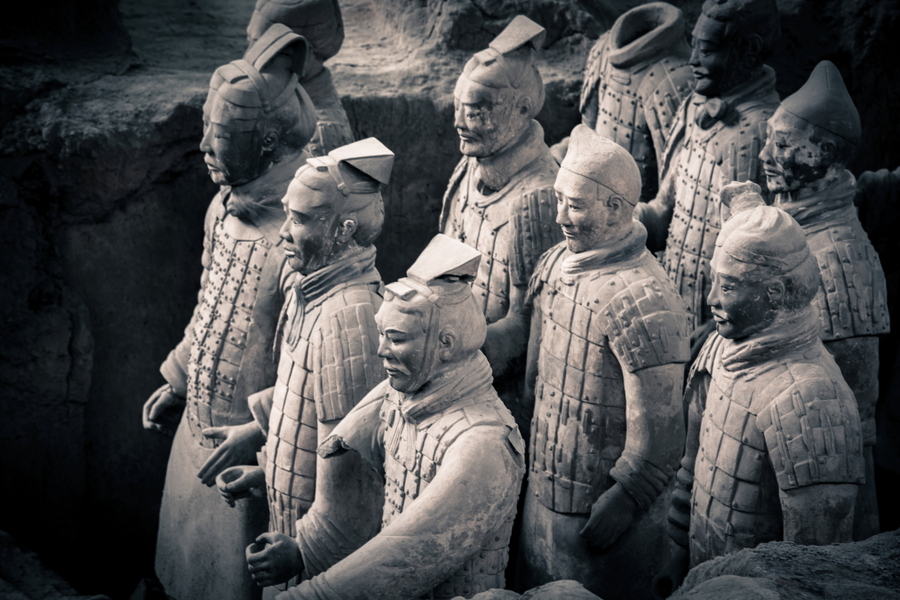 Enjoy your lunch at a local Chinese restaurant. (Your tour guide will give you good recommendations on spot)
In the afternoon, our guide will take you to Big Wild Goose Pagoda, also named Giant Wild Goose Pagoda. It is a Buddhist pagoda located in southern Xi'an, Shaanxi province, China and became the symbol of the old-line Xi'an. It was built in 652 during the Tang dynasty and originally had five stories. The structure was rebuilt in 704 during the reign of Empress Wu Zetian, and its exterior brick facade was renovated during the Ming dynasty. The Big Wild Goose Pagoda attracts numerous visitors for its fame in the Buddhist religion and its simple but appealing style of construction. It is rated as a National Key Cultural Relic Preserve. One of the pagoda's many functions was to hold sutras and figurines of the Buddha that were brought to China from India by the Buddhist translator and traveler Xuanzang.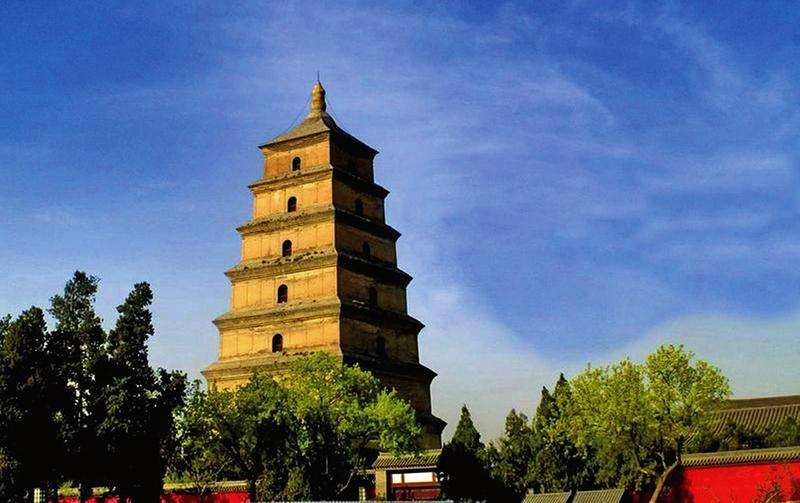 After the day tour, get to the Shaanxi Grand Opera House around 6:00PM and our tour guide will help you find your seat for the Dumpling Banquet in the Opera House. Dumpling, or Jiaozi in Chinese, is one of the most representative Chinese food.
Nearly 20 varieties are made and inside the dumplings are stuffed with delicious vegetables, meats and seafood. Dumplings' legend offers an original approach to Chinese food, merging the familiar comfort food of London's Chinatown with the culinary heritage of regional oriental cuisine.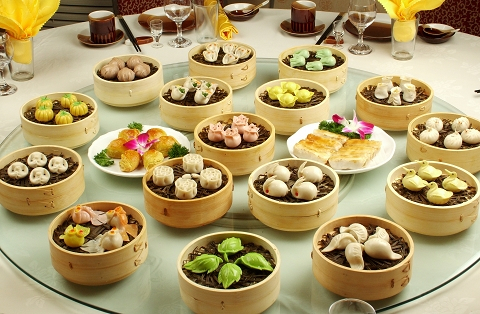 After dinner, enjoy the local colorful and splendid Tang Dynasty Dance Show, which is a performance of music and dance that imitate the Tang Dynasty over one thousand-year ago. The Tang Dynasty Music and Dance Show, a wonderful performance of the ancient music and dance, is a must when you visit Xian. The city, which was formerly known as Chang'an has a very long history, and was the imperial capital during 13 dynastic periods. Of these, the Tang Dynasty (618 - 907) was the most prosperous and glorious of all. The Tang Dynasty Music and Dance Show is an outstanding exponent of this ancient stable and prosperous society, keeping alive its splendid culture and providing an insight into the peaceful life style of the period. It seems as if you have lived in the palace of Tang Dynasty.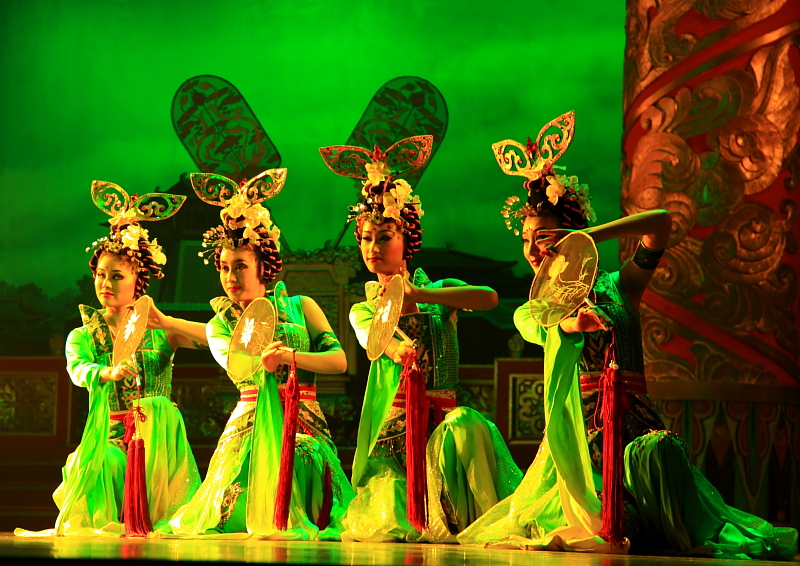 After finished Tang Dynasty show, drive you back to your hotel.
Day 2
Place&Transport: Xi'an
Today's Activities: Xian Ancient City Wall, Bell Tower, Muslim Quarter, Shaanxi History Museum
Accommondation: N/A
Meal: N/A
After breakfast, our tour guide will meet you at your hotel lobby and your tour start.
Today your first destination is the Ancient City Wall. As one of the UNESCO's world Heritage Site, Xi'an Ancient City Wall was built in the 14th century, under the regime of Emperor Zhuyuanzhang in Ming dynasty, had the function of protecting the cities or towns as military defense systems in ancient China. Xi'an Ancient City Wall is one of the oldest, largest and best preserved Chinese city walls, exhibits the "complete features of the rampart architecture of feudal society". Xi'an City Wall is a heritage National Historical and Cultural Town since 1961, it is about 14km in length, 12meters in height. The current city wall is an enhancement of the old Tang Dynasty structure, as a result of the emperor's wall building campaign.
The first city wall of Xi'an was built of earth, rammed layer upon layer. The base layer was made of earth, quick lime, and glutinous rice extract, tamped together. It made the wall extremely strong and firm. Later, the wall was totally enclosed with bricks. A moat, wide and deep, ran around the city. Over the moat, there used to be a huge drawbridge, which would cut off the way in and out of the city, once lifted. It is the most completely preserved and the largest city wall in China. It was built for the military defense in the ancient time.Biking around the City Wall is included, and is the best way to enjoy this sight. You can take in the great contrast of the ancient culture and modern Xian while biking on the wall. The walls, ramparts, gates and watchtowers, which were built in the 13th century can still be seen.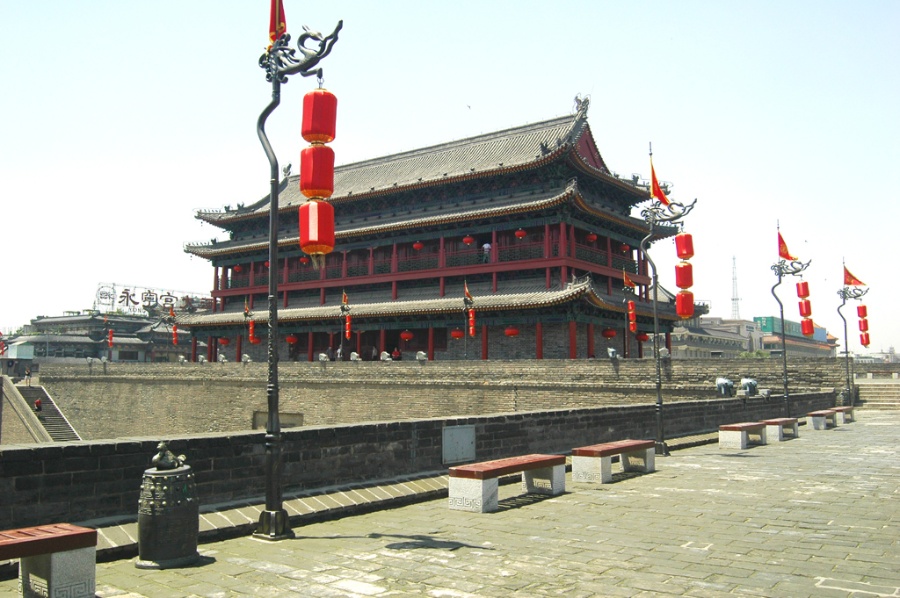 Continue your tour to Bell Tower, which located in south east of the Drum Tower. In Chinese history from Ming Dynasty, each city had a bell tower and a drum tower. The bell was sounded at dawn and the drum at dusk each day in ancient time, a means of telling time. Xian was not exception. The Bell Tower and Drum Tower of Xi'an date back to the Ming dynasty (1368-1644). The two are located in the center of the Xian city connecting the four roads from east, south, west and north within the city wall. Atop the Bell Tower you will have a panoramic view of the Xian City. A number of highlighted cultural relics are exhibited in Xi'an Bell Tower, including a huge bell, inscribed steles and couplets hung on the column, all of which are of high historical and cultural values. Between the Drum Tower and the Bell Tower, there is a square with grass, dotted with greenbelt beautiful acouto-optic fountain, which is a good place for leisure and entertainment for citizens.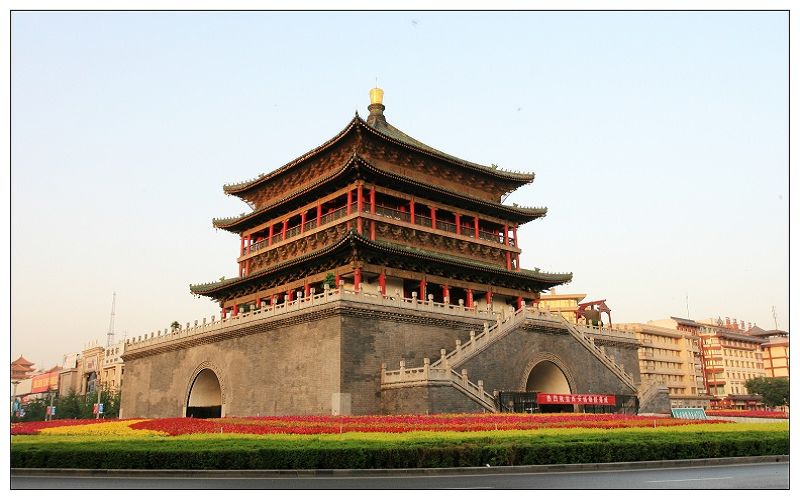 The last stop is Muslim Quarter. The Muslim Quarter is the largest of the old city's neighborhoods. It's a confusing array of narrow alleys that are wonderful to wander in, get lost, and stumble upon surprising discoveries. Muslim Quarter houses a large number of important Christian institutions. The Muslim quarter begins at the northern city wall, goes south to the northern and western walls of the Temple Mount, to Hashalshelet Street, where the Jewish Quarter begins. To the West, it runs to Beit Chabad Street, which runs between it and the Christian Quarter.
This only 500-meter-long cobbled street was renovated in Tang Dynasty architecture style and on both sides is full of snack or souvenir stalls with bright-colored signs. The eye-dizzying snack variety can give a great workout to your eyes, taste buds and stomach: delicately-wrinkled juicy steamed dumplings, yummy lamb sandwiches, sleek grilled mutton, crumbs in mutton broth, stuffed persimmon cakes, dried fruit and nuts, etc.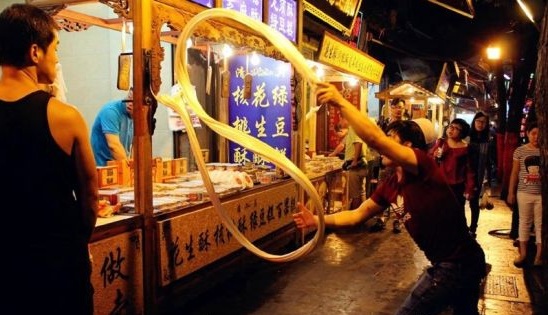 Then head to Shaanxi History Museum. Shaanxi History Museum is the first modern national museum. It was built in 1983 and opened to the public in 1991. Xi'an, a place of great significance in Chinese history, is well-endowed with historical sites and relics. Now most of these relics, once scattered around the region, have found their way to Shaanxi Provincial Museum.
Shaanxi History Museum covers an area of over 70,000 square meters and houses more than 37,000 historical relics excavated from all over Shaanxi Province. The collection includes bronze ware from the Western Zhou Dynasty, 3,000 years ago, terracotta figures, gold and silver ware and murals discovered in Tang tombs. It is regarded as 'the pearl of ancient dynasties and house of Chinese treasures', gives a miniature overview of the thousands of years of Chinese history and the splendid ancient cultures of olden times.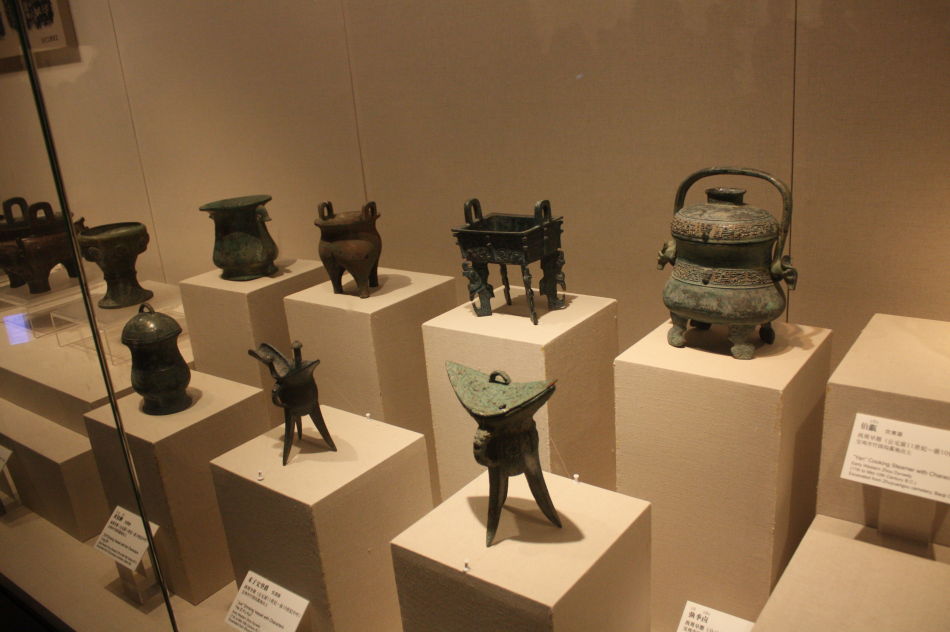 After finished this tour, you will be taken back to your hotel or Xian train station.
Optional Activities
You never need to worry about finding no things to do in Xian, as Xian is much more than the Terracotta Warriors and the Muslim Quarter. It offers a plenty of well-hidden spots to have a look at if you decide to turn off the beaten path, and if you want to adjust your tour itinerary or add extra activities during your tour, please feel free to let your guide know your needs, our tours are 100% flexible for you. We have proposed some interesting actitivites as below for your reference.
Must Eat Xian Food At Night (Free of Charge)
Explore hidden streets vendors and rustic local restaurants in order to immerse yourself in the electric atmosphere of the city by night. Appease an appetite for authenticity as you sample different types of local delicacy and gain fascinating insight into China's rich culinary culture with a knowledgeable guide.
Xian Ancient City Wall Bike Experience ( Bike Fee: CNY 45)
Pedal your way around the ancient City Wall can be the best way to enjoy the bird view of the city as well as the glory of wall itself. Go for a riding to enjoy the oblique sunset hanging over the old city. Just do it.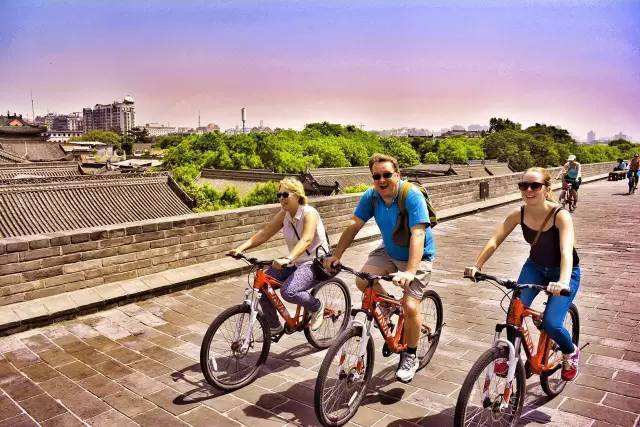 Morning Market & Breakfast (Free of Charge)
If you desire to fell Xian life of local residents, local market is an amazing way. See how Xi'an wake up by experiencing the tastes, sounds and local way of life, you can bargin with them, buy quality and cheap goods. Of course, it is the best place to learn authentic Xian dialect. Your guide will help you looking for the best local breakfast at places we know and you can't find on you own. How interesting!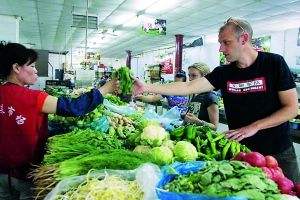 South Gate Square & Fountain Show Square (Free of Charge)
See Xi'an light up in the evening. Head to the spectacularly lit South Gate Square, North Square of the Big Wild Goose Pagoda and Tang Dynasty Theme Square. You'll see the lovely South Gate and old City Wall, then drive to North Square where the largest musical fountain in Asia puts on a colorful show every night.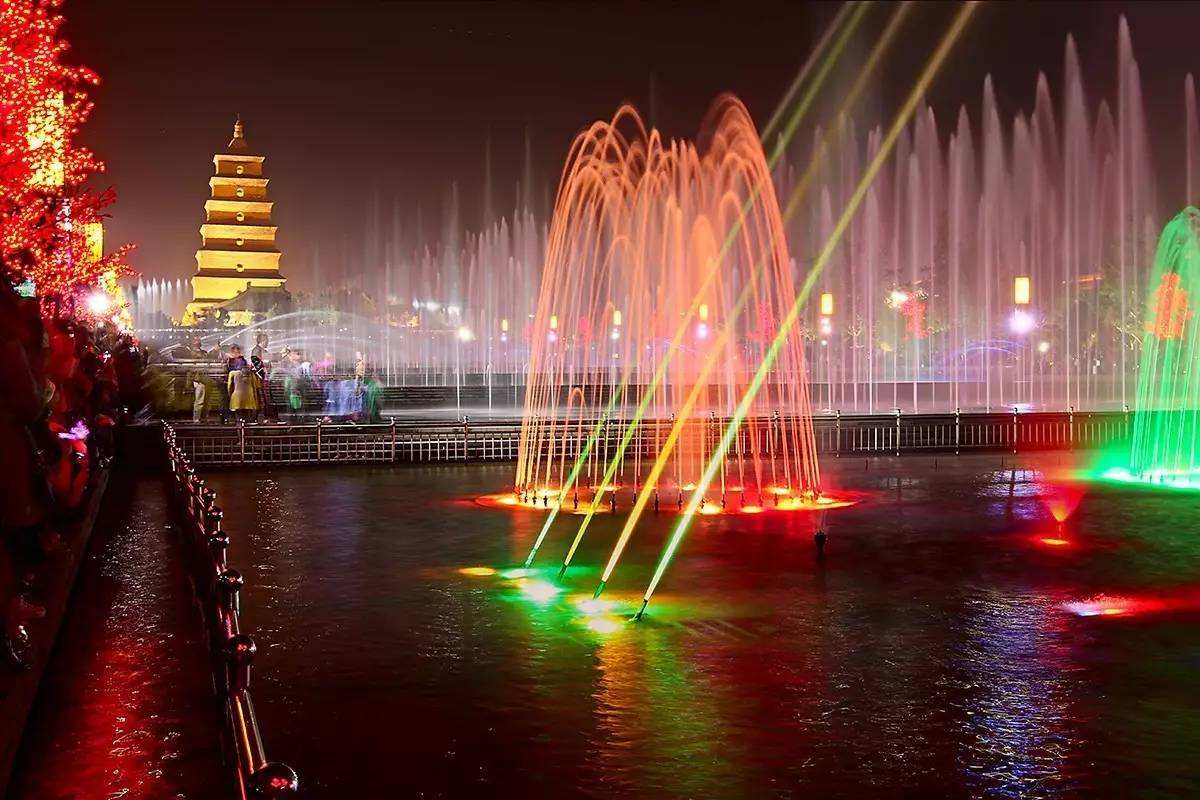 Authentic Local Markets Shopping Experience (Free of Charge)
You may really want to buy something or just expect to hang out shopping area or experience bargain fun like a local. This tour option will be your perfect choice! You will go to see the local shopping mall, local retail market or the whole-sale market, feel what means bustling.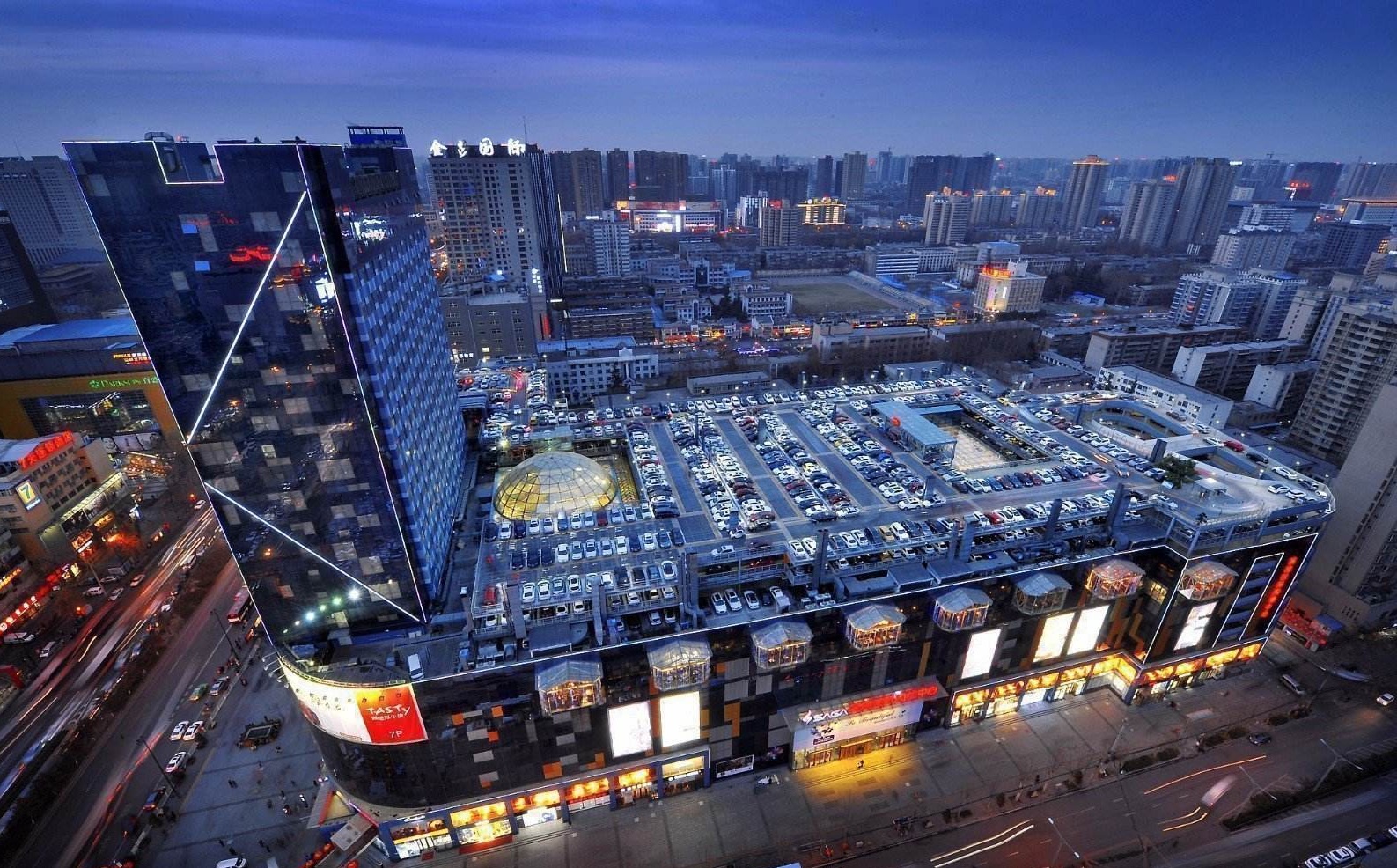 Foot Massage/Outdoor Hot Spring SPA ( CNY 100 per person on average)
Travel can often be far from relaxing. Taking a load off during a foot massage in Xian is the perfect way for you to relax and unwind after the day tour ends. Foot massage helps people relax, strengthens the immune system and maintains the body's natural balance. It has now grown into an industry in China. Or experience the outdoor hot spring SPA to refresh yourself.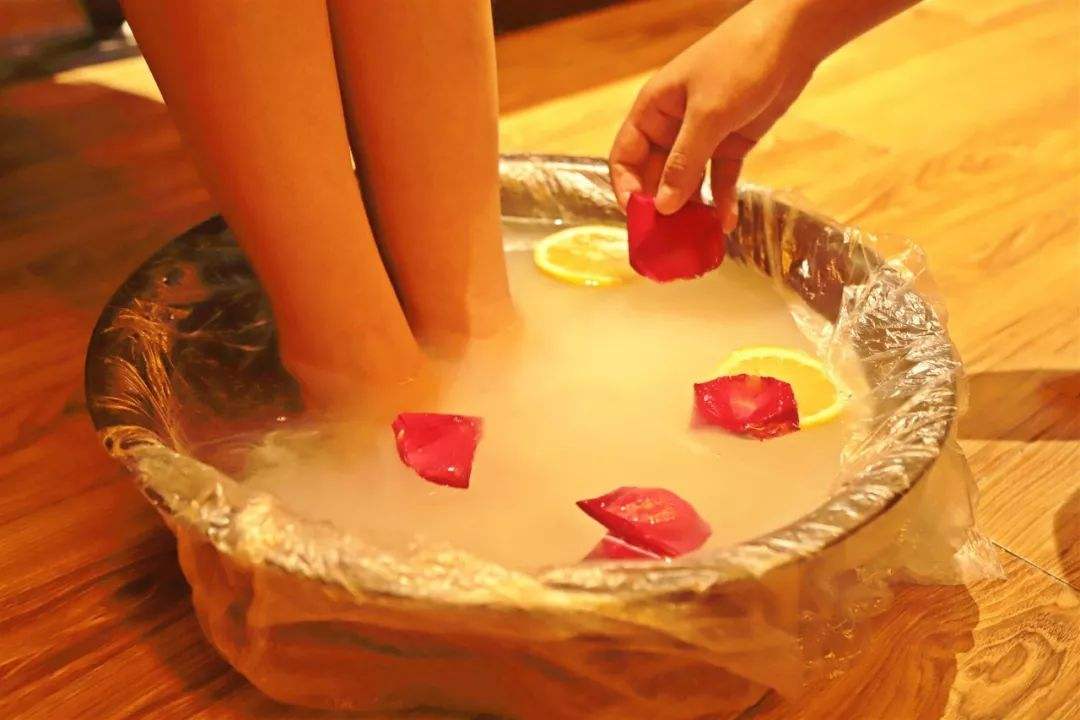 Shadow Puppet Show - Chinese Traditional Folk Art (CNY 30 per person)
Gain a comprehensive cultural introduction to Xian with your guide by wacthing the interesting Shadow puppet show - "Journey to the West" at Gao's Counrtyard. Shadow puppet wins the heart of an audience by its lingering music, exquisite sculpture, brisk color and lively performance. One mouth tells stories of thousands of years. It is very amazing for visitors who love Chinese culture to watch shadow play in the Gao's Courtyard.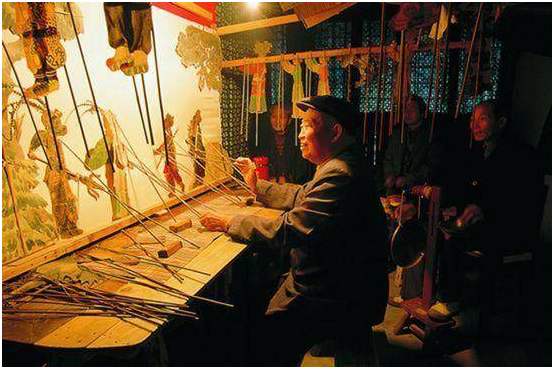 Explore Qinmei Floral Market (Free of Charge)
Follow your guide, pay a visit like a local to Qinmei Floral Maket, the biggest wholesale mrket of flowers. You're able to know massive flower nurseries, green houses, exhibition rooms as well as a bonsai garden, a root sculpture hall garden and an aquarium as there are selling all kinds of flowers, birds, fish, and so on. With its advanced facilities, condidetate service and convenient transportation. It is one of the most popular flower & bird market that local go.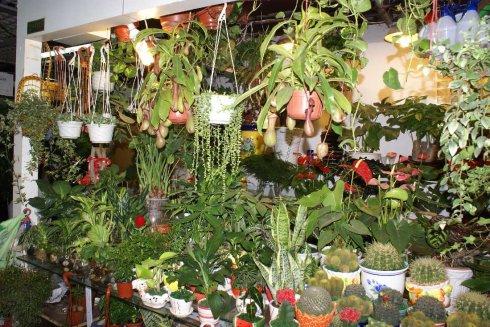 Price Per Person in US Dollars